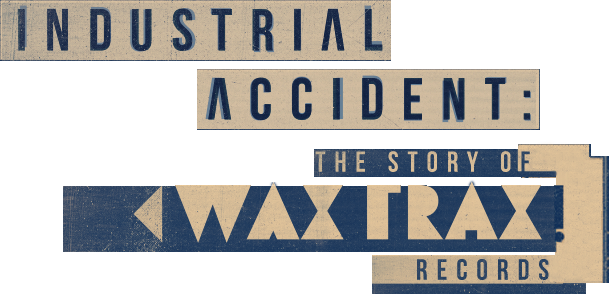 WAX TRAX! Industrial Accident
directed by Julia Nash
starring Al Jourgensen, Chris Connelly, Richard 23, Throbbing Gristle, Groovy Mann, En Esch, Julia Nash & others
As a first-hand enthusiast and follower of the eighties "alternative", "new wave", "electronic", and ultimately "industrial" scene, I was excited to learn an aptly titled, Wax Trax! Industrial Accident video was forthcoming! This "truth is stranger than fiction" tale of the off-kilter friend/partnership of Trax co-founders, Jim Nash and Dannie Flesher provide perspective on how two guys on the fringe of society, underground culture, and music could become ground-zero for an iconic storefront, label, and musical genre, is nothing short of miraculous! I was pleasantly surprised to find the story a first-hand account as told by those most intimately involved with Jim, Dannie, & the Wax Trax! artists, not from a disconnected documentarian with nary a toe in the pond of industrial sludge!
Speaking of personal, Jim Nashs', daughter Julia, appropriately serves as producer and archivist. When she found a virtual time capsule of all Wax Trax stock, photos, video, etc. in an Arkansas barn in 2010, she knew the time was ripe to share the story. The Wax Trax! trajectory lends itself to a Behind the Music formula, which entails a chronology of the humble beginnings, rise, and ultimate fall of its subject(s). Yet, it's the serendipitous journey of all cast members through the eighties and nineties that really makes Industrial Accident so riveting. Rarely would one reflect on how a label's backstory and artists evolve, but the film gleans insight from shop employees, close friends of Jim and Dannie's, and the artists who became synonymous with the Wax Trax! brand-Al Jourgensen, Chris Connelly, Richard 23, En Esch, among others to reveal how this "accident" became, and has remained, a beloved cultural icon some forty years later.
Interwoven with video and photos from their first store in Denver, then to the heyday of Chicago, archival footage of Jim and Dannie, live performances, and of course the obligatory mayhem and nonchalant demeanor that whisked these merry-men through the years, I am confident you will find the video engaging. Whether you "wax" nostalgic or simply want to know what the hell was going on in those days, the story is fascinating pure and simple! My intention is to simply share "why" you need to see this incredible story of music history told by those who lived it, not fill a page with a play by play regurgitation of its contents. For the first time, the Wax Trax! story is to be told AND seen. What a beautiful combination indeed!
In addition to the DVD, there is a full-length LP of tracks from Wax Trax artists-Thrill Kill Kult, Ministry, REVCO (unreleased track!), KMFDM, and Front 242, to name a few. There will also be a few live shows in select cities featuring Ministry as headliner! For more info on all the Wax Trax! happenings, head over to: www.waxtrax.com or give 'em a ring at 1-833-wax-trax.
---