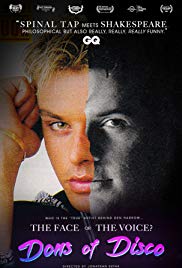 Dons of Disco
directed by Jonathan Sutak
starring Den Harrow and Tom Hooker
While Michael Jackson chewed up the charts in America, Europe was in love with pretty boy sensation Den Harrow (aka Stefano Zandri). He was an Italian performer whose songs were written and sung by American Tom Hooker. This isn't all that unusual; in the days before autotune high profile singers were often essentially mimes with unknow back up vocalist of greater skill. It's a team effort: some sing, some write, some perform. That's how theater works, and it's the dirty little secret of pop music.
It's 40 years later, and things have fallen apart. Den Harrow looks like a tough guy bouncer; he's a physical therapist and broke as his manger never bothered to pay his taxes, anywhere. Hooker wants credit for his efforts and is mystified that he can't perform music he wrote – you'd think someone in this business for 40 years would have a grasp of copyright rules. And as always, the promoters get all the cash, but he spent that decades ago and what's left to chase? Hooker creates a rather mean-spirited parody band, and as both spiral into poverty and regret, we should give thanks we have day jobs.
Here's a good peek inside the dirty business of pop music where nothing is what it appears to anyone, not even those pulling the levers. The saddest part of this film comes at the end, it's been 40 years and a popular-in-the-day disco comes back to life for one last Den Harrow concert, but now everyone is stumbling along though late middle age, and the energy just won't ever come back. It' a rock and roll story of bitterness and jealousy, and as good a training manual as you'll find for that line of work.
This film was presented as part of the 2019 Florida Film Festival sponsored by the Enzian Theater in Maitland, FL.
---