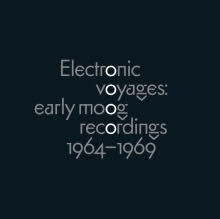 Electronic Voyages: Early Moog Recordings 1964-1969
Waveshaper Media
Once upon a time all music was analog, and all music was played on physical instruments by skilled artists, and then disappeared into the past. But electronics in the 1960's allowed a new approach with music created by machine, and replicated anytime you want. Today this is a service, back in 1964 is was a miracle. Robert Moog pioneered what today we think of as synthesizer music. He used a collection of oscillators, amplifiers and a giant patch panel to make space age sounds. They sounded like nothing before, except perhaps the Theremin, but it took a few years for the musical community to fit synthesizers into concerts and compositions into their daily work.
On this quirky and historic collection, we hear a half dozen compositions from these days. We begin with a little introductory speech from Mr. Moog as he explains what he'll be showing at on upcoming electronics conference. Then it's off to the space age races as various compositions recall cheap sci-fi movies, 8-bit audio "compositions" and a plethora of what might be classed "experiment music." Mostly clearly, it IS an experiment – a new toy in musicains hands that raised the question: "Now what do we do?"
The experience continues for a total of 7 tracks: sounds are purposefully avant guarde compositions daring us to dislike it. Fully sampled instruments that sound like real pianos and clarinets lay in the future, as does the powerful dance music that drove the 1970s and 1980s. Here we have the seminal event, the sound of electronica. It's fascinating and frustrating at the same time: I want to love this record, but the best I can do is respect it.
_This is a soundtrack to an upcoming documentary on Moog, Electronic Voyager _
---