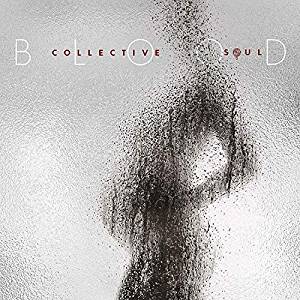 Collective Soul
Blood
Fuzze-Flex Records
It's hard to believe that multi-platinum, Grammy-winning Collective Soul has been rocking the music world for 25 years. The alt-rock band from Georgia burst onto the scene in the 1990s with smash hits such as "Shine," "December," "The World I Know" and "Gel," and they have remained one of the most consistently successful groups of the '90s post-grunge era. On their tenth studio album and latest release, Blood, the unmistakable riff-heavy intros and catchy hooks are still there but co-mingled with a mature, reflective vibe. The ten-song release was written and tightly produced by E Roland (Ed having shortened his name to E). The very title itself, Blood, suggests the strong familial ties that bond the band. Even the cover art displaying the silhouette of an expectant mother through what looks like frosted glass suggests the same theme – Blood – Family – Bond. In interviews, Roland describes how the addition of guitarist Jesse Triplett and drummer Johnny Rabb created the writing spark that the founding frontman needed and a new energy within the band, which also consists of original members guitarist Dean Roland and bassist Will Turpin. Initally slated as a double-album, the idea was nixed and instead another record will be released some time next year. The band has been incorporating songs from the new album into their live sets for over a year. After covering two of their shows within the past year, I can confirm firsthand that the new material blends seamlessly with their tried-and-true favorites.
Starting off heavier and then subtly morphing into more radio-friendly, piano-driven material, Roland does a brilliant job of guiding the flow of this record. The first three songs, "Now's The Time," "Over Me" and "Crushed" start off in vintage Collective Soul style – riff heavy, bouncy and get-you-out-of-your-seat great. "Over Me" is particularly frenetic and heavier than the others, while "Crushed" leans more in the pop direction musically but not lyrically. It has a wicked edge and features a killer guitar solo from Triplett. The song focuses on a woman whose life is stuck in drugs and misery, blaming the world for her problems. Roland cunningly throws in the line The '90s rocked but they've come and went, perhaps a reference to the band itself and moving forward.
In an interview with Michael Witthaus, Roland confided that two of these new songs were inspired by one of his favorite artists, the late Tom Petty. In fact, Roland confessed borrowing the riff from "Jammin' Me" (Tom Petty/Bob Dylan/Mike Campbell) on "Right As Rain," one of the more pop-oriented cuts and the perfect choice for the first single. Peter Stroud (Sheryl Crow, Don Henley, Sara McLachlan) lends some solo slide guitar. Roland also admitted that the speaking part in "Good Place To Start," also more pop-slanted, was inspired by the Tom Petty/Mike Campbell-penned "Here Comes My Girl." I first heard this song live and my immediate take was that parts of it were very Cat Stevens-esque.
"Them Blues," "Good Place To Start," "Big Sky" and "Porch Swing" get a brilliant boost from Sugarland's Kristian Bush on organ. Roland's piano on "Them Blues" smacks of Elton John while the song itself could have been taken out of a Three Dog Night catalog. "Changed" is a moving ballad with Roland's stirring piano and Peter Searcy's poignant cello accompaniment while the drum-driven, bouncy beat of "Big Sky" is a soul-stirring observation about getting older and "going home" to the "Big Sky."
I truly love every track on this record, but the standouts for me are "Observation Of Thoughts," a truly moving composition with some incredible guitar, and the closer, "Porch Swing." In addition to Bush, this last track features Tommy Shaw of Styx on mandolin and backing vocals. Bush's organ is elegantly subtle and even Rabb's percussion is perfect. Roland offers a very simple but pointed social and political commentary, and wraps it up with this: Let the summer breeze/Cool our needs right or wrong/Let tomorrow bring/Love to move us on/Til then I'll be here on my porch swing/Rockin' all day long/I'll just be here on my porch swing/Til I write the next song/Rockin' on my porch swing all night long. The song closes with whistling, and it couldn't be a more ideal ending.
One last noteworthy observation is the biblical references scattered throughout the music: Wake up talking in my sleep/The Virgin Mary comforts me ("Now's The Time"), Sister says she's feeling sick/Gather up a crucifix ("Over Me"), Got a cross I do bare/It's a Jesus piece I wear/But I don't/No I don't know if it makes me whole ("Right As Rain"), Goddamn this moment/Goddamn what lies ahead/I'm just a sinner/Reaching for his Savior's hand ("Observation Of Thoughts").
This new record is a testament to Collective Soul's timeless sound and their uncanny ability to adapt their music to a more mature audience while truly continuing to rock. E Roland sums it up best: "I think Blood expresses where we've been on this life journey. And we've done so with songs featuring piano and strings to those with a lot of guitar riffs. Blood is an accumulation of all the different styles we've used over the years, but it's still COLLECTIVE SOUL. I think it's the best we've ever done."
Collective Soul is in the midst of their "Now's The Time 2019" Tour with Gin Blossoms as support on some of the tour. The beauty of the new record is that every song rocks and it is over before you even realize it. Several cuts are in daily rotation on the tour. I highly recommend buying a copy of Blood and getting out to a show if the band comes through your area. This is one band that brings 110% to every live show.
---