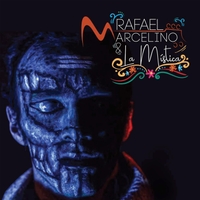 Rafael Marcelino & La MÃstica
Rafael Marcelino & La MÃstica are the musical equivalent of Jackson Pollock paintings. There are so many colors and patterns flying everywhere, and the end result is a pleasant yet unpredictable blend of creativity. The group's self-titled album is a truly vivid example of what I am talking about. Rafael Marcelino & La MÃstica is an ensemble featuring many world-class musicians, each bringing something new to the table. The band approaches world and fusion with a different twist, giving every track a unique soul and a powerful story to tell.
The album features eight cuts, and every song has something truly special to offer. However, I particularly enjoyed the infectious vibes of "Despierta" as well as the lush, mysterious musicality of "Cactus." These tunes are some of the album highlights for me, but the whole release is filled with passion and great vibes.
With such a talented cast of musicians, you really cannot go wrong on this one.
---