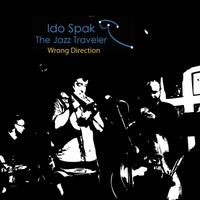 Ido Spak The Jazz Traveler
Wrong Direction
At times, music is more than just a formula. It's an exciting flow of expression where different creative elements collide into something special and one-of-a-kind. This is definitely what's happening with the new release by Ido Spak The Jazz Traveler. This amazing artist came out with a new album with a deliciously diverse taste of jazz, fusion, and other influences.
In spite of the title of this release, what this piece of music really shows is that there is really no wrong direction when it comes to exploring creativity. It is really all about making the most out of different ideas and influences in order to create a lush and direct sound. The sound of this record is very warm and organic. The music takes many different turns, and more importantly, it feels heartfelt and personable, each step of the way.
On songs such as "All The Things You Aren't," Spak explores his more melodic side. However, he takes a different turn on "Luminia," for example, exploring different nuances.
---