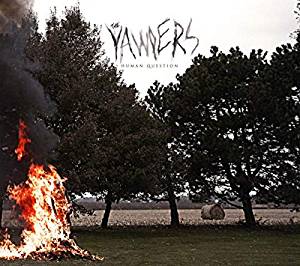 The Yawpers
Human Question
Bloodshot Records
The forth release from The Yawpers, Human Question, is a masterful deluge of so many great sounds and musical inspirations, it's hard to nail them down to just one sound. It's everything from acoustic tunes with driving drums like "Man as Ghost" to punk mixed with some industrial rock on "Human Question" and "Dancing On My Knees". Every song was a new direction I wasn't expecting and because The Yawpers do it so well, I haven't quit playing it since it hit my ears.
Nate Cook, Jesse Parmet, and new drummer Alex Koshak do a wonderful job of filling the space through out the album and giving each song something special. While some songs can explode into a wall of sound like "Child of Mercy", they also create plenty of space on songs like "Reason To Believe" and "Carry Me". There are flashes of pop mixed with a Wilco-style vibe on "Can't Wait" and a bit of a Woody Guthrie folk flavor on "Where The Winters End".
If the energy on the album is anywhere near the live show, they are on my list to get out and see. Their album is available on their website in a couple different vinyl options, CD, and digital download. Grab this album and dig into some of the most original and inventive music to come out this year.
---