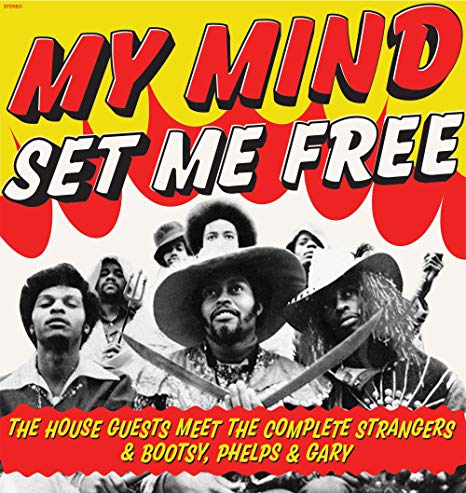 The House Guests
My Mind Set Me Free: The House Guests Meet the Complete Strangers
Shake It Records
Ask the next person you see their impressions of Cincinnati and they might reference the Bengals, Reds, WKRP, or an unappetizing chili concoction. Music fans might mention King Records, the label that introduced James Brown to the world. Deeper heads might mention that Cincinnati was a major hub of R&B/soul/funk, a large portion of which can be attributed to a pair of brothers, Bootsy and Catfish Collins.
Bassist Bootsy, guitarist Catfish and drummer Kash Waddy made up the Pacemakers, a late '60s R&B band known locally for blowing more established bands off the stage. The Pacemakers got a taste of national exposure when James Brown picked Catfish and Bootsy to replace his band after a contract dispute. The brothers spent a year with Brown, in which songs like "Get Up (I Feel Like Being a) Sex Machine," "Super Bad," and "Soul Power" signaled a new, funkier direction for Brown.
Seeking more control, the brothers left Brown, moved back to Ohio, and formed the House Guests with Waddy, trumpeter Chicken Gunnells, and saxophonist Chopper McCollough, showcasing longer, tighter, funkier songs allowing the band to stretch out and groove. The House Guests didn't last too long before they were snatched up by George Clinton to join Funkadelic, but enough recordings exist for Shake It Records to release a 9 song limited-edition LP.
The nine tracks on My Mind Set Me Free: The House Guests Meet the Complete Strangers are a snapshot of a band at the midway point between Brown's stop-on-a-dime tightness and Funkadelic's looser style, with a surfeit of musical talent and groove. Listening to the players stretch out in "Fun in Your Thang" you hear a band honed from playing club shows, knowing how to keep an audience under their control. "Together in Heaven" points towards late period Funkadelic, while the keyboards in "Love and Understanding" recall the funk yet to be invented via Parliament.
At only nine songs, My Mind Set Me Free can seem abbreviated, but it is a document to the hard-working, incredibly deep soul and funk scene that existed in Cincinnati. No word on how many pressings this limited edition is slated for, so you don't want to sleep on this one.
---