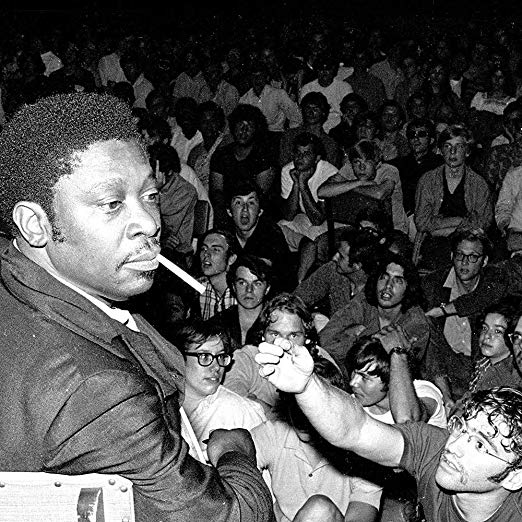 Ann Arbor Blues Festival Vol. 1+2
Third Man Records
50 years ago, something amazing occurred at the University of Michigan. Buttressed by the moon landing which occurred in July and the Woodstock Festival a few weeks later, some dedicated college students put on the first blues festival, and for $14 for 3 days in August 1969, 10,000 blues fans were witness to some legendary names such as B.B. King, Howlin' Wolf, Muddy Waters and dozens more, playing in the hot sun and igniting a rebirth of one of America's earliest genres.
Thankfully for us Jim Fishel borrowed a ¼" Norelco tape recorder and hit record. What survives is 4 LPs of gritty, in your face blues, a true "audience" recording that is a testament to the blues artists of the time. Volume 1 starts off with Arthur "Big Boy" Crudup (he's the songwriter of Elvis' first single, "That's All Right Mama") with "So Glad You're Mine", followed by J.B. Hutto & His Hawks with "Too Much Alcohol" and it doesn't let up for 5 more sides.
Sadly, very few of the artists featured are still with us. Otis Rush, who's "So Many Roads, So Many Trains" electrifies here passed last year. Wolf, Muddy Waters, Mississippi Fred McDowell, long gone. Charlie Musselwhite, harp player extraordinaire is still around and lights up the festival stage with "Movin' and Groovin'", and he doesn't too different than he did almost 50 years later with Ben Harper on 2013's Get Up!. Magic Sam, the incendiary Chicago guitarist shows up without a band – or even a guitar – finds both, and is captured on "I Feel So Good (I Wanna Boogie)", and by all accounts was the star of the festival. Sadly he died later in the year of a heart attack.
The Ann Arbor Blues Festival was an historic event in a turbulent era, and gave a life-line to performers such as Muddy Waters and Pinetop Perkins, who's glory days of the Chicago electric blues scene had largely passed, and kept them, and others from the 3 day event in the public eye. This collection by Third Man Records is top-notch, with extensive booklets loaded with images from the festival, and even includes a 78 RPM recording of Son House's "Death Letter". The recordings capture some of the blues biggest stars performing at the top of their game, and the only downside is that you couldn't be there in person. Essential for blues fans as most of the cuts haven't been released, and are well-recorded and vital. Man, what I would give to have been in Ann Arbor in the sun, can of Bud at the ready, listening to Lightnin' Hopkins crank out a ferocious "Mojo Hand". It don't get no better than that.
---