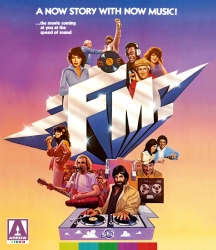 FM
directed by John A. Alonzo
starring Michael Brandon, Martin Mull, Eileen Brennan, Alex Karras
Arrow
If you think the 1970's were all roller disco and polyester, you're missing one of the biggest paradigms shifts of the century. The joy of 1960's pop perfectly fit the AM dial and the "Screaming Steve" DJ, while up on the FM band jazz fans and art rockers needed long periods of time to explore high concept music. This film captures that moment when the artsy guys started making money and the suits came looking for it. The result is a classic culture clash, and of course the suits won. They always win.
Jeff Dugan (Brandon) runs "Q-Sky," the new top-rated station in LA and draws listeners with what we now call "Classic Rock." Radio For Art's Sake is a ball, but he could be making a LOT more money, so sayeth weasley Regis Lamar (Tom Tarpey) the sales guy from Corporate. Regis wants to run more adds, especially ones that made the Army look good to all the antiwar protesters. Dugan stand up against his bosses and is fired, but the air staff hijack the radio station and fight back. Along the way Q-SKY highjacks a concert broadcast of Linda Ronstadt to show up a rival station. Supporting the fight is a wonderfully eclectic air staff that only a college station could pull off, even back then. There's the full of himself Eric Swan (Martin Mull,) the sexy late-night Mother (Eileen Brennan) a hip Prince (Cleavon Little) doing soul and jazz, and most sadly the alcoholic Doc holiday (Alex Karras) country DJ.
This is a movie people love to hate, it gets bad marks on all the major movie ranking sites. But I find it charming, even if to presents an overly romantic view of commercial radio. The sound track does ignore much of the "other" great 70's music: the early punk and rap, and the more established disco and soul sounds are completely absent on the sound track. But FM shows a heroic story of the little guy fighting giants against overwhelming odds. They win a battle but lose a war. And it was a war; Reagan was repealing the fairness doctrine and ownership rules and setting up the Clear Channel monster that owns the air today and fills it with strident politics. But Q-Sky's looks and vibe recalls more than a few places I worked back in those days. Then people cared about radio, but now broadcast radio has faded like Drive-In movies: loved by a few and viewed by most as a curiosity or an ancient ritual. Video didn't kill the radio star, it was money and the internet.
The Blu-ray I'm looking at offers some great commentary tracks, and one really cool feature I've not seen before. There's a "Music Only" track. It's the full movie with no dialog, just the music which is often is pushed back to an underlay. Along with two full Linda Ronstadt live tracks ("Tumbling Dice" and "Poor, Poor Pitiful Me") there's a Tom Petty interview and a youthful Jimmy Buffet pumping out his jail bait manifesto "Livingston Saturday Night." The chorus proclaims: "Fifteen will get you twenty, but that's alright…"
In the pantheon of rock and roll movies, this is certainly one of them. But it's a big favorite of mine. It reflects the days when we really believed we could change the world for good by playing Jethro Tull and tracking the new Fleetwood Mac and Led Zeppelin albums. And our fans agreed. Sure, that's all trite today, but a lifetime ago, it sure looked like the future.
---