Dirty Honey
House of Blues / Orlando, FL • 10.24.19
by Christopher Long
Donning tight-fitting black and purple striped trousers and an Aerosmith T-shirt, the long-haired singer's face remained partially hidden by the wide brim of his floppy felt hat, as the bushy-headed bassist and the rock-ribbed guitarist both slashed away at their vintage instruments – all while the hard-hitting, bearded drummer pounded his traditional, four-piece kit. The image mirrored a scene straight out of the film, Almost Famous. But it ain't 1974 – those days are gone for good, right? Ugh, not so fast there, pardner. Ladies and gentlemen, meet Dirty Honey.
The young, LA-based combo certainly has blown up since the release of their self-tiled debut EP earlier this year – opening for the likes of The Who and Guns N' Roses, as well as making appearances at such major festivals as Welcome to Rockville.
Their record is receiving enormous praise and significant airplay. And they're knockin' down tour dates in major league fashion. But a reasonable question might be, can Dirty Honey deliver once they actually hit the stage?
For starters, whoever the band's front-of-house audio engineer is, they deserve a big fat raise. Simply put, the production on the band's record is freaking superb. However, to my ear, Dirty Honey sounded even better live – crisp and crunchy, bold and beautiful – just the way daddy likes it.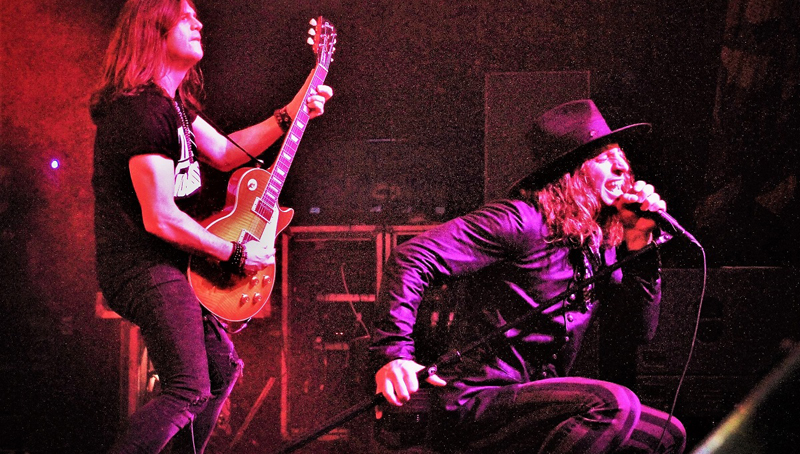 Proving to be an engaging party host, frontman Marc LaBelle connected with the 1,000+ HOB early birds quickly and easily. "This is our first gig in Orlando, ever!" LaBelle confessed to the crowd, amid cheers of approval. "Somebody said we sound like a southern rock band," he continued. "So it's great to be playing in the south."
The fat-free, 30-minute set leaned primarily on tracks from the band's record, including the cock-rocking "Heartbreaker," the Billboard chart-topping "When I'm Gone," the YouTube-trending "Rolling 7s" and the Allman-feeling "Down the Road."
With confident swagger, LaBelle, along with bassist Justin Smolian and guitarist John Notto, worked their turf like seasoned pros – movin' and muggin' like bona fide rock stars. Illuminated by the four enormous LED logos beaming from behind and above, the band members appeared even younger onstage than they do online. Hey, you boys got I.D. to be drinkin' them beers?
Offering humble props to the evening's headliners – Alter Bridge and Skillet, LaBelle then cleared the deck for an impressive drum solo from Corey Coverstone. Stepping out and stretching a good bit from the studio boundaries of their record, Coverstone was more than worthy of nabbing the show's MVP honor – tossing his sticks out triumphantly from atop his drum throne at the conclusion of the band's well-received set.
In sum, a rock band can fake it the studio. A rock band can fake it on the Net. But a real rock band can't fake it where it counts most – onstage. That's "sink or swim" territory, baby. And Dirty Honey proves to certainly be the real deal onstage – oozing the authentic spirit of rock and roll with the greatest of ease.