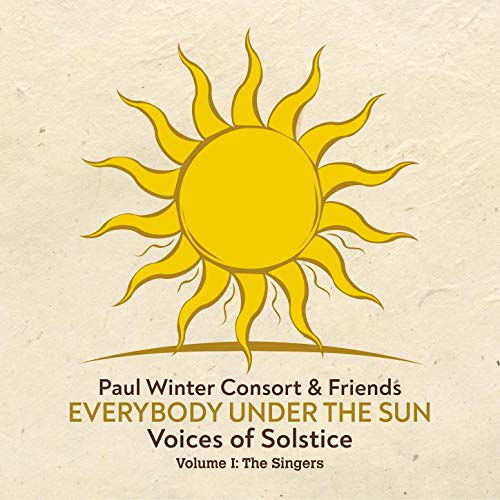 Paul Winter Consort & Friends
Everybody Under The Sun
Living Music
Paul Winter has been a pioneer in the fields of world music and jazz since he founded the Consort in 1967, leading a diverse group while wielding his soprano sax. Luminaries have passed thru the group including guitarist Ralph Towner and multi-instrumentalist Colin Walcott, who went onto form the successful group Oregon. Since 1980, Winter has led his Consort as artists-in-residence at New York's Cathedral of St. John the Divine during the winter and summer solstice. These concerts feature a wide array of artists from around the world, and now some of these performances have been collected, the first being Everyone Under the Sun: Volume 1: The Singers.
The thirty cuts assembled here span the globe, such as the opening cut "Kurski Funk" by the Dmitri Pokrovsky Ensemble from Russia, to Pete Seeger with "How Can I Keep From Singing" to stops at Brazil (Ivan Lins, Renato Braz), Ireland with Niamh Parsons or the "Zebra Song" from Zimbabwe's Lucky Mayo. There is something almost spiritual about these selections, and it's not only due to the location. Winter's sax floats among the voices, lifting them higher, such as "Witchi Tai To" by Apache John-Carlos Perea or a great "You Are My Sunshine" by American Theresa Thomason with Lucky Mayo.
Amid the joyous sounds there is heartbreak, however. The first Winter Solstice occurred in December of 1980, ten days after John Lennon was murdered not far from the Cathedral. Susan Osborn led the Consort in his "In My Life", and this set has Procol Harum founder Gary Brooker doing a version, 37 years later. (He also performs the Harum smash "A Whiter Shade of Pale"). Poignant and moving, indeed. Paul Winter and his Consort are American treasures, and one hopes for many collections of this sort are forthcoming, but this first set is a welcome bit to start.
---