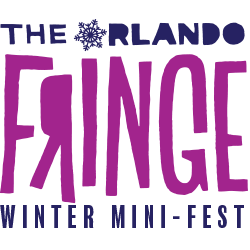 Orlando Fringe Winter Mini-Fest 2020
Orlando FL
Orlando Shakespeare Center
Day 1: 1-9-2020
Welcome back to the "4th Winter Fringe Mini Fest." I'm pretty sure that the official title, but if not just head for the giant traffic jam on the corner of Orange Avenue and Princeton. This smaller Fringe Festival is curated, which means the shows are all selected by the producer, and your chances of bumping into a train wreck of a performance is very limited. All shows are at the Orlando Shakespeare Center so while parking is tough, once you get a spot you can camp out. You will be competing against a regular Shakes show I'll be covering shortly.
Amenities are limited but compact, there's a beer area that also pours some stiff drinks, and a food vendor that tonight features "Beyond Meat Burgers." Parking isn't as crazy, and the opening night audience is a large sector of the usual characters: The Teenage Ninja Backpack Woman, the remnants of DEM Guys (Dave and Ed), and the dedicated Fringe staff led by a very relaxed looking Show Producer Michael Marinaccio.
I did get to see a few shows.
"The Lightweight" (Lil Theater Company) takes us on the nerdy girl's journey. Obsessed with fantasy fiction and trapped inside of a 300 baud internet dial up world, Lindsey finds herself in a creative writing class, only to be worked over by the instructor. Alcohol enters the mix and a crappy job selling "Dollar-itas" at Benigans pushes her into the gutter, but what ultimately saves her is boxing. Her story is fast furious and cute as a bantamweight puppy. I laughed repeatedly, and ironically.
"Leviticus" (Ciara Hannon) became a local hit at last the 2019 Festival. It's a Holy Roller coming out story, complicated by the ultra-Christian backdrop of Levy's (Hailey Partridge). At first, the church seems open to her nontraditional arrangement with Elsie (Gabi Gusseppi), but when Levy is up for a promotion to Assistant Youth Leader, the church's true colors come out: Levy is good enough to set up folding tables, but unable to sit at them and eat the cookies. Her semiofficial partner Elsie doesn't take her anguish well, and we end with a rather ambiguous ending. Levy is bright and peppy while Elsie's more mature and more realistic, and there's a couch that gets hauled on and off stage like any good theater couch should. There's drama and emotion, if expounded in a rather brutal realism.
Becoming Magic Mike – An Action Adventure Comedy Long time Fringe circuit alum DK Reinemer returns with a one man "Cops and Robbers" parody long on laughs and high on exotic dancing. I lost count of how many pairs of pants he wore, but most of the audience can tell you to the jock strap how many. Magic Mike is a semi competent detective, working the strip club beat over in Tampa. Tampa always did have the best clubs even if there were in the worst part of Cigar City. The trick her is to sit in the back, unless you really want to end up on stage. Along with the undergarments and over acting, this is where Hawaii Five-Oh would be like today if it were set in Florida and Steve McGarrett liked boys. Mike beats himself silly with cross examination and police jargon, and I suspect this may be closer to the truth than what they taught you in grade school civics. Leave your weapons and the door and don't forget to ask for extra illicit drugs. Its wild ride down the Bumby Avenue than Dale Mabry.
IT'S RABBIT NIGHT!!! By Jon Bennet I think I've seen about a thousand fringe shows so far in my literary career, and I can say with some authority this is the fringiest show I've ever attended. Mr. Bennet passes through town from time to time, but tonight he's leading us into "Rabbit Night", and event packed with cute bunnies and bad planning. Few men look good in a bunny suit, and Mr. Benet and his five o'clock shadow evoke more sinister look. We, the paying (sort of) audience, did NOT get the Bunny Suit Memo. His offer of free carrots to all is quickly rescinded, and a touching if possibly apocryphal tale of how he ended up on the Blue Venue stage at midnight on a week day, attempting to lead us in rabbit themed entertainment. This Fringy beyond Fringy, with a clever interweaving of pathos, love and desperation. The audience plays along perfectly to the point I'm not sure if my friends here are in on the joke, or just pawns the cosmic game of life. Even Mongo is uncertain. Be warned, if you're not wearing your ear, you may be an outcast. And if you do wear your furs, you may be onstage. It's a risk we all take.
---