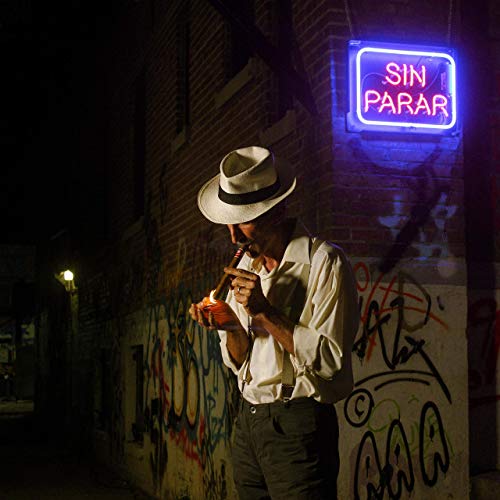 LPT
Sin Parar
For as long as I've been commuting to work, my companion has been my radio. I keep up with what's going on in the world listening to Morning Edition and BBC World Service. Lately, that hasn't been an easy thing to do. Venice is sinking, I know, it's been sinking forever, but so is the Maldives. Australia is ablaze, and then there is Brexit and the non-stop car wreck that is Washington. The news is a seriously depressing and Prozac only helps so much.
One morning when the news was getting me down like rapidly darkening storm clouds, I put Sin Parar in the CD player and the there was the sun! The rhythms started to percolate, the piano layered in some chords and the horns came in bright and clear. A dance of jazzy horns, Afro-Cuban percussion and voices swirl around like dervishes casting a spell of positive vibrations. The singers are a big part of this dance. Their words float over and around the instruments. It sounds like the singers are having the best day of their lives. I don't speak Spanish, so I have no idea what they're singing about, but it sure sound like they're onto something good.
Sin Parar is the debut album by a group called LPT. The 10 piece band came together in Jacksonville, Florida in 2015 "with the mission of keeping legit "Descarga" salsa alive". They have become leading evangelists of Salsa in the Southeast with the goal of reaching a young audience who may think salsa is only that stuff that comes with the basket of chips. They're also keeping their sound rooted in the Latin/Afro-Cuban tradition that will keep the old school fans on the dance floor too.
About the time that I was finding the news just to depressing to follow, the activist and performance artist Annie Sprinkles tweeted, "I've got an idea, "Strategies of Joy." Let's all become as happy, positive and hopeful as possible." She wants to make the world a happier and more compassionate world by sheer force of will. Well, if we're going to try to make that happen, Sin Parar by LPT is a great soundtrack for the cause.
---