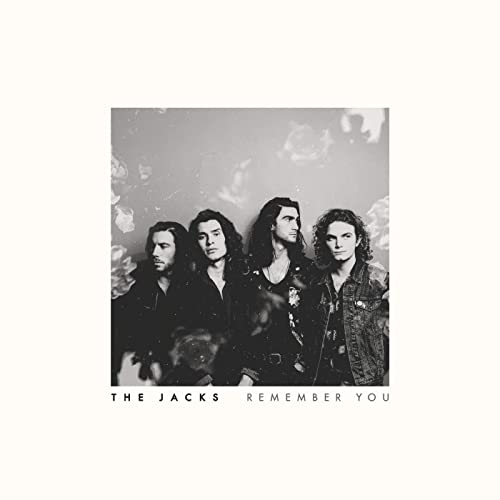 The Jacks
Remember You
Edgeout Records/UME
Los Angeles rockers, The Jacks, are back with their second EP, Remember You, a five-song winner that successfully combines hard rockers and pop-driven love songs. The quartet includes Jonny Stanback (lead vocals/rhythm guitar), Tom Hunter (vocals/lead guitar), Scott Stone (vocals/bass) and Josh Roossin (drums/percussion), four best friends who came up on the L.A. music scene. Their signature catchy hooks and infectious grooves were inspiring on their first EP, a self-titled, five-track release back in June of 2019 (read my Ink 19 review here https://ink19.com/2019/06/magazine/music-reviews/the-jacks), and their sophomore effort does not disappoint. With Grammy-winning producer Joe Chiccarelli (The Raconteurs, The White Stripes, My Morning Jacket) at the helm, the boys from The Golden State truly shine on their second record. And it makes sense that they would work with a Jack White producer. Their first EP had clear Jack White influences on it.
"Threw It All Away" kicks things off in high rock 'n' roll gear with a catchy, drum-driven, funky groove and great lyrics.
I know you want it but you're never gonna figure it out/Cause now you got it and you threw it all away
Just take a walk along the edge of your insanity/And then come tell me what you find
But then the tables turn with "We Were Only Young," offering a poignant, bittersweet message.
We were only young just for a moment/But we'll never find our way back home/We were only young just for a moment/Forever lost in the unknown
Remaining in a mellow tone, "Olivia" follows with a Paul Simon meets Jason Mraz vibe. The acoustic, upbeat simplicity is paired with the complicated lyrics of an unraveling relationship.
Well I heard that you were leaving for the summer/Except you're never coming back ever again…Oh Olivia come on and take a chance…Oh Olivia have you heard the news/If you believe in me then I'll believe in you
Returning back to hard rockers on the last two tracks with "The Only One" and "Just A Little Bit," The Jacks show how truly versatile their music is. "The Only One" is the hardest rocker of the bunch, as it builds and builds with killer guitar and is once again, drum-driven. Just when you think the song is over, it starts again with searing guitar and an abrupt ending. I really love this one. You can hear The Black Keys influence on it.
Closing with "Just A Little Bit," another hard rocker with a '70s throwback/The Strokes feel to it, the EP is over as quickly as it began, leaving me wanting a lot more.
With two EPs under their belts, I truly look forward to a full-length album from The Jacks. They have a great deal of potential and their sound is very appealing. It's no wonder that they have worked with top industry producers. Check them out for yourself and support this up-and-coming band by purchasing their 2 EPs.
---