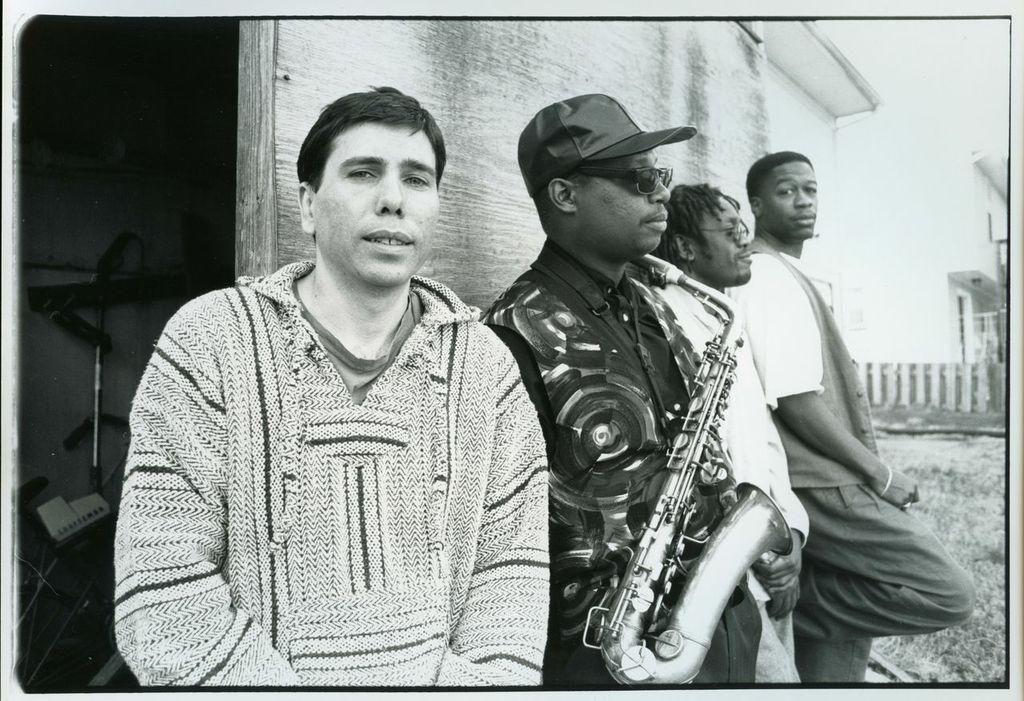 George Mitchell
by Stacey Zering
There are a number of artists who attempt at resurrecting the Golden Age of '70s funk and understandably so. That music is both rooted in its period but timeless as well. However, it takes a tremendous amount of talent, imagination, and a killer instinct for a hot groove to pull off. Producer/writer George Mitchell has the right ingredients when serving Fishbelly Black to the populace. Fishbelly Black's latest album, Turn It Up, weaves together soul, R&B, and a sleek undertow of jazz – often lost in today's makeovers – to travel back to funk's early '70s heyday but also inject it with contemporary hip-hop inspirations.
Q: What are the personal challenges you have gone through as a musician, and how did you overcome them?
A: I think the greatest challenge has been to accept the talents I do have. I have known some of the most amazing musicians that you will never know. Yet, I have been able to tour, get record deals, put out albums, produce a bunch of albums, etc. So there must be more to this business than just being the best guitar player out there?
Q: How did Fishbelly Black originate and how has it evolved?
A: Fishbelly Black was a studio project of mine – a made-up group. To be a record company you need product so while my artists were working on material, I was also releasing product under different names. When the first single "Spontaneous Combustion" started to take off in the U.K., I was getting offers for the band to perform – except there was no band – just me in the studio. I was even getting offers to DJ at clubs in London – and I am not a DJ. After I finished up the first CD, I decided to accept the tour offer and I put together a group of players and we toured the U.K. and then Europe. After one night at the Jazz Cafe turned into a week at Ronnie Scott's, we caught the attention of BMG, who signed the group. But as occurs too often, there was a shakeup at the label and the CD was shelved for about eight months and I sued to get the rights back. Since then, I have released Fishbelly Black material under my label, Backbeat Records.
Q: In terms of musical style, where do you see fitting? It can be more than one.
A: I originally described the sound as "Maceo Parker and Jimmy Smith meet hip-hop breaks and beats." At the time, it was categorized as "acid jazz" . Then that became "street jazz" and then "soul jazz." It was tough in the U.S. because "smooth jazz" was the only format pushing anything that wasn't straight ahead jazz, but I never really connected with a Fishbelly Black record following a Kenny G. record on the radio so even that was a tough slot to fit into. Luckily, the internet has allowed for much more varied playlists but I still find it hard to put the Fishbelly Black sound in a specific category.
Q: What was the first slice of music that ignited your imagination?
A: I could put on a Beatles record today and still know every lyric and guitar part. I was always drawn to a good melody and loved harmonies. For some reason I was never really into whatever was contemporary at the time. Whether the Beatles or James Brown, I always seemed to look back for my inspiration.
Q: Tell me your artistic influences and how they affected you. What did you learn from them?
A: I was always drawn to music that had a rebellious side. Whether it was punk music or hip-hop, I was into artists that could capture their defiance on vinyl. I was also drawn to artists that had their own sound, especially guitar players. It takes two notes for me to identify that Jeff Beck or David Gilmore is playing. It is that kind of identity that I wanted to bring to a Fishbelly Black record.
Q: Can you describe how you have evolved creatively throughout the years?
A: I try not to be dismissive of anything I hear. I just say to myself, "it's not my time to hear it." I hated disco, but now I can listen to a KC and the Sunshine Band record and totally appreciate the funky groove and arrangements. How did I miss that the first time around? Having a studio in a laptop has ignited the biggest creative advance for me. I used to run to a portable cassette deck when I wanted to capture an idea. Now I feel like I have the equivalent of Abbey Road Studios at my disposal. As a producer, I am more in tune to the sounds, the arrangement, the feel of a recording. I grew up drawn to incredible songs, so the recording quality was never the priority. Now there are more crappy songs that sound amazing.
Q: Do you feel being a musician is a job or a hobby? Or both. Please explain.
A: I would say neither. It's something your just born to do. It's a passion. Whether I was getting paid or not, music is something I would always have done. The challenge is to be able to get paid with few compromises. I know some incredible musicians working in wedding bands. I think I would prefer to sell my soul doing a regular 9-5. With that said, I have always treated it like a job. I'm not one to sit on the beach waiting for inspiration. I sit at the piano at 8 a.m. and say I can take a break when I write something. ◼
---