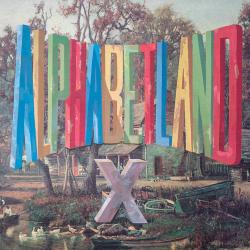 X
Alphabetland
Fat Possum
X are one of the flagship American punk bands. Their first four albums, Los Angeles, Wild Gift, Under the Big Black Sun and More Fun in the New World are all classics. It's been 35 years since the original line up of X worked together on the metal tinged, Ain't Love Grand. It's been 27 years since their last album of original material, (the ill conceived Hey Zeus!). The band got together again in 2000 to play some gigs. X has been touring off and on ever since. They've only been playing tunes from the albums Billy Zoom was on. I was surprised when X announced they were going to record new songs. I was even more surprised when Alphabetland suddenly popped up on Bandcamp. (A physical release is still scheduled for August).
After all these years, I'm glad to report that Alphabetland delivers. All that touring has dialed in the spirit of those early albums. "Delta 88" is actually one of the first songs they ever recorded, that never appeared on an album. It's a blast of loud, fast punk rock. Exene Cervenka sounds like a hyperactive schoolgirl singing, "We're going down to Cannery Row… We're going to get drunk as hell." They also resurrect "Cyrano deBerger's Back," which originally appeared on a Flesh Eaters album.
"Delta 88" is a marker of where they have been. The new songs reflect concerns of well-weathered punks. "Star Chambered" muses on what might have been if X had "made it." Exene sings, "I wish I were someone else. Someone I don't even know," on "Angel on the Road."
Alphabetland isn't all middle-aged angst. John Doe get's his anger on spitting out, "You hurt my sister. She didn't do nothin" on "Free." I imagine a scene in a prison story where Doe plays the killer on death row. The prisoner is unrepentant about defending family and longs for the freedom that comes with release, from prison or life. On "Water or Wine," Exene defiantly questions who decided who gets ahead and who gets screwed in this world.
X were always one of the most literary punk rock bands. They've always painted vivid pictures with their words. At their best, the music is a gut punch driving home those emotions. Alphabetland is packed with short, sharp bursts of adrenaline. The rhythm section of Doe and DJ Bonebrake are the runaway train propelling things forward and Billy Zoom provides the crunch. I always liked how Zoom can throw out a nifty rockabilly riff or a blink and you missed it lead while keeping up with the frenetic punk rock pace. He's still got it and it's all over this record.
The surprise release of Alphabetland was a reaction to the COVID-19 situation. John Doe told the LA Weekly, "Let's give people – at least our audience and maybe beyond that – something that is upbeat." With the musical landscape altered, Doe said, "We all want our family, friends and fans to hear our records as soon as it's finished. This time we could do that."
---