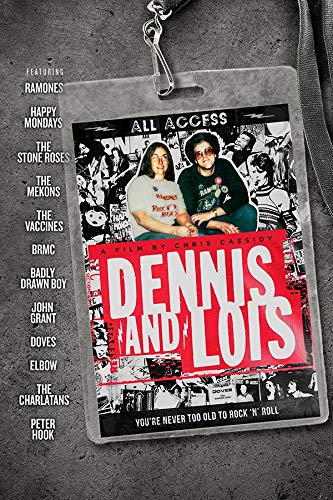 Dennis and Lois
directed by Chris Cassidy
starring Dennis Anderson, Lois Kahlert
Siren's Call
Hundreds of music documentaries are produced each year, giving Henry Rollins, Dave Grohl, and Questlove valuable opportunities to express their opinions. Most of these documentaries are devoted to performers, record labels or producers, with very few focusing on actual music fans. Maybe because music nerds don't want to spend an hour and a half watching themselves on screen, maybe it's because fans aren't as interesting as musicians.
But occasionally the fans can be as interesting as the performers, as with Dennis and Lois, a new documentary focusing on a 60 plus couple who have seen over 100,000 concerts and still keep going.
Dennis and Lois' second date was watching the Ramones at CBGBs. They quickly fell in love with each other and the band and became rabid fans, doing things like driving 9 hours to Pennsylvania to watch a 20 minute set. Soon they were hanging with the band and selling merch at concerts.
Their openness and hospitality led them to open their home to touring bands, and they befriended a ton of bands – the Damned, Nick Cave, New Order, the Undertones – just about everyone you might have put on a mix tape back in the '80s or '90s. Getting a song titled after them by Happy Mondays put them in the strange position of being more famous as fans than some of the bands they went to see.
Dennis and Lois are a charismatic, fascinating couple, and viewers are sucked into their obsessive world. Never married, the couples' apartment is jammed with memorabilia, collections, and artifacts, giving a great compliment to the couples' stories. You want to know these people and find out what makes them tick – why do they continue their rabid fandom when many dedicated music fans slow down in their 30s or 40s?
The answer lies in Dennis' opening quote "That half hour that they're on stage every night, there's energy then..it's just so uplifting…what kind of person made this music?"
This love of music shine through the documentary, and it serves as an inspiration to fans – keep your obsessions, nourish your interests. If Dennis and Lois can do it, so can you.
---