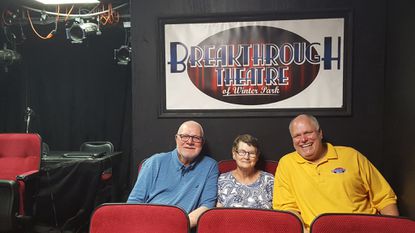 Breakthrough Breaks Down
A local theater company folds in the face of the Covid Pandemic.
On June 17, 2020, artistic Director Wade Hair announced Breakthrough Theater of Winter Park will cease operation. This a great blow to Orlando's vibrant theater community.
I first became aware of Breakthrough theater driving down the Mario Kart track of rush hour that we all know as Fairbanks Avenue. Right where the CSX/Amtrak trains cross busy Fairbanks Avenue a sign announced the opening of a new theater was opening: Breakthrough Theater of Winter Park. Not knowing anyone associated with it, I asked for press accreditation and was told "We'd LOVE to have you here." I don't recall the name of my first show at Breakthrough, it may have been "Kick Ass Plays for Women." Whatever the title, it fit on a minuscule stage lit by track lighting with no microphones. That was all the tech Breakthrough had. Backstage was the parking lot by the Amtrak rails. The unisex bathroom was about the size of an airline john and had a scary fuse box covered in gingham cloth. In the lobby, and Mr. Hair's mother sold homemade cookies and coffee from a Keurig. His father checked my name off an old school tablet paper, and for the next ten years, I covered nearly everything they did in this ridiculously small space.
It took this doughty theater company a season or two to find itself. They started with exotic new works like "Betty's Summer Vacation" and "Oedipus for Kids: The Musical." They hung on by a thread, but eventually found their niche: Large cast musicals filled with small children and a few really talented adults. On their tiny stage Breakthrough fit up to 30 people. I once saw a dancer do a full ballet jump in that stage, and possibly their biggest show was a full cast "Jesus Christ, Superstar." Mr. Hair took the good role: Herod.
Breakthrough did kids shows with real kids, many of who now are rising theater stars. I saw heartbreak and triumphs and disasters on that one-half-foot-tall stage. Breakthrough progressed from Office Depot flood lights to actual LED plates. I often sat in the front row, tucking my feet in for energetic dance numbers and once nearly tripped actors on stage one night. Silly kids shows, deadly serious adult drama, and wonderfully sung Broadway melodies filled the dance card and I never ever felt anything but love in that room. I even produced a Fringe show in that space and made a full $2 profit. But darn it, it was fun.
Now all of that is gone. Wade Hair has murky medical issues, His parent are brave and hale but suffer the infirmities of age while making the show go on. Young children who debuted here are now respected actors in Orlando and points far away. Scores, maybe hundreds of youngsters have found a place in theater here or decided that wasn't their destiny. Breakthrough helped them discover their own strength and weaknesses. I will miss the place. The A/C was to often set on Adak, Alaska, the rest room was smaller than the outside of a Tardis, and the Amtrak and CSX and Sun Rail occasionally broke the spell of a dramatic moment. But at least we had spell to break. And now after 10 years, Breakthrough Theater of Winter Park fades to a sparkling memory. Let's hope we don't lose any more companies. Every stage matters.
CFG
https://www.facebook.com/Breakthrough-Theatre-of-Winter-Park-82813651818/
---