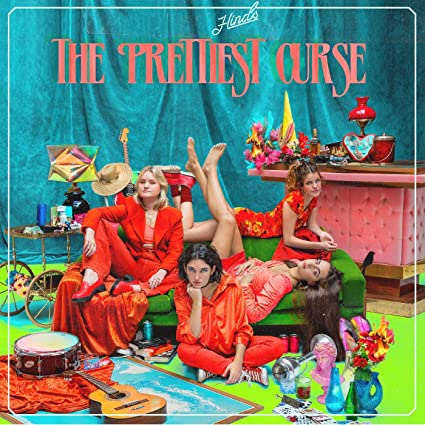 Hinds
The Prettiest Curse
Mom + Pop Records
Is the news getting you down? Are you getting cabin fever from isolating? Need a break from all that? Why don't you take a break and escape to the candy colored garage pop of Madrid's favorite export, Hinds?
The Prettiest Curse is a departure from the band's low-fi, as close to live as possible sound. This time out, the band is having fun in the studio, playing with all the toys at their disposal. They're still singing about the things that young adults are always thinking about, drinking, dating and dancing. Carlotta Cosials and Ana Perrote sing and play guitar with confidence and swagger, and for the first time sing in their native Spanish.
"Boy" and "Good Bad Times" are both excellent songs about the problems of trying to maintain a relationship when you're always away. "Come Back and Love Me" has a nice flamenco lilt and ends with a flourish of toy piano. I really like the guitar soloing on "Take Me Back." The playing exudes confidence even when they're singing about their insecurities.
It's unfortunate that there are still people who treat women in rock like a novelty. Hinds take the piss out of these idiots on "Just Like Kids (Miau)." Over a jaunty organ riff they wonder at the stupid things people say. "You're always out of tune and there's no place for you." "Are you Spanish or something? Wait, Can you roll your R's" "The women just blow off these types with, it's been a pleasant chat, but I'm off to do my job."
Damn you Covid for making Hinds scrap their tour to support The Prettiest Curse. I was lucky enough to see them before the plague. Some day, we'll get that chance again. For now, we can put on the record and drift away.
---