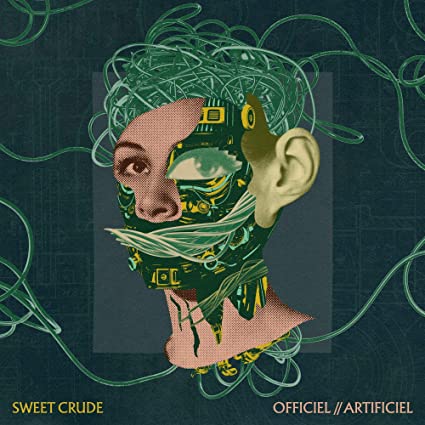 Sweet Crude
Officiel//Artificiel
Verve Forecast
Its obvious Sweet Crude are striving for new sounds and new directions on their major label debut. The New Orleans based band build on their drum heavy, synth pop sound with slicker production, funkier grooves and more of a balance between French and English in the lyrics. "COGO" opens the disc with driving bass and crisp drums. It sounds like they have their eye on the dance charts, but then they break out with a mass of voices that sounds like something that mutated out of an old punk tune. After that, Alexis Marceaux channels Laurie Anderson with a recitation: "in a hundred years, there will still be excuses, there will still be oopses, there will still be frets, regrets and unpaid debts." Then those massed voices come back, "take a shot, get that monkey off your back, get off!" That's a lot going on in one song and you can still dance to it.
Change, personal growth and renewal are recurring themes on Officiel//Artificiel. "Deballez" references the Katrina disaster, but applies to these weird times we're living through now. The song is sung in French with the key lyrics (translated) being, "come on friend, don't give up friend, come on let it out. I see you. I see you. I see you."
"Impuissance" struggles against nagging insecurities that encourage resignation. That theme reappears on the seductive slow jam, "Skin." It starts with Sam Craft and Alexis crooning, "whose skin am I in? Whose skin am I in? It isn't mine anymore." That doubt threatens to pull them under. By the end of the tune though, they've come to the resolution that, "starting today I'm chasing the demons away."
While self-doubt and solipsism are demons threatening to pull down the characters in many of these songs, they are met with fierce determination to keep on. This battle comes to a head on "Ultimatum." Alexis sings about working through a rocky relationship. She sings, "Mirror, mirror on the wall, show me how to undo the protocol… It used to be there was a voice inside my head saying quit while you're ahead." Alex silences that voice singing. "I don't need validation. I don't need complication. All I just need to know, are you in? Are you out?… this isn't a serenade, this is an ultimatum."
I've always admired how optimistic Sweet Crude can be without being saccharine. They confront the darkness and find a way to push through it. "Porkupine" comes at you sounding dense and foreboding underscoring that life is a struggle. In the lyric though, Sam is singing about his admiration for weeds that find their way through pavement.
The most unapologetically upbeat song on the album is "Sun Sept." It's a song reminiscing about childhood adventures. The song is buoyant with simple joys that live in memory forever.
"Rougarou" is inspired by Cajun folklore. The Rougarou is the Louisiana version of a werewolf/chupacabra. Spooky sounds swath Alexis voice as she sings about being stalked by a predator. The wolf she's singing about is scarier than any Wolman though. The predator is a creepy, seductive man.
Officiel//Artificiel concludes with "Purge;" a Marie Condo style meditation about holding onto things from the past. "Purge" ends the album encouraging you to let go of the past and embrace the unknown.
---