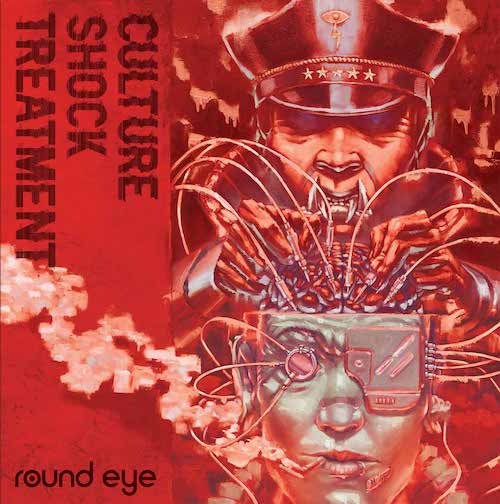 Round Eye
Culture Shock Treatment
Paper + Plastick
There has been an underground punk rock scene in China since at least the 1980's. When I was in college, I picked up a bootlegged recording by a Shanghai band playing original tunes in Chinese and attempting to sing "Get Off My Cloud." I lost the album long ago and can't find anything about it. The protesters in Tiananmen Square sang, "Nothing to my Name," by Cui Jian, which became troublesome for the singer after the crackdown. Hang on the Box brought riot grrrl action to Beijing and Tang Dynasty gave the scene a metal edge. Round Eye are a band from Shanghai, but they're not Chinese themselves. The five ex-pats comment on their adopted nation with anarchic freak rock and humor.
Round Eye are pretty eclectic, like the best of the SST bands. Culture Shock Treatment opens loud and fast like a Ramones jam. Underneath the pounding drums and guitar racket though, I hear some soaring do-wop harmonies. On tunes like "The Foreigner," jazzy sax lines augment their grind. When we get to "Opportunity of a Lifetime," Round Eye throw everything at the wall with a wild freak out of sound and voice. The album closes with a throbbing hunk of echo drenched pseudo rockabilly called, "Endless Sleep,"
Anyone making art in China has to deal with State censorship. Bands like P.K. 14 have to keep political commentary pretty opaque. Being foreigners, Round Eye are able to pretty direct in their social commentary. "Catatonic (I'm Not A Communist)" takes direct aim at the Party and it's policies. The target of "Red Crimes" is pretty obvious.
"Smokestack" is eerily prescient. The song memorialized the student protesters of the pro-democracy movement of 1989 and the violent crack down that ended the movement. Now we have pro-democracy protesters standing up to Beijing on the streets of Hong Hong. We have thousands of people around the world standing up for Black Lives in America. Justice is won and maintained through struggle and the struggle never ends.
I want to finish with a shout out to producer Mike Watt (Minutemen, the Stooges, fIREHOSE) for getting the '80s L.A. punk esthetic down so well. I also need to say something about the band's name. Round Eye is Chinese slang for Westerners. It's not an endearing nickname for Europeans.
---