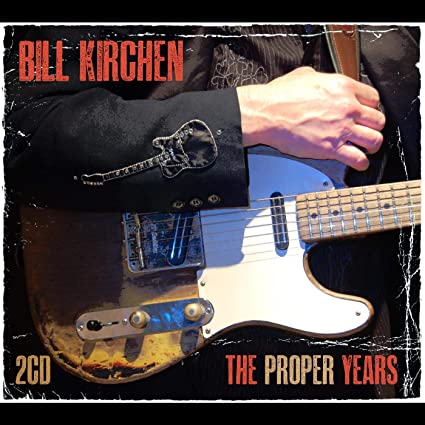 Bill Kirchen
The Proper Years
Last Music Co.
If you consider yourself a roots music aficionado and aren't familiar with Bill Kirchen, friend, what rock have you been hiding under? Kirchen was a founding member of the great country/Americana/sleazy trucker music outfit Commander Cody and His Lost Planet Airmen, who, along with fellow pioneers Dan Hicks and His Hot Licks, spent the late '60s and most of the '70s crisscrossing the country playing their odes to fast cars, loose women and, of course, pot in every roadhouse and honky tonk that would have them. The Airmen broke up in 1976 and Bill went out on his own, becoming known for his amazing Telecaster skills, great songwriting, and live shows.
Early on in his solo career Kirchen hooked up with pop/punk wunderkind Nick Lowe, and it's from this era that his 2 cd set, The Proper Years springs. And it's a jewel. Starting with Bill's ode to the Telecaster guitar, "Hammer of the Honky-Tonk Gods" and going into "Rocks Into Sand", "Truth Be Told" and more, Kirchen shows he not just an amazing guitarist, he's a great songwriter as well as a seasoned interpreter of other peoples material. His take on Dylan's "It Takes A Lot to Laugh, It Takes a Train to Cry" is as good as any you'll hear, and he brings the Kirchen touch to Butch Hancock's "Oxblood", included here as a bonus track.
Of course the set includes versions of some of his "greatest hits" including "Womb To The Tomb", "Hot Rod Lincoln", "Truck Stop at the End of the World" and his stoner ode "Down to Seeds and Stems". This 38 cut collection serves as a great intro into the man who helped invent this stuff, the great Bill Kirchen. Rev it up Bill, rev it UP!
---