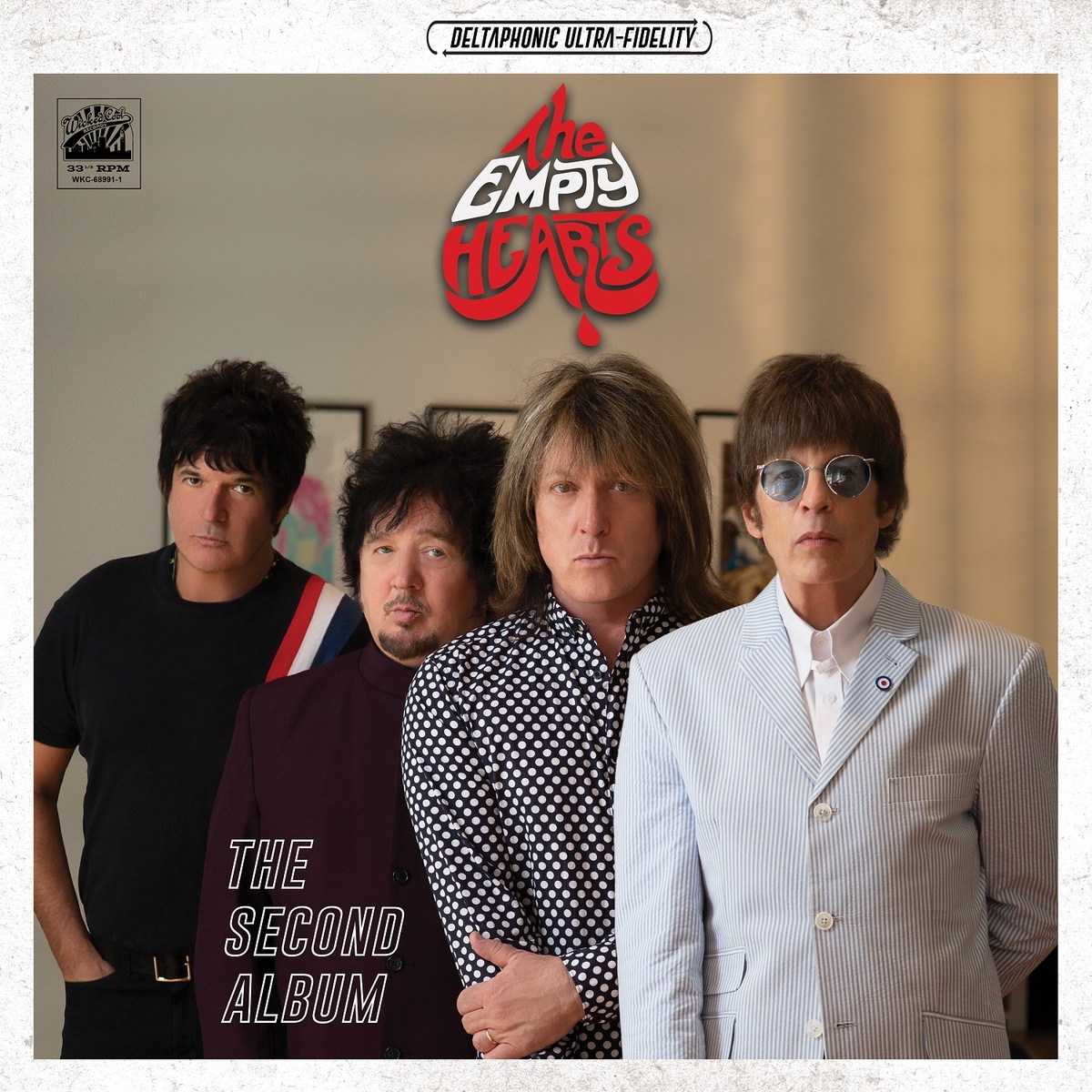 The Empty Hearts
The Second Album
Wicked Cool Records
The kids who rolled in my crew were pop / rock junkies, plain and simple. It was 1980, and we were hopelessly hooked on the "hard stuff" – Parallel Lines, Candy-O and National Breakout. While The Beatles, The Stones and The Who "fixed" our older siblings – Blondie, The Cars and The Romantics were our addiction.
40 years later, there's great cause for celebration, as The Empty Hearts have returned to "New Release" bins at neighborhood record shops far and wide with their aptly-titled sophomore set, The Second Album. And they've picked up precisely where their contagious self-titled 2014 debut left off.
Overseen by veteran producer, Ed Stasium (Ramones, Talking Heads), The Second Album was created in the spirit of the vintage '50s and '60s-era rock and roll that first inspired all four members – Romantics frontman Wally Palmar, Cars guitarist Elliot Easton, Blondie drummer Clem Burke and Chesterfield Kings bassist Andy Babiuk.
Founded by music icon and acclaimed actor, Stevie "Little Steven" / "Miami Steve" Van Zandt, The Empty Hearts' label, Wicked Cool Records, reflects the band's authentic coolness – with the crisp and catchy "Coat-Tailer" and the engaging sing-along "Remember Days Like These" both being released as singles on eye-catching, limited edition 7" colored vinyl. Enhancing the cool factor further, the legendary Ringo Starr even plays drums on the latter.
A heart-stopping highlight, "The Best That I Can" is fueled by Easton's celebrated riffage. Palmar's familiar harmonica work woven into his friendly lead vocals feel like a welcomed hug from "that one" who "got away," while Burke's signature-style drum attack is simply brutal. Babiuk's bass chug here is mighty sweet, too.
Something of a stylistic left turn, "The World As We Know It, Moves On" is a whimsical treasure – a warm summer breeze blowing through the intersection of Brian Wilson Boulevard and ELO Avenue. Equally infectious, "Indigo Dusk Of The Night" takes us on a magically mysterious tour, pursuing that ever-elusive walrus.
A bona-fide rib-cracker, "The World's Gone Insane" was written and recorded before the world's "wheels" fell off this year. Bursting with a message that's as relevant as this morning's headlines, it also owns a hook that's as fresh as the "catch of the day."
2020 certainly has been a wild ride. And with all the ensuing uneasiness, The Second Album from The Empty Hearts is one heckuva fabulous feel-good.
www.theemptyhearts.com https://wickedcoolrecords.bandcamp.com/
---