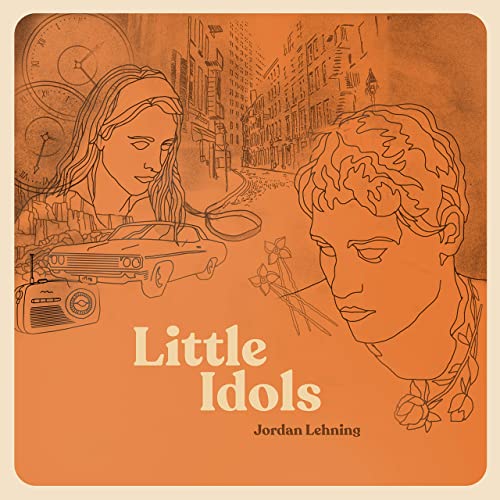 Jordan Lehning
Little Idols
Jordan Lehning/Tone Tree Music
Jordan Lehning's newest album, Little Idols, plays out like a short film about an affair between a married woman and single man. It's wrought with all the emotions and sentiments that go along with these kinds of situations set to some subtle, but incredible music. He's carefully crafted each piece of the story that is as tangible as if you had heard the story, and it's arc from a first hand account.
I spoke about the albums themes with Jordan and Ian Fitchuk, who, along with Erin Rae, co-wrote "The Quarry Song". Jordan says " "The Quarry song", was sort of the inception of the idea and we did that like 2 years ago. Then last year I recorded a batch of tunes, that being one of them, and it sort of just turned into a story record."
Jordan continues" There was just this one time I had a song idea and I hit up Erin and Ian to come write it." Ian adds "Erin was an artist that I think we both loved the idea of working with, together, maybe to produce something for her…and to be fair, Jordan already had the bulk of the song". Jordan chimes back in "and to be fair to Ian and Erin, I think I only had a verse and a chorus and it was very quick, they sort of knew what I wanted to do and we drummed it up very quick."
On the albums theme Jordan says, "My personal life doesn't intersect with the story line, it's honestly just a story. I wanted to get it right, I wanted it to feel like it's something that could be, which I hope that I did. I wish I could give you the juicy details but I'm afraid there just aren't any."
The first three singles from the album do an excellent job of summarizing the entire record. "Oolaloom" is lyrically the beginning of the story but the music also sets a somewhat uneasy feel that proves itself as the album progresses. "Little Lie" is, as Jordan says "…a quiet song. It's about the moment after an affair begins and the diametric emotions of guilt and passion." "The Quarry Song" is the end of the affair as Jordan sings "I know I'm no good for you but I can't help that I'm good to you" and "take a piece of yarn and wrap it around your little finger so to keep this memory in a place where it can linger, over and over."
That last line is a reference from the Tommy James song "Crimson and Clover". Jordan references the song title like a piece of the movie set that is an important piece of the story. It's an amazingly smart way to incorporate not only the lyrics, but a reference to the direction things are going for the characters.
"Oh Carolina" may be my favorite of the album with "Hey Boy" also pushing up into that spot as well. The lyrics and music to each song will paint a cinematic scene in your mind and allow you to just sit back and enjoy each individual track. The entire album is very meticulous and while I find new musical elements each time, the flow of the album allows for 3-4 listens in a row before you realize it's on repeat.
Along with the vocals, Jordan plays keys and guitar, Michael Rinne plays bass, and Dom Billet is on drums. The strings are done by Kristin Weber and Austin Hoke, while Jennifer Kummer plays french horn, and woodwinds by Tyler Summers. It's also worth mentioning that Austin Hoke plays some airy saw on "Little Lie" that adds some additional emotion to the overall vibe of the song.
Available through both online retailers, and streaming services, you can now buy Little Idols wherever you shop, or listen to music. When Jordan isn't writing his own music, he spends his time producing artists like Andrew Combs and Rodney Crowell, and has arranged strings for artists Kacey Musgraves, Leon Bridges, and many more.
---