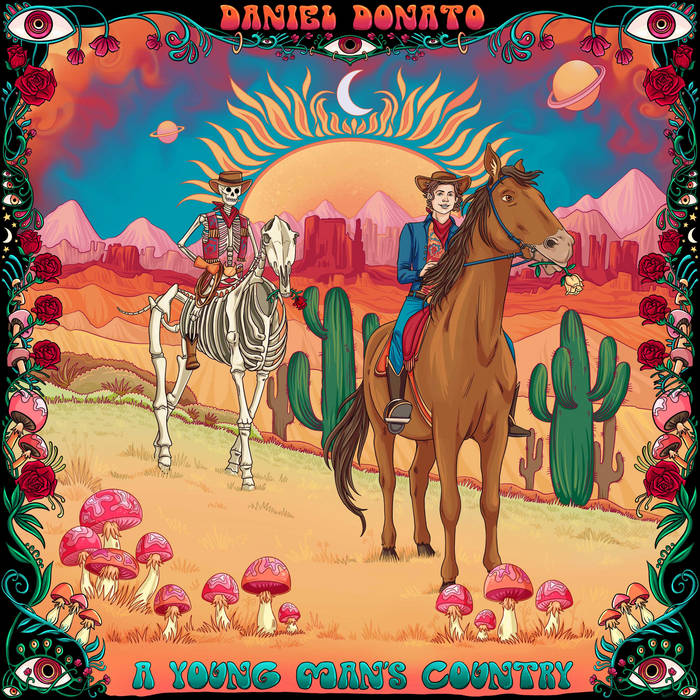 Daniel Donato
A Young Man's Country
For country music fans whose blood starts to race seeing a guy wailing on a Fender Telecaster at a honky-tonk, meet your new obsession. Daniel Donato is the latest country-pickin' ace from Nashville, and his new record A Young Man's Country will satisfy guitar fans of everyone from Reggie Young to Redd Volkaert, with a large dose of "Cosmic Country" ala Gram Parsons and the Dead. In fact, on certain numbers here, such as his "Meet Me In Dallas/Fire On The Mountain" Donato sounds eerily as if Jerry Garcia got his wish and joined a country band around 1971.
Donato is an 25 year old Nashvillian, who has been performing professionally since he was in the house band at the iconic Robert's Western World in the heart of Nashville – at age 16. I've been there, and nobody gets and stays on that tiny stage without having some serious chops. And he certainly does. The album opens with "Justice", and you're transported back to the rowdy days of, as they say… "Waylon, Willie and the boys". "Always Been A Lover" follows, and shows Daniel knows his way around a hook. Produced by a not too shabby guitarist Robben Ford and Donato, and featuring Nick Fry on guitar/vocals, bassist Jake Bostick, Daniel Pingrey on keyboards and Will Johnston on drums and vocals, his "Cosmic Country Band" is a seasoned unit, who anchors Donato's frequent guitar adventures with smooth and robust backing. In fact, the only misstep here is a version of John Prine's "Angel From Montgomery" which doesn't lend itself to really any version of jamming, and frankly, once Bonnie Raitt sung it, even Prine himself said "that song is hers now."
But that said, once the record ends with a barely constrained gallop thru Rodney Crowell's "I Ain't Living Long Like This", you won't be able to wipe the smile off your face, and you'll wish for a night at the Basement East in Nashville, watching this young kid pick a blue streak. Somewhere Jerry Garcia and Waylon Jennings are giving Daniel Donato thumbs up for his crispy release A Young Man's Country. Get it, hoss!
---