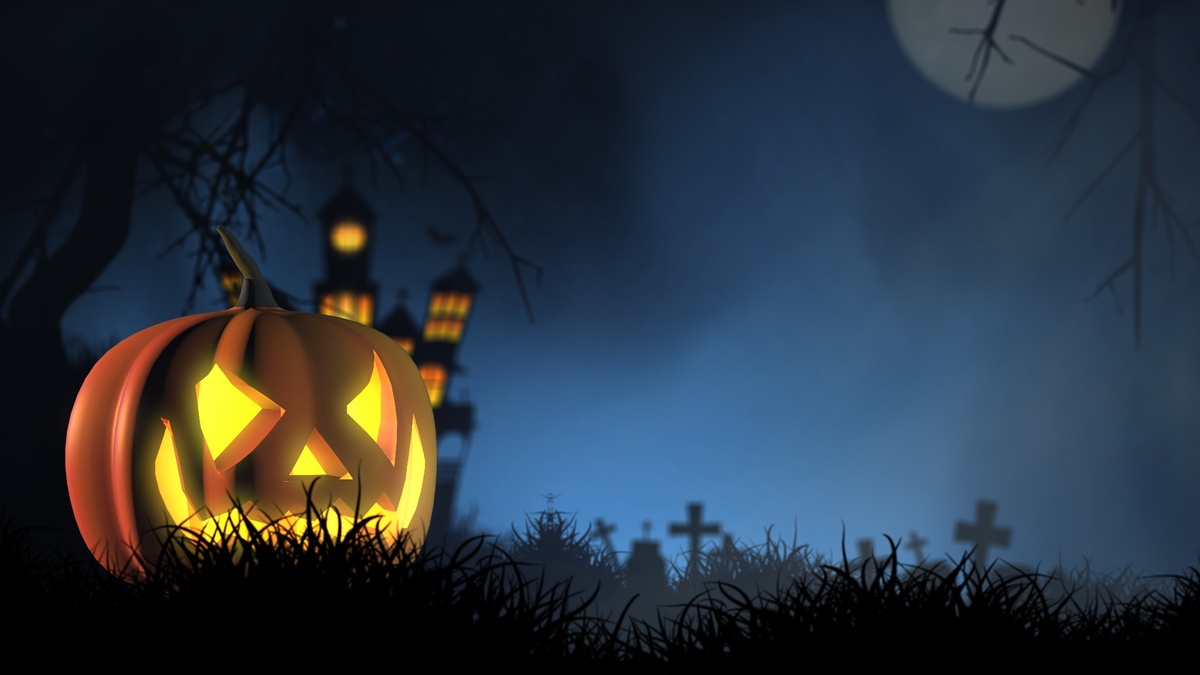 Halloween 2020
Looking for a soundtrack for your Halloween bash? Look no further.
OK, so in 2020, a lot of those Halloween bashes are going to be solo affairs, sitting at home eating a plastic pumpkin's worth of Reese's Pieces, but hey, look on the bright side: At least nobody's sticking licorice, Jordan almonds, raisins, Chick tracts or – worst of all – a toothbrush into your treat sack this year.
This playlist is revised and expanded somewhat from one that was put together during Sound Salvation's past life as a radio show. In that incarnation, we were limited to (broadly) alternative rock and related genres. In this resurrection, I can play whatever I damn well please, so I've brought in some old favorites, from classic novelties to glam metal and beyond.
"Bloodletting (The Vampire Song)" – Concrete Blonde
It was kind of Concrete Blonde to subtitle this one, in case you couldn't figure out the subject matter from the refrain, "you are a vampire" that drifts in and out of the song. Like a number of songs – perhaps most famously, Sting's "Moon Over Bourbon Street" – "Bloodletting" was inspired by Anne Rice's Vampire Chronicles, hence, "I've got the ways and means to New Orleans."
"Spellbound" – Siouxsie and the Banshees
Siouxsie Sioux just looks at home with this time of year, and indeed, a number of the Banshees' tunes are at home with the spooky aesthetic. "Halloween" may be the more obvious track, but the driving "Spellbound" is an all-around better song while maintaining a witchcraft-filled atmosphere.
"The Days of Swine and Roses" – My Life With the Thrill Kill Kult
What's more at home this time of year than "Christian Zombie Vampires"? This is my favorite track from the band's brilliant "Confessions of a Knife…" album, which just got a delicious-looking deluxe reissue from Wax Trax, the treat that I'm hoping for in my pillowcase this Halloween.
"The Killing Moon" – Echo and the Bunnymen
Bunnymen Ian McCulloch and Will Sergeant have compared this song to a hymnal or a psalm, but I choose to see a darker side to "The Killing Moon." When the killing moon comes to soon, the song says, "Fate/Up against your will/Through the thick and thin/He will wait until/You give yourself to him." I suppose the "him" could be a deity, but this sounds a lot more like a sacrifice to darkness to me. The use of the song to open "Donnie Darko" only adds to that feel.
"I'm a Ghost" – Ted Leo and the Pharmacists
Sure, I think Ted Leo meant this one a little more figuratively than literally, but the imagery is haunting enough – and the song great enough – that we can overlook that.
"Dead Man's Party" – Oingo Boingo
Yeah, I know, it's super obvious. And yes, there are other Boingo songs that would also fit, including "No One Lives Forever" and even "Weird Science." But sometimes you've gotta bow to the classics.
"Ghost Town" – The Specials
OK, this one's really not about spooky times at all (well, unless you count England under Thatcher circa 1981 as "spooky times," and there are certainly ways in which that qualifies). But the title and the overall spooky atmosphere of the song have turned this into something of a holiday classic in certain circles. Me, I'll take any excuse to spin this one.
"Bloody Night, Bloody Knife" – The Independents
"Halloween" – The Misfits
Pairing the long-running (28 years and counting) South Carolina horror-ska/punk band with one of their primary inspirations is something of a no-brainer – the Independents have even been deemed "the Misfits of ska" and once appeared on a compilation bearing that title. Both bands' catalogs are filled with tunes appropriate to this time of year, and while the Misfits track is something of a gimme, this would also be pretty incomplete without it.
"Devil's Night Out" – The Mighty Mighty Bosstones
"Mad Professor" – Magadog
Props to the late, great Jim Pedigo for an indelible lead vocal on one of the Tampa ska legends' greatest tracks. I've often thought that Jim could very well be considered the mad professor of this band, and I've felt the lyrics could describe him just as easily as any fictional mad professor.
"Lullaby" – The Cure
Don't let the title fool you, this particular bedtime song is among the creepiest in the Cure catalog. Based on a story Robert Smith's uncle used to tell him at bedtime, the imagery of a "spider man" (no, not THAT one) eating children in their beds is perfectly spine-tingling.
"Devil in My Car" – The B-52's
"Animated Corpse" – Tilt
If you've never heard Tilt before, you can thank me later for putting this treat into your goodie bag. One of the greatest and most under-appreciated pop-punk acts of the '90s, you will definitely find yourself singing along with inimitable frontwoman Cinder Block as she pays tribute to her "hella fine" personal zombie in his "revelry tonight." Seek out more Tilt, you won't be sorry.
"Monster Mash" – Bobby "Boris" Pickett
I know it's obligatory. So what? If you don't love this, we can't be friends.
"Grimly Fiendish" – The Damned
From the punk icons' mid-'80s pop-goth period, this harpsichord-driven tune replete with horns and chants, is really something of a novelty song, but it goes down really well this time of year.
"Every Day is Halloween" – Ministry
Practically the goth national anthem and fashion bible all in one record, it's also the turning point in Ministry's career as the mid-point between the early, synth-driven new wave records that Al Jourgenson now disavows and the more familiar and groundbreaking industrial sound of the band's late-'80s and '90s output. While this still has a heavy dose of the synths and dance elements of early Ministry, Uncle Al's really never been able to disavow it as he has tracks like "Work For Love," and has even been persuaded to pull it out to perform it live a few times in recent years.
"Killer Klowns" – The Dickies
"Pet Sematary" – Ramones
I'll accept no arguments against these being the two best horror movie theme songs (as opposed to score pieces – sorry, John Carpenter) ever recorded. The Dickies' carnival funhouse from the insane "Killer Klowns From Outer Space" and the Ramones' iconic pop-punk single from the 1989 Stephen King adaptation of the same name are untouchable. Sorry, Dokken, "Dream Warriors" can't quite keep up.
"Dragula" – Rob Zombie
"Feed My Frankenstein" – Alice Cooper
The masters of marrying glam, metal and horror are always welcome this time of year. While Rob Zombie probably wouldn't exist without Alice Cooper, he's definitely earned his place in the pantheon with plenty of songs that could make this list, but his ode to Grandpa Munster's dragster gets top billing. Cooper, on the other hand, has a career's worth of classics that could make your Halloween happy, but I'm partial to this 1991 cover of a song originally done by Zodiac Mindwarp and the Love Reaction.
"Scary Monsters (and Super Creeps)" – David Bowie
"Cyclops Rock" – They Might Be Giants
A standout track from one of They Might Be Giants' best albums, 2001's under-appreciated "Mink Car," the protagonist of the song is left in the ruins of a failed relationship with only one monster to relate to: Chucky of "Child's Play" fame.
"Buddies & Bodies" – Nik Flagstar and His Dirty Mangy Dogs
This Fort Walton Beach, Florida trio makes some of the best punky rockabilly with a honky tonk vibe that's being made today, and a lot of it is filled with great horror references, from odes to everything from werewolves to Freddy Krueger. This particular one is based on the old maxim that "a friend will help you move, (but) a real friend will help you move a body."
"Do the Devil" – The Amazing Royal Crowns
Can't get into the rockabilly section without a visit from Beelzebub, himself, and there's none tastier than this signature song from Providence's own Amazing Royal Crowns. If you're not into this, the next couple tracks won't be for you.
"I Was a Teenage Werewolf" – The Cramps
"Walk Like a Zombie" – Horrorpops
"Zombies Ate Her Brain" – The Creepshow
"Face of the Screaming Werewolf" – The Fleshtones
MY favorite seasonally appropriate Fleshtones song, "I Was a Teenage Zombie," doesn't appear to be on Spotify, but this makes a dandy substitute. Do yourself a favor and track down the zombie tune, too, though.
"Transylvanian Concubine" – Rasputina
"Midnight Picture Show" – Teen Idols
"The Ghost in You" – The Psychedelic Furs
Another one that coasts in more on title than any actual supernatural or seasonal connection, but come on, is there a time that you DON'T want to hear this amazing song?
"Psycho Killer" – Talking Heads
"I Put a Spell on You" – Screamin' Jay Hawkins
"Werewolves of London" – Warren Zevon
A trio of tunes that are absolute staples of the season while sounding great all year long. Including them might be a bit predictable, but they're like Snickers bars in your treat bag – yeah, they're common, but you're still gonna devour them.
"Red Right Hand" – Nick Cave & the Bad Seeds
While lots of people associate this song with TV's "Peaky Blinders," which used it as a theme song (and which has also used and generated a slew of covers including versions by PJ Harvey, Snoop Dogg and the duo of Iggy Pop and Jarvis Cocker), Cave's classic actually dates to 1994's "Let Love In" album, and was inspired by John Milton's "Paradise Lost," referring to God's hand of vengeance. But is the man with the red right hand in Cave's song god, a ghost or the devil himself? It's open to interpretation, but the song has become a go-to for horror and supernatural film and television, from "The X-Files" to the "Scream" film series.
"Bela Lugosi's Dead" – Bauhaus
We'll let the party taper off with nine minutes plus of Bauhaus' seminal ode to the late "Dracula" star. Pull the string!
---