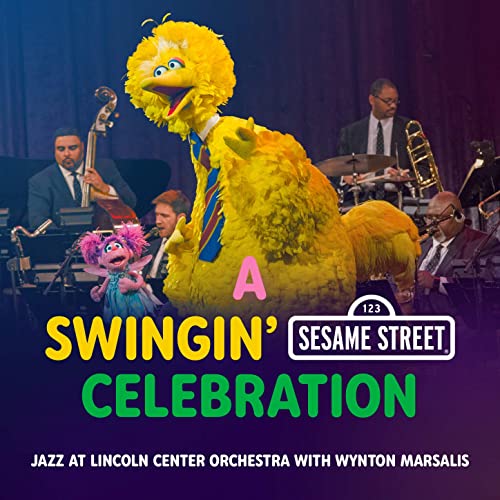 The Jazz at Lincoln Center Orchestra with Wynton Marsalis
A Swingin' Sesame Street Celebration
Blue Engine
I'm at a jazz show I'm at a kids show I'm at a combination jazz show and kids show.
Did you grow up with Sesame Street? Did you (or do you now) have kids who love Elmo? Do you just have a thing for Muppets? If the answer to any of the above is yes, you will most likely love this recording of the Jazz at Lincoln Center Orchestra's tribute to the iconic educational show's 50th birthday. The Orchestra gives us their impeccable readings of classics from the show. The make it or break it is going to be how much you like the Muppets singing. Yes, this is Sesame Street Live at Lincoln Center.
I must confess to being a Grouch. I don't have warm fuzzy memories of the show. I am a childless geezer. So I'm good with Kermit's warbling. I'm even ok with Big Bird. I really do dig the Count (maybe because he let's the Orchestra do their thing only adding some counting here and there.) Besides, the Count is a vampire. My fur turns green though every time Elmo opens his mouth. The Muppet can't help having the squeaky voice of a preschooler. That's what he is. I just have a hard time listening to him for very long.
Ya know, it's really ok for me to be a Grouch about this record. It wasn't made for me in the first place. There's a lot of room in the neighborhood and we're all different, and that's cool.
---