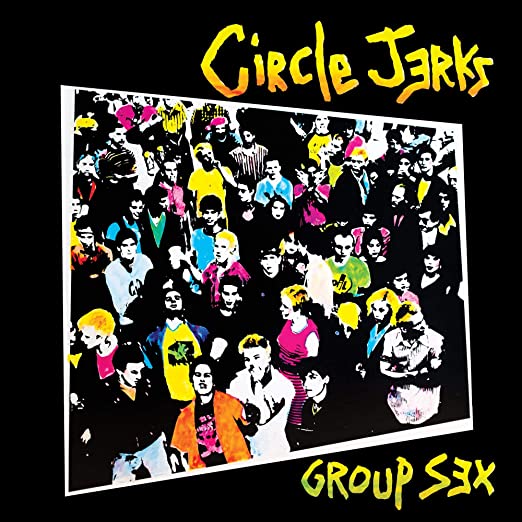 Circle Jerks
Group Sex
Trust Records
Fifteen minutes isn't that substantial an amount of time – sure, you'd be a bit upset if your bus or scheduled appointment is running 15 minutes late, but it's just under the time allowed for you to get genuinely angry. And a 15 minute roller coaster ride seems like it was over in a flash. But the fifteen minutes of the Circle Jerks' 1980 debut album Group Sex inspired multitudes of bands, artists, and music fans. It helped that the band consisted of veterans from Black Flag, Redd Kross, and Bad Religion, all of whom had greater command of their instruments than was needed in the genre (and came with 'borrowed' songs and riffs from their previous bands). Check out easily how the band moves from mid-tempo to thrash in "I Just Want Some Skank" or the Black Flag quotation in "What's Your Problem." Add Keith Morris, one of the best vocalists in American punk and a relentless touring schedule, and it's easy to see how Group Sex provided the blueprint and inspiration for countless bands. To celebrate Group Sex's 40th anniversary this year, True Records has reissued the album on vinyl with a simply amazing 20 page booklet, which could be a coffee table book in its own right – amazing design with tons of flyers and photos with testimonials from Alex Cox, Shepard Fairey, Penelope Spheeris and others.
They even managed to add on a 1980 rehearsal tape, and it's interesting to hear the slight tempo difference in "Live Fast, Die Young" and "What's Your Problem," revealing a bit of swing to these classics.
This is Trust Records' debut release and it was done wonderfully. Future releases include 7 Seconds' The Crew and, presumably, every other record I had in my collection as a teenager. Word on the street is that this has already sold out, so do some searching and get one ASAP. If it doesn't remind you of what was thrilling, exciting, and a little dangerous about early punk rock, well, you've really only wasted 15 minutes.
---