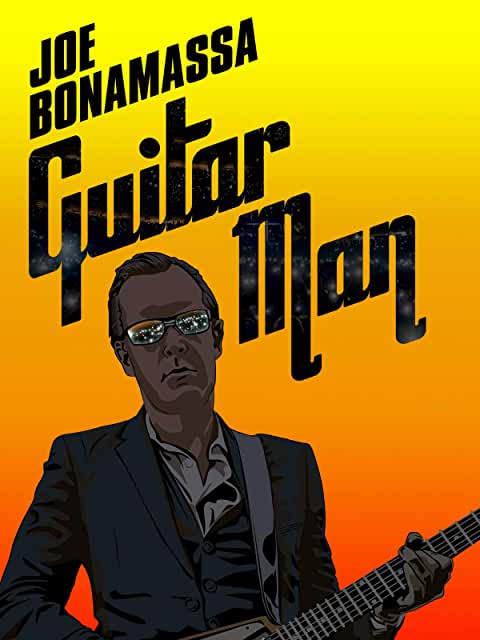 Guitar Man
directed by Kevin Shirley and Philippe Klose
starring Joe Bonamassa, Phil Ramone, Jason Bonham, Glenn Hughes
J&R Adventures
He's the best-selling artist on the Billboard Blues charts, and most people don't know his name. He is a master of his artform, yet can walk through a crowd of his own fans with a baseball cap on and be unrecognizable. He went from being a "child prodigy" to "just another chubby guy who plays guitar." Who is Joe Bonamassa? Guitar Man tells you that story.
From his beginnings, as the son and grandson of professional musicians, Joe was interested in music. The documentary weaves in snippets of archival performances with current interviews, tracing his history from his initial exposure to Eric Clapton, to his first guitar. From being a teenage news item as "the boy who could play the blues", to the touring musician who could barely pay his bills. From creative differences with his various bandmates to his explorations of world music, through eventual burnout and reinvigoration, Bonamassa shares his story, warts and all.
The film is beautifully made, with excellent edits and sound mixing. Performance clips from Red Rocks or The Royal Albert Hall explode from the speakers, then fade into the background as we move on to interviews with his manager or producer, his family and peers. The story takes what seems to be an odd turn around three quarters of the way through, with Joe and his producer giving a little history of the blues. But it all comes together in the end, as it ties in with his current outreach and philanthropic work, teaching the next generation about the blues and providing musical instruments to kids.
My only complaints come from the performance clips. They are too good. Seriously, you just get into a rollicking blues number, or an intricate acoustic piece, and then you are taken to another interview. I understand that it would ruin the narrative flow to stick with an entire song, especially multiple times during a biography, but it is a testament to how impressive of a performer Bonamassa is, that the viewer wants to see the rest. That said, my ideal solution would be bonus features showcasing at least some of the clipped performances in full, although I don't know what rights issues there might be for that.
All told, this is a fascinating look at a modern musical master who hopes to honor the greats that came before him, and maybe inspire a new generation to pick up the baton. If you are already a fan, this is a must watch. But if you say, "Joe Bona-who?" then you really should check out the Guitar Man.
---