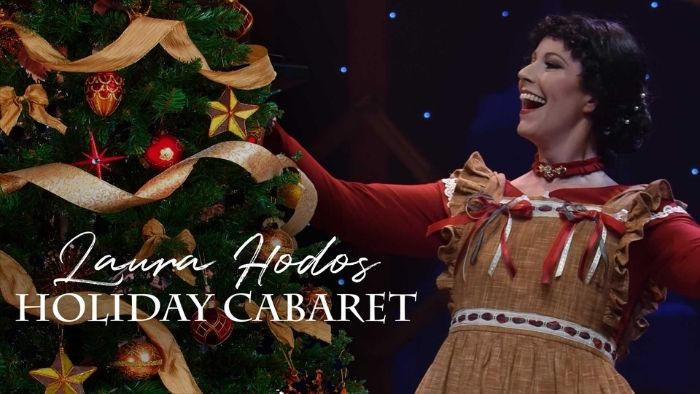 Laura Hodos Holiday Cabaret
With Heather Langs and Adam Langs
by Carl F, Gauze
It's hard getting in the holiday spirt this year, but people are still out trying. Orlando Shakes picked up a huge new tent from some government relief fund, and now it's housing this Socially Distanced Cabaret out in the courtyard by the Firehouse Museum. Ms. Hodos is a stalwart around this town, and she's done dozens of cabarets and musicals locally and around the world. Tonight, she mixes Christmas standards with plenty of Hanukkah numbers. It's still fattening but it allows some desperately needed new material to this holiday play list. Ms. Hodos opens with this existential question: "Is "Die Hard" a Christmas movie?" Guys mostly yelled "Yes;" the gals trended toward the "No" option. This one you'll all have to work out at home.
It's no shock that plenty of the stock tunes crossed the stage: "No Place Like Home For The Holidays," an off kilter "Twelve Days of Christmas," and of course there were Chestnuts Roasting. Along with the traditional play list, Ms. Hodos introduces a well-needed set of Hanukkah material, most of which was new to me. We hear her personal anecdotes along the way: how she learned to make latkes as a young girl, how she spent a Christmas in Japan where they offer the most amazing re-do's on American holidays, and some great anecdotes from her recording career. She even tosses in some seasonal history: When Bing Crosby re-recorded "White Christmas" after the master disk wore out, writer Irving Berlin paced nervously until Bing told him: "This song is already a hit, there's nothing you can do to kill it now." There's nothing like trying to pull disaster from the jaws of victory.
Ms. Hodos works regularly around Orlando and points beyond, and there's no better way for her to wrap up the holiday cabaret than with a show tune. The official closer tonight she sang was "Have Yourself a Very Merry Christmas" but when she came back on stage for the ovation, we closed the evening with a real belter: "There's No Business Like Show Business." True, its not a real Christmas tune, but it's a rousing anthem and it leaves you bursting with energy, ready to shop online or get out those Hallmark movies you keep hidden behind the sofa. It was a grand night for caroling, and as for myself, it's time to break out the Bruce Willis and some adult eggnog.
---