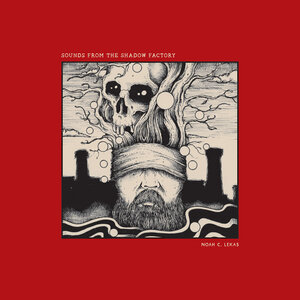 Noah Lekas
Sounds From the Shadow Factory
Blind Owl
Sounds From The Shadow Factory is my favorite album of the year…and yes I know it's early in the year to make that statement, and yes this is not a normal album but, the statement stands. What Noah Lekas has done here is just so damn interesting that I find myself resetting the needle of the five song EP and trying to take in all the poetry and music. And to the credit of Noah and the musicians, I take away something different each time.
The EP is a collection of five poems performed by Noah with musical accompaniment of varying degrees. "Saturday Night Sage" is backed up by the band Howlin' Rain with Pat Gubler and Hafsa Fathima and full on rock and roll. "The Word" is more sparse with Noah performing while Chad Lee fills in around those words with varying drum beats. The remaining 3 tracks "Steamroll The Sky" featuring Ben Ambrosini & Chad Lee, "Out of the Storm Drains" featuring Mrs. Henry, and "We Got A Problem With GroundWater" are all also perfectly timed and the music supports Noah as much and his words, support the music.
With artwork by Alan Forbes, accompanying videos by film makers like Scott Rosenbaum and Shelby Baldock, and the incredible music behind Noah's poetry, the entire project is out of this world. Noah and Blind Owl record label have, through Noah's bandcamp, a variety of options to pick up a copy as either a digital download, a cd, or on limited edition 10" vinyl. In addition to the album, I would also suggest picking up a copy of the poetry book "Saturday Night Sage" which is "42 narrative poems of mysticism & menial labor" and contains all 5 poems featured on the album and a great introduction to the work of Noah Lekas.
---