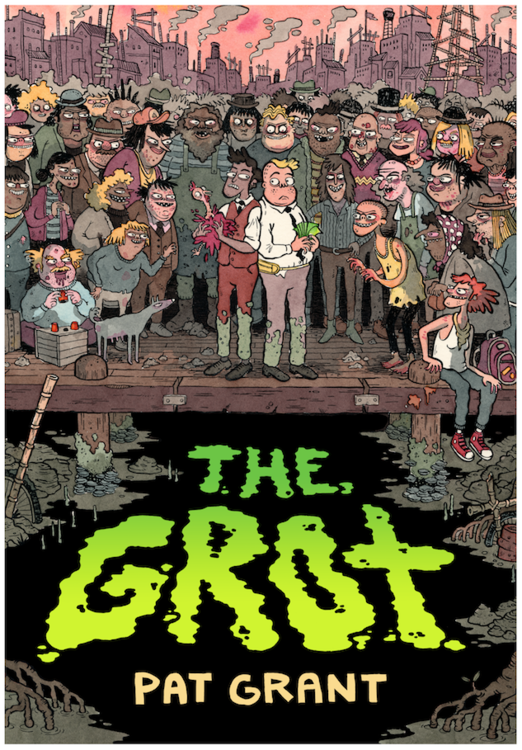 The Grot: The Story of the Swamp City Grifters
Pat Grant and Fiona McCabe
Top Shelf Productions
And you thought Mad Max was depressing. Tonight, we visit a post-apocalyptic Australia, or another desolate yet similar space. An ambitious clan heads out to the worst place on the planet: "The Grot." Transport is by a beat-up vehicle with teams of starving bicyclists providing the motor power. The food stinks, the place is a swamp, and the odds of success are not quite negative. Every business is a trap, and entertainment tends toward fixed cock fights. Lippy's mom takes him and his brother Penn to the swamp. It's time for them to make their mark in life, and her plan is to set him up in the medicinal yoghurt biz. Getting there is a tough pull. Everyone they meet demands a bribe, and by the time enough people are bribed to let you begin, you're done. Frankly the whole community seems to violate any number of thermodynamic laws, never mind urban planning goals. But cities exist to make money, and when the money is gone, the cities become ruins. Looks like no one told the locals to flee.
Falter City is far down that slippery slope of anti-urbanism. While Lippy is working to start a "legitimate business," his brother is out hustling. It's like American pioneers moving to Deadwood, South Dakota to start a leech bleeding facility. After a major ripoff, Lippy is ready to give up. He should give up, and what's keeping him from giving up? A sadistic cartoonist. Even in Falter City, there needs to be one honest person. Maybe that's Lippy's "Destiny." I'll say this for Falter City: it makes Mos Eisley look upscale. Everything is crooked, from the cockfights to the dinner menu, but somehow the boys succeed. It's money, but at what cost?
I found the story a difficult connection, and Falter City offers few charms. Illustrator Fiona McCabe does give us a seedy and believable post-apocalyptic frontier town, and her wild POV angles and detailed crud keep the images flowing past. Details matter: my favorite is a half-plucked chicken that looks like he's paid to the take the fall in all the cockfighting scenes. Lippy and his brother do grow up here, metaphorically, at least. Their options are limited by the tough surroundings and the tough life, but yoghurt sells well enough. The miracle green fluid that brings fortune to all remains a mystery, and you really do need a shower after this tale of desperate humanity. The artwork is rough and ready, and well selected for depicting Falter City. I'm glad I can visit from the safety of my own living room chair. Falter City and author Grant's world is well constructed, but viscerally repulsive. Give it a shot, you might get rich on Algae Futures.
---