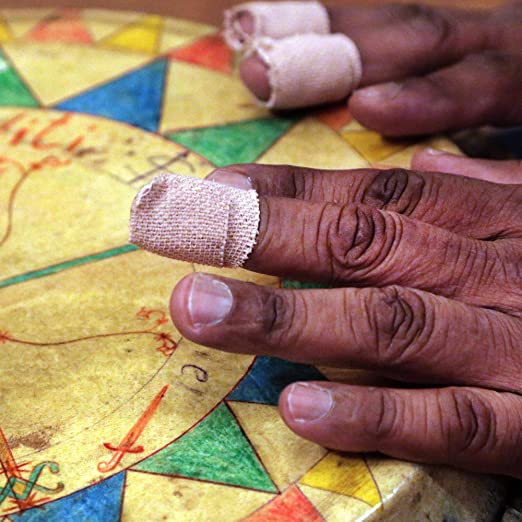 Ches Smith / We All Break
Path of Seven Colors
Pyroclastic Records
Ches Smith became fascinated with Vodou rhythms when he got a call to accompany a Haitian dance class. He admitted to the other drummers that he knew nothing about their music. They showed him some basic drum patterns and turned him on to recordings to get him started. He found the polyrhythms, polytonality, improvisation, were things he'd been exploring in his playing with rock and jazz bands. That gig started Smith on a journey of exploring the music and spirituality of Haitian Vodou.
In 2015 he brought his jazz and Haitian influences together in the We All Break project. For We All Break, Smith enlisted Haitian drummers Daniel Brevil and Markus Schwartz and pianist Matt Mitchell. Their music focused on the interplay of the three drummers, Mitchell's piano darts in and out of the percussive textures. After playing together for two years, We All Break released their eponymous release as a digital only release. The 2017 release is included in the Path of Seven Colors package as a bonus disc.
In the years between their recording debut and Path of Seven Colors, Smith continued playing traditional dance and ceremonial music with the Haitian community in New York. He also made several trips to Haiti to study with master drummers and learn more about the culture. When he reconvened We All Break, he came to the project with a more ambitious agenda. He expanded the original quartet to an octet with bassist, Nick Dunston, Alto Saxophonist, Miguel Zenon, Vocalist Sirene Dantor Rene and percussionist, Fanfan Jean-Guy Rene. With the larger group, Smith was free to take on more ambitious compositions.
The compositions combine traditional Haitian songs flowing into improvised jazz segments building off the rhythms. Each of the pieces is based on rhythms associated with specific Vodou spirits. Daniel Brevil wrote the lyrics to the songs. The traditional portions are built around vocals and the drums that flow into the jazz sections. The jazz sections feature soloing by Matt Mitchell on piano and Miguel Zenon's saxophone. The "Path of Seven Colors" is built around rhythms associated with Avidawedo and Danbalawedo. The spirits are associated with the rainbow, the path of seven colors that connects the spiritual realm to the human realm on earth. Ches and We All Break are making their own path connecting Haitian Vodou tradition with the improvisational spirit of jazz.
---