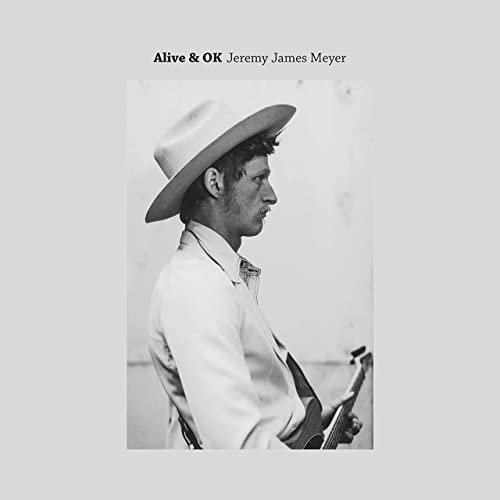 Jeremy James Meyer
Alive & OK
American Standard Time Records
Jeremy James Meyer's second full band album, Alive and OK, was recorded live in Enterprise, Oregon at the historic OK Theater and just excites your ears while listening. It's a great mix of blues, country, and folk that reflects the real stories and life that Jeremy lived as a carpenter by day and troubadour by night. He makes you feel as though you're sitting around a campfire or hanging out with friends while he takes his turn telling you stories.
"Brick Wall Blues", which features Caitlin Jemma on vocals, gives off a '60s/'70s rock and roll sound and the refrain of "Sometimes life is driving nails through a brick wall" nails home the sentiment of the song. "Cat on a Chain" has a loose California vibe before sliding into some traditional country and western music with "Rhinestoned Cowboy" The latter also features a cornet solo by producer Bart Budwig that is just incredible and perfectly placed.
Jeremy is definitely not bound by any genres and while the bulk of the album could be called Americana, he throws you some wonderful curveballs. "That's OK" has some island/caribbean sounds and lead guitar runs that are absolutely fantastic. The final song on the album, "Test Of Time", may be my favorite and is as rich in lyrical content as the accompanying music that brings it to life.
Alive and OK is now available on all streaming platforms and available for purchase through his website. His bandcamp page also features a number of previous releases with Jeremy and his guitar, or very limited instrumentation. Give it a listen and I guarantee you'll find something that grabs a hold of you and will have you wanting more music from Jeremy James Meyer.
---