The Brotherhood of Satan
directed by Bernard McEveety
starring L.Q. Jones, Strother Martin, Geri Reischl
Arrow Video
The Brotherhood of Satan – like so many cult horror films- first hit my eyeballs on Elvira's Movie Macabre back in the early 1980s. The film came out during a flood of satanic movies in the wake of Rosemary's Baby and it sometimes gets lost amidst a ton of films with similar titles and themes. It has always been around on drive-in screens, TV, VHS, but still feels underseen and under appreciated.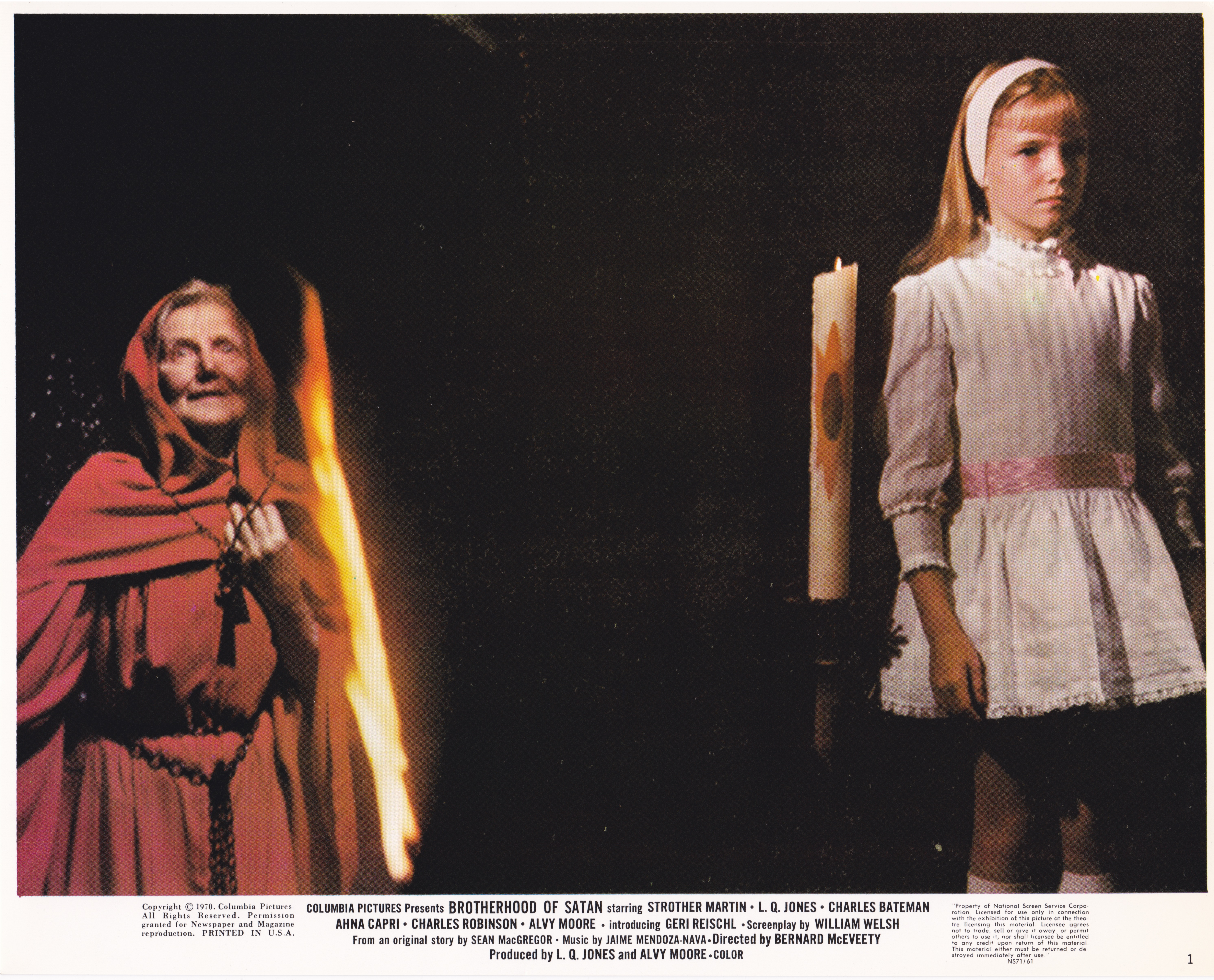 A small town is beset with panic as the town's children are murdering their parents and disappearing. It turns out there is a satanic cult influencing the town's children for their diabolical purposes. A young couple and their daughter are on vacation when they stumble into the middle of the madness and are set upon by the frightened, desperate townspeople. They are fortunate to escape with their skin, but soon find they are unable to get far and are forced to return to town bringing their daughter back into the influence of Satan. The movie plays like an American version of one of those '60s British films where a small town has gone mad and no one can leave due to a malevolent force. Think Village of the Damned or The Earth Dies Screaming. It may have played better if set in the British countryside rather than the American southwest.
Director Bernard McEveety imbues the small town realism with deft touches of surreal imagery and gothic throwback production designs for the satanists that are great fun. This is not one of the great beloved cult films despite having a great deal number of ingredient, but missing one important element for immortality, the "R" rating. The absence of blood and breasts forcing movie posters and VHS boxes to carry the dreaded (for horror movies) "PG" rating which probably did more than anything to damn the film. But it still has a following it just doesn't have the reputation of some other films in the same cycle of satanic thrillers that were unleashed in between Rosemary's Baby and The Exorcist.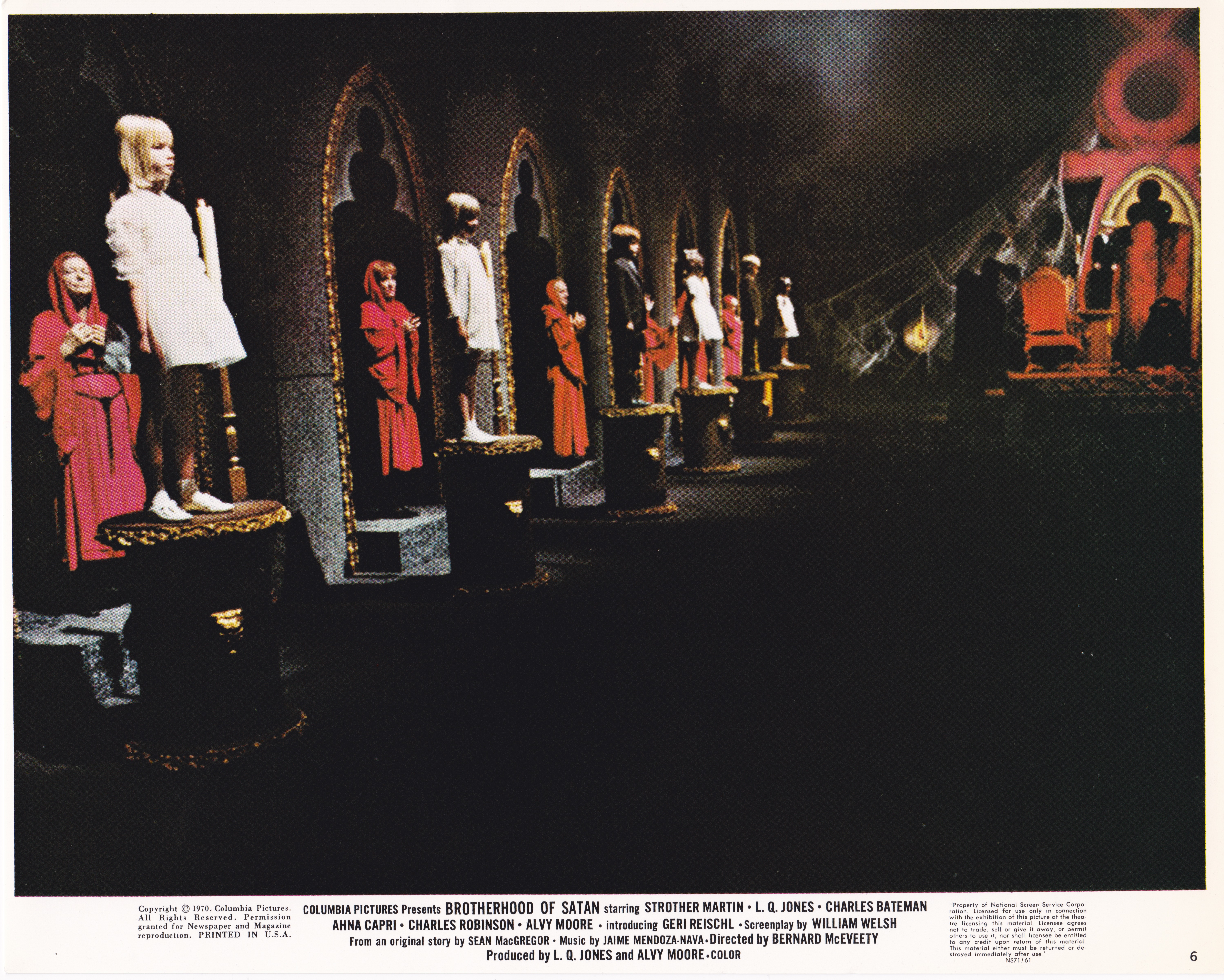 Naturally a killer kids movie features a horde of child actors including Geri Reischl who is notorious for being the replacement Jan on The Brady Bunch Hour variety show and was Blair Warner in the pilot for what would become The Facts of Life, eventually played by Lisa Whelchel. The film is also peppered with well seasoned character actors like L.Q. Jones (The Wild Bunch), Stother Martin (Cool Hand Luke), Ahna Capri (Enter the Dragon), and Alvy Moore (Mr. Haney on Green Acres). These professional actors help the film tremendously when there are long stretches of dialogue in a cramped office set that could have become unbearable if populated by amateur actors.
The Brotherhood of Satan is not a great film, but it does have its charms, but suffers from the over familiar. We have all seen this play out before and often in better films. All the elements are there and it tries hard, it just cannot match the weirdness of many of its contemporaries and suffers in comparison, but for fans of satanic movies and early '70s indie filmmaking there is a lot to dig into and Arrow's new Blu-ray is certainly the best the film has looked since release. The film is also packed out with extras including a look at 70s Satanic cinema craze that the producers cashed in on from David Flint, an audio commentary track from Kim Newman and Sean Hogan and a surprisingly fun interview segment with Jonathan Erickson Eisley and Alyson Moore, who were child actors in the film, give a kids' eye view of indie filmmaking.
www.arrowvideo.com