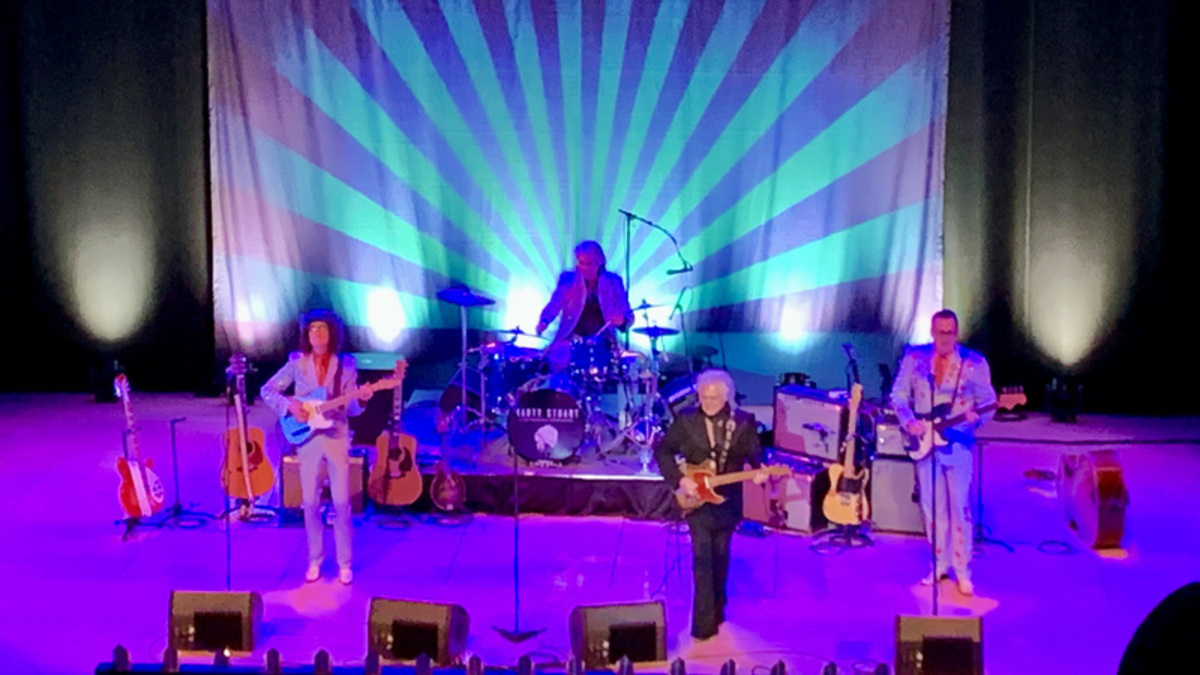 Marty Stuart and His Fabulous Superlatives
Lensic Performing Arts Center, Santa Fe, New Mexico • October 3, 2021
by James Mann
You couldn't have hoped for a better return to live music at the Lensic after 19 months than the torchbearer of traditional county music, Marty Stuart and his hellious band, the Fabulous Superlatives. The show had to be rescheduled twice, but it was well worth waiting for.
This wasn't the first time I've seen Stuart play—he was playing mandolin (at age 16!) for Lester Flatt when he performed at my high school in the mid-'70s. The man is a pro, and the 2-hour show was slick, but not in the Branson has-been way. No, Stuart is an accomplished musician, songwriter, and performer, and has assembled "the best hillbilly band in the land," featuring the great Kenny Vaughn on guitar, ace drummer/producer and vocalist Harry Stinson, and Chris Scruggs (grandson of the legendary Earl Scruggs) on bass. The show featured classic Stuart songs such as his 1991 hit "Tempted" and "Matches" from 1992's Let There Be Country, and a host of cuts from his latest, Way Out West.
The show went from classic country, such as Willie Nelson's "Me and Paul," to a solo number with Marty on mandolin doing the "Orange Blossom Special." Way Out West is a unique mix of country twang and whacked-out psychedelic surf music (trust me, it works), and there is no hyperbole in the band name. Everyone sings and plays at a level you'll rarely see these days. Stuart is known as a country music historian—he's opening up his vast holdings of memorabilia (Hank William's Martins, Johnny Cash's stage clothing) in a new museum, and his main performing guitar is The Byrds' Clarence White's "B-Bender" Telecaster. His reverence for the traditions of country music is evident, and his stories from a lifetime on the road were classic. He closed the show with "Time Don't Wait" from the Way Out West album, and between the Tele and Vaughn's Rickenbacker, it was a jangly moment to end the main set. But Stuart had a few tricks up his sleeve, and when the band came back on for an encore, I'll imagine no one in the house expected a barnstorming cover of the '60s hit "Psychotic Reaction" by Count Five, but they smoked it.
Granted, it was weird sitting for 2 hours in a mask (New Mexico takes the pandemic very seriously), but it was surely worth it. I'll tell you this, if Marty Stuart and His Fabulous Superlatives come to your town, go. It don't get much better than this.
---