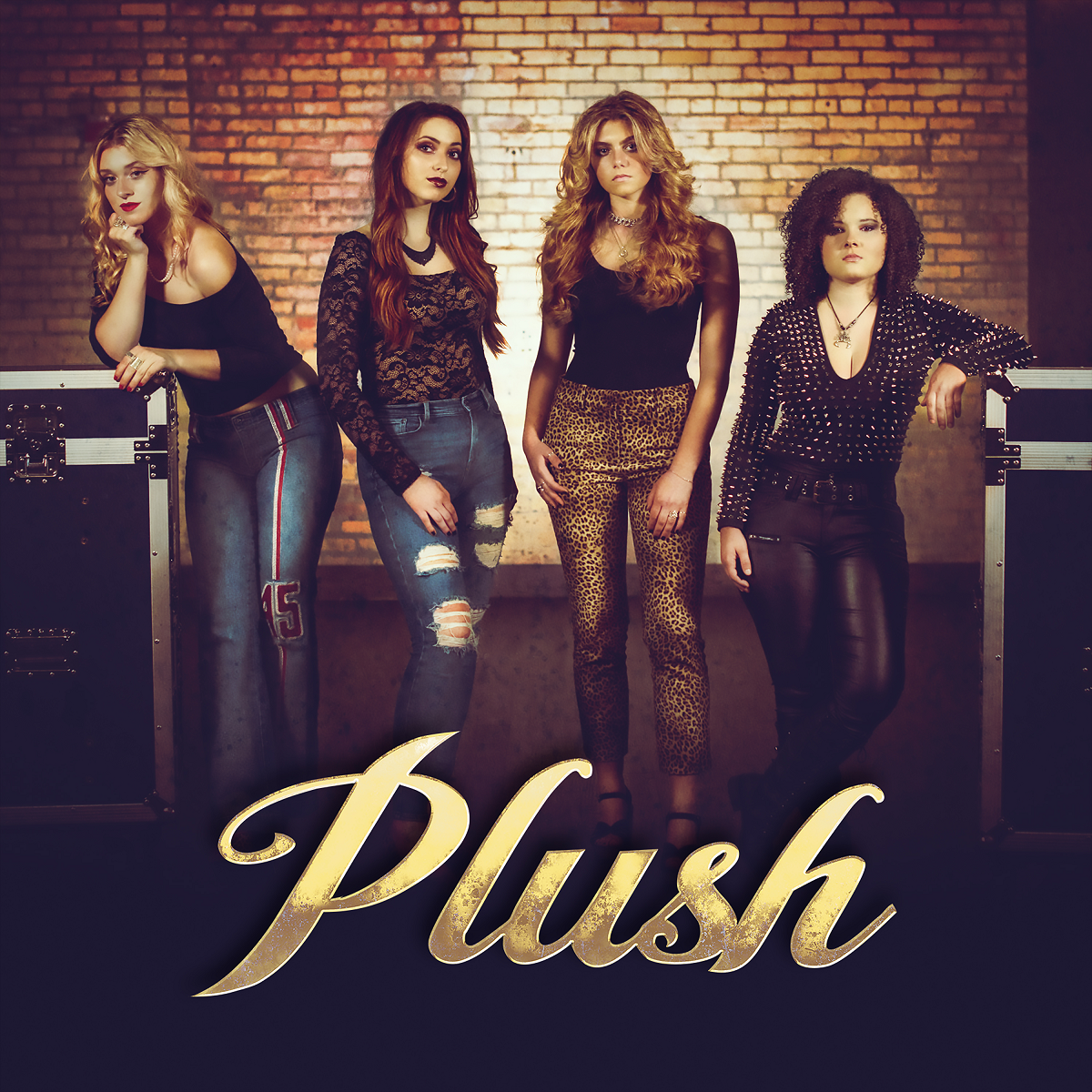 Plush
Plush
Pavement Entertainment
They could be described as a friendly fistful of Skittles — that is, if a fistful of magical candy packed the power to punch ya in the nut sack. And therein lies the essence of the Plush appeal — their "now and then" stylistic yin and yang.
Despite the band's barely-out-of-high school demographic, the four members' authentic rock roots all run deep. Celebrated drum phenom Brooke Colucci has spent significant time dissecting various John Bonham tracks, then personally recreating those classic studio performances (flawlessly) on her popular YouTube channel. Lead guitar virtuoso Bella Perron claims KISS as one of her greatest influences, while bass-banging teenage badass Ashley Suppa points to Paul McCartney and Wings as a primary source of inspiration. As for Moriah Formica, the guitar-slinging vocal powerhouse has been described by many as the second coming of Ann Wilson.
But while the rock-crazed Plush co-conspirators possess the cool to embrace the past, they also gots the heat to not live there. As a result, the band's just-released self-titled debut record owns a smidge of familiar factor, yet it's as hard-hitting and in-your-face as any other major label slab from the current array of acknowledged modern rock kingpins.
Produced by veteran go-to studio ace Johnny K (Staind, 3 Doors Down, Disturbed), the 13-track collection is an impressive, blameless effort. In a recent interview (with me), guitarist Bella Perron stated, "Our goal with the record was to take a snapshot of who we are as a band. Moriah writes the core of the songs, but we all feel that freedom to try different things in the studio."
It's not a stretch for us old timers to connect the band's classic rock dots, however it is quite telling when Plush receives unsolicited praise from less seasoned aficionados. Recently, I was blasting my advanced press copy of the record when my Evanescence-loving 23-year-old roommate did the unthinkable — he paused the video game he was playing down in the living room and raced up the stairs. "Dude, what's this band you're playing?" he exclaimed, as he crashed into my second-story loft. "This is fucking amazing," he concluded. Out of the mouths of babes.
My roommate's enthusiasm certainly was on-point. Delivering all "thriller" and zero "filler," the record boasts highlights galore. "I am the goddess of love," proclaims ringleader Moriah Formica in the rib-cracking opener, "Athena." Spewing bona fide cock rock swagger, she then announces to the world, "We are the fire in the sky — never been denied" in the equally powerful, "Champions." The dysfunctional breakup tune, "Hate," blew up posthaste when it was released as the record's leadoff video/single last February — a backside-blistering standout, to be sure. Driven by a bouncy chug, "Found a Way" pops off the grooves, while the throaty "I Don't Care" is an arena-sized (soon-to-be) anthem.
What's that you say? You need another dose of romance-fueled dysfunction? Well, "Sober" certainly can scratch your itch — "We fought hard today. You took a hit, packed your shit, and then you walked away." That's some pretty solid stuff, right there! Truth be told, "Sober" showcases Formica at her artistic apex. Her painfully passionate vocals and brutally transparent lyrics are pinned carefully to delicate acoustic guitar work and glossed to perfection by an irresistible melody — before soaring into a heart-stopping crescendo. This one not only takes home the record's MVP honors, it's arguably THE best breakup power ballad since back when that was a thing. BRAVO!
"A lot of the lyrics Moriah had written about some of her previous relationships and the personal growth that comes after," says Perron. "All of us in the band immediately related to it. We were really glad to have "Walk Away" as the last song on the record, because it has some closure to it."
Aside from Formica's incredible songs and Johnny K's masterful production, there are near-countless other components that make the record a fantastic tour deforce. I've said it (many times) before, but it's worth repeating — if your drummer sucks, then your band and your record are gonna suck. Fortunately for Plush, Brooke Colucci is an absolute beast (that's an endorsement, BTW). And the rhythm section of Colucci and Ashley Suppa is 107% water-tight. As for the guitar work, Perron and Formica are a formidable force, and their unabashed two-ton tag team assault could be considered — heavy.
The record drops digitally and arrives at all streaming platforms on October 29th. For those with a fondness for the physical format, the record also will be released on CD simultaneously. Hang on, it gets better — look for the vinyl edition, coming early in the new year. Personally, I'm hoping for a Skittles-flavored, rainbow-colored vinyl release.
plushrocks.net
---