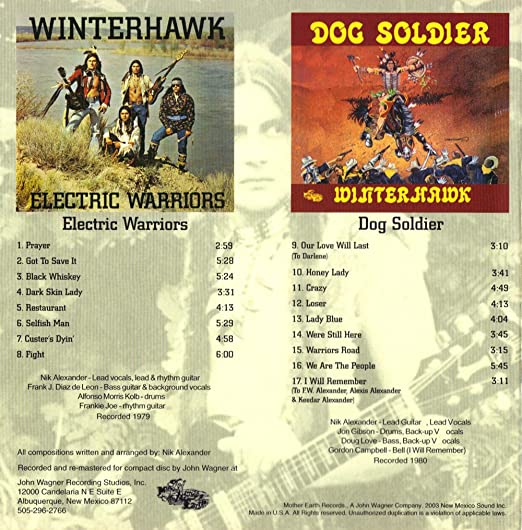 Winterhawk
Electric Warriors / Dog Soldier
Don Giovanni
We don't heal enough Indigenous voices in popular culture. . For most of the 20th Century, we got the Indian as savage trope of the Westerns. Academics tended to present Native people as as a sort of the Nobel Savage. Then in the post-Hippy era, Native Americans were practically deified by New Age adherents with their sage and dream catchers. We were given mythic ideals, which told as much about the Anglos telling the stories as about Native culture.
We rarely got indigenous voices telling their own stories. Buffy Saint Marie and Redbone made the Top 40, but their hits weren't really about the Indigenous experience "One Tin Soldier" was a fairy tale and "Come And Get Your Love" was a fun hook up anthem. In the late '70s, four Native Americans from Escondido, California tried to tell their own story through Heavy Metal.
Nick Winterhawk Alexander, a member of the Cree Nation assembled a band of fellow Native Americans to form a rock band. From the beginning, Alexander saw his mission as bringing Native American pride to the kids living on the reservations. He wanted to lead by example and teach them to value their heritage. The band Winterhawk chose to wrap their message in the guise of Heavy Metal, because that's what the kids on the reservations were into at the time.
Winterhawk recorded their debut album, Electric Warriors in 1979. They went to Mother Earth Studio in Albuquerque to work with producer, John Wagner who got what the band were trying to do. "Prayer" opens the record with an appeal to the ancestors to help them be strong and sure in their mission. "Got To Save It" is a plea for environmental conservation wrapped up in Thin Lizzy style harmonic guitar leads. "Selfish Man" casts a critical gaze on Anglo American's and how they've messed up the world.
Winterhawk took aim at some of the social ills that still plague Indian Country. "Dark Skin Lady" is a love song to Native women. Nick tells his lady that she's beautiful and should be proud of being indigenous. "Black Whiskey" takes on the insidious menace of alcoholism.
Cultural survival is the theme of "Custer's Dyin'" and "Fight." "Custer's Dyin'" addresses how the Indian Wars tried and failed to eliminate them "Fight" brings that resistance to assimilation/cultural annihilation to the present. Nick vows to fight forever with the invocation. "Crazy Horse is coming/ Sitting Bull is coming/ They are all coming/ It is a good day to die/ My people are still here and very much alive/ I have spoken."
Electric Warriors was released on Mother Earth's independent label. It didn't make much impact commercially, but it allowed the band to tour the US and Canada with their message of Indigenous empowerment. In an interview with Band Camp Daily, drummer Alfonso Kolb relates that the gigs they played at reservation schools were the closest to their hearts. ""We would go to boarding schools and do seminar classes prior to the show, and we would talk to these Indian kids from all over, different tribes, and the common thread that they were going through in their life was domestic violence, alcoholism, teen pregnancies, suicide, lack of education. [Nick} would always tell me, 'We're here right now, and when we're gone, what's gonna be here tomorrow for the ones we love and respect? What are we gonna do? In what way can we have a lasting effect on them?'"
Winterhawk relocated to San Francisco after Electric Warriors was released. They had some local success in the rock clubs. They played the US Festival and gigged with Johnny Winter, Y&T and Metallica.
Dog Soldier was recorded in 1980 and shows a band striving to appeal to a wider audience. The first half of the album is given over to rather generic boogie rock tunes that were aimed at radio play. There is nothing really wrong with "Honey Lady." It just that it's one of a million competent hard rock songs about being horny.
The second half of the album picks up the themes that dominated Electric Warriors. "We're Still Here" picks up where "Fight" left off. "We Are the People" picks up on the theme of environmental stewardship. Dog Soldiers ultimately waters down what made Electric Warriors a sought after rarity. The original record sells for up to $1000 on the collectors market.
By the mid-'80s, Winterhawk had fizzled out. Alfonso Kolb continued his music career playing with Native singer songwriter, Jim Boyd. . Nick would remain an anti-drug crusade for the rest of his life. He pioneered an abstinence through music platform that was in many ways similar to Ian McKaye's strait-edge hardcore.
Don Giovanni Records boss, Joe Steinhardt found a copy of Electric Warriors in a record store in 2010. He loved the record and became obsessed. It's not hard to find information about a Chicago band active around the same time also called Winterhawk, but very little information about the Native American Winterhawk. Could be found Steinhardt finally connected with Kolb, the only surviving member of the band, and the campaign to reissue the band's output began. With the reissue of Electric Warriors and Dog Soldiers, the story of this pioneering Rez Rock band is finally back in circulation.
---