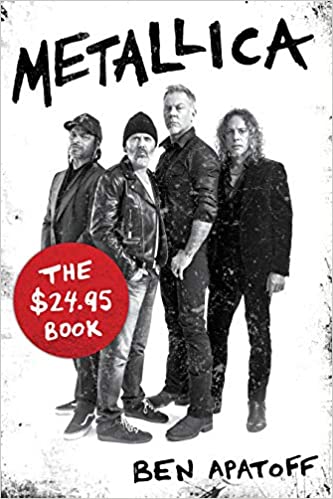 Metallica: The $24.95 Book
Ben Apatoff
Globe Pequot / Backbeat
From an underground band that pioneered the thrash metal sound, to arguably the biggest rock act in the new millennium, Metallica has had a long and tumultuous history. Ben Apatoff scours a myriad of sources to catalog this history in his new book.
The book eschews a strictly chronological history of the band, instead alternating chapters between brief biographies of each member (past and present) with histories of each album, including trivia about song selection and production. Apatoff also covers the band's influences, as well as the artists they have influenced, and their immense fan following.
Reading the first half of the book took me back to the early days of my Metallica fandom, ordering the cassettes through the mail and reading about the band in heavy metal magazines. I learned more than what was available then, as Apatoff had more sources than I did in rural Missouri before easy access to the internet. The second half of the book taught me about the Metallica I had lost touch with. After Load, I didn't really follow Metallica for several years. I knew about the ups and downs, the therapy, and the new bass player, but it was always in the periphery of music news. Apatoff brings everything together in easily digestible chunks, enough so that I am going to seek out the recent releases and their long form videos to catch up.
I imagine most, if not all, of the facts and anecdotes detailed in these pages could be gleaned through web searches. But Apatoff consolidates all of these disparate details into an easy and fun to read book. Besides a title that is a play on a classic EP of cover songs by the band, Apatoff shows his fan credentials through incisive commentary on individual songs, live performances, and album structure. While I would have appreciated some original interviews with either the band members or people close to them, Metallica: The $24.95 Book is a handy reference for any fan, new, lapsed, or long-term.
---