YEAR-END ALBUM REVIEW: My Top Five Faves of 2021
by Christopher Long
Zzzzz! Ahh, don't 'cha just love year-end music lists? Zzzzz… Pretentious snobs wantonly wanking each other while hoping to impress seven readers with their intellectual music picks. Truth be told, it's completely impossible for anyone (even the super-sophisticated muzos) to consume the slightest smidge of music that's released annually throughout the galaxy. And honestly, who's really qualified to judge what art speaks to others? Hence, "Best Records" lists can be sorta dumb. And kinda boring.
But, while I too have been lumped in with the muzos from time to time, I'll confess openly that I ain't no "smarty pants." I'm just a guy from the neighborhood—an "erratic driver" who refuses to "pick a lane." My pocket iGadget playlist is home to an eclectic array of such artists as The Partridge Family, Motörhead, Patsy Cline ,and Marvin Gaye. I believe wholeheartedly that disco IS life. I maintain that "Junk Food Junkie" is the most important song ever written. I'd rather be diagnosed with "Stage 4" than attend a Dave Matthews concert. And just a few nights ago, my garage-punk band opened for '80s pop princess, Tiffany. True story.
That said, this year-end list reflects merely my personal five favorite records: the music that spoke the loudest to me during the last 12 months of near-non-stop music consumption. Your mileage may vary.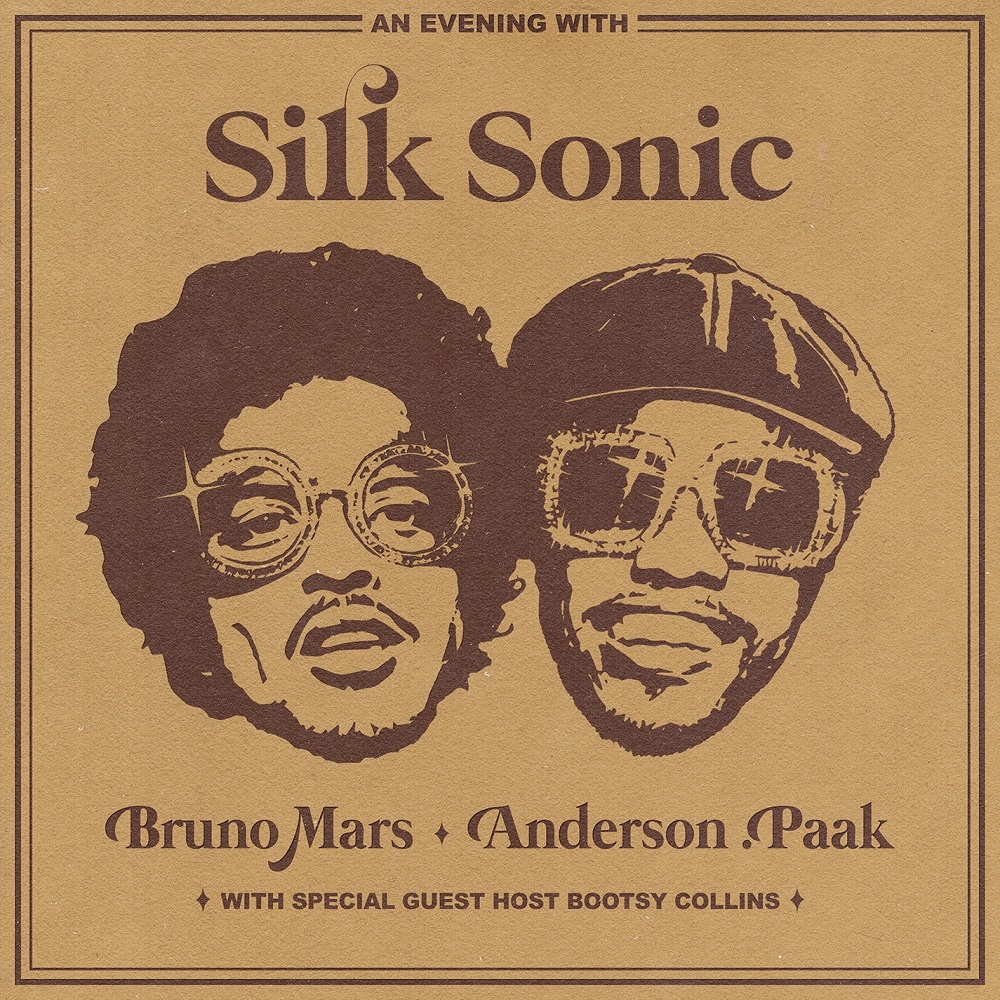 #5: SILK SONIC—An Evening with Silk Sonic
The super-side project of chart-busters Bruno Mars and Anderson .Paak created a major buzz early in 2021 when the dynamic duo dropped their wildly successful debut single, "Leave the Door Open." Dripping with equal old school soul authenticity, subsequent singles "Skate" and "Smokin' Out the Window" set the stage further for their highly-anticipated full-length record. And when An Evening with Silk Sonic finally arrived in November, it was a slam-dunk winner—almost.
Sweet and smooth, sexy and sassy, the nine-song set reflects the duo's righteous R&B roots, from start to finish. James Brown-meets-The Delfonics at an Earth, Wind, and Fire backyard barbecue. Heck, even the iconic "Blaster of the Universe," Bootsy Collins smears his funk-fueled DNA across the grooves. Polished with a modern perspective and production, the record succeeds in forging into the future, while pointing to the past.
A longtime connoisseur of their classic retro style, I totally recognize and completely dig the Silk Sonic effort—almost. But as a "seasoned" fella who remains in "the game," I'm also quite aware of how current culture craves lowest common denominator content. As a result, superstars Mars and .Paak had a prime op with which to "raise the bar." Instead, they went with the flow, and the integrity of their music is often compromised by their message. Regardless of how a successful artist spins it, or how society rationalizes it, spewing such verbiage as "bitches," "hos," "fuck," and "motherfucker," especially while glorifying a decadent lifestyle of drugs and alcohol, only perpetuates today's bigger picture social problems.
It's merely an observation. I'm not hatin', I'm just sayin'. I mean, how triggered can I be? I did rank the record in my Top Five of the entire year, after all. But with just a little solid wisdom and some sound judgement, an otherwise great record could have truly been superb and nabbed my #1 slot. (silksonic.com)
#4: LILIEAE—Run! Run! Run!
Ah, the kids from Cleveland, I love 'em! Zinging with all the zesty flavor of the most robust Warped Tour entrées, Lilieae (LIL-EE-AY) pleases the pop-punk palate without any unpleasant metalcore aftertaste. In 2019, the crew cooked up their sweet and savory debut EP, Level. In 2021, they returned from the kitchen with their latest mouth-watering confection, Run! Run! Run!
Packing Icon for Hire-caliber chaos, "Burn the Witch" oozes Bloomer-inspired pissed-off pinkness, while "Take Me Home" and "What I Said" both reside in a quaint cul-de-sac near the intersection of Veruca Salt Street and Paramore Place. Another highlight, "Fool's Gold" revs from a chug into a full-on Candy Hearts-flavored trot. In short, Run! Run! Run! Come for the crunch. Stay for the songs. (lilieaeband)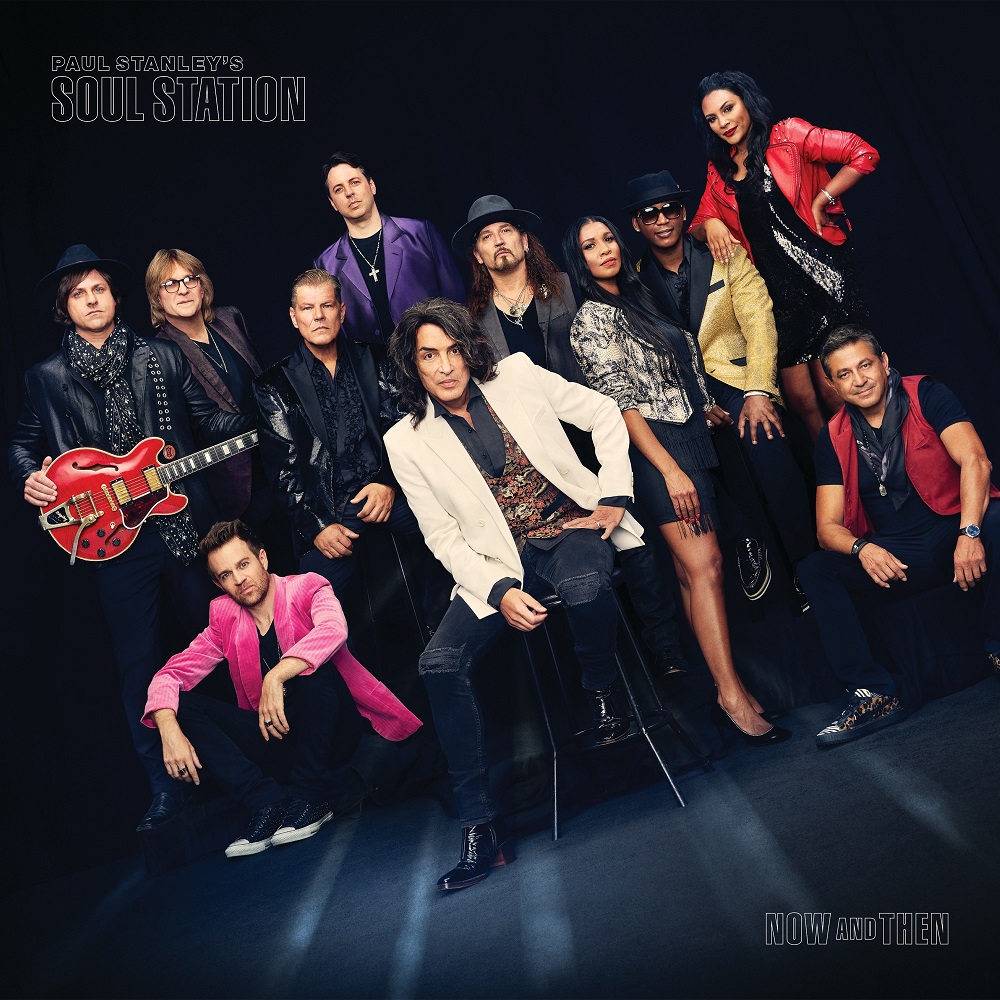 #3: PAUL STANLEY'S SOUL STATION—Now and Then
Along with an impressive new ten-piece pit team, the iconic KISS frontman hung a hard left at Albuquerque in 2021. Produced by Stanley and longtime production ace Greg Collins (U2, No Doubt, Matchbox Twenty), Now and Then is a superb tribute to the glorious soul sounds of the '60s and '70s—timeless classics from an array of legendary artists.
The most wonderful aspect of the record is it's NOT a garden variety "tribute" record. Of the 14 treasures stashed within this trove, five are shiny new Stanley gemstones. Bursting with aural sunshine, "I, Oh I" might prompt you to start "dancing in the street," while "Save Me (From You)" owns plenty of "Gnarly" appeal. However, "Whenever You're Ready" beams brightest. In fact, this engaging duet with Crystal Starr feels like a modern-day reincarnation of Marvin and Tammi, circa '68.
Of the remakes, the 1972 Spinners hit "Could It Be I'm Falling In Love" is a mighty opener, while both the 1965 Miracles staple "Ooo Baby Baby" and the 1971 Temptations chart-buster "Just My Imagination (Running Away With Me)" are super-tall standouts. Additionally, Stanley deserves mad props for his faithful recreations of Al Green's "Let's Stay Together" and the Stylistics' "You Are Everything." However, it can be argued that it's the remake of the 1964 Four Tops smash, "Baby I Need Your Loving," that packs the most punch.
Now and Then is a special album with magical songs that make me smile. While I'm not a licensed therapist, I am a nightclub DJ, which is kinda the same thing, and I'd bet my prized personal Shure microphone that this set can turn your frown upside down too! (paulstanley.com)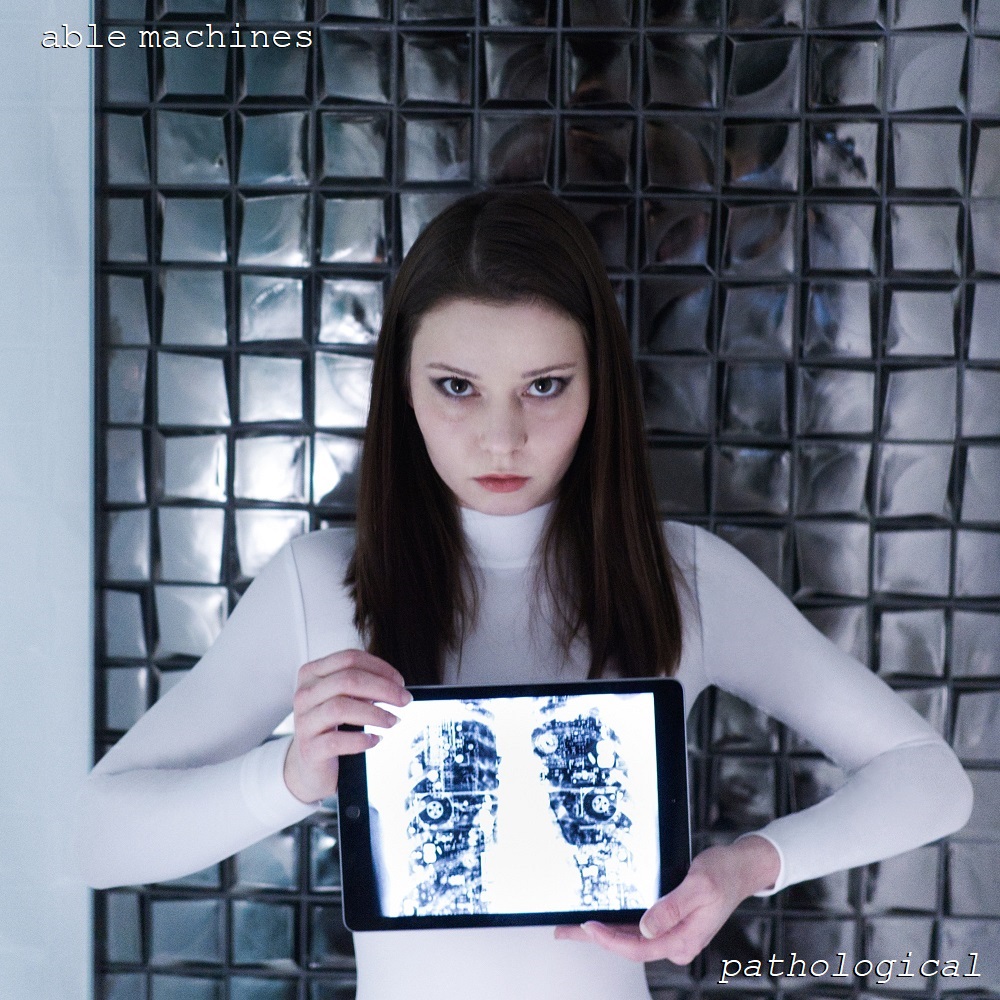 #2: ABLE MACHINES—Pathological
A musical marriage between singer / songwriter / actress Tay Côlieé and musician / songwriter / producer Linus Dotson, the LA-based duo Able Machines delivered a doozie in 2021: an 11-song synth-pop seduction featuring the irresistible video / single, "Can You Keep a Secret," the hypnotic video / single "Narcissist," the Manson-inspired (Shirley, not Marilyn) "Intentions," and the heart-stopping "Secrets and Lies."
Pathological, it pops and pings, it beeps and buzzes. Like that dirty girl sitting alone in the neon-lit cocktail bar after closing time (you know, the one with tussled hair and suppressed daddy issues), it's frustratingly alluring. The dysfunctional feel-good of the year. (ablemachines)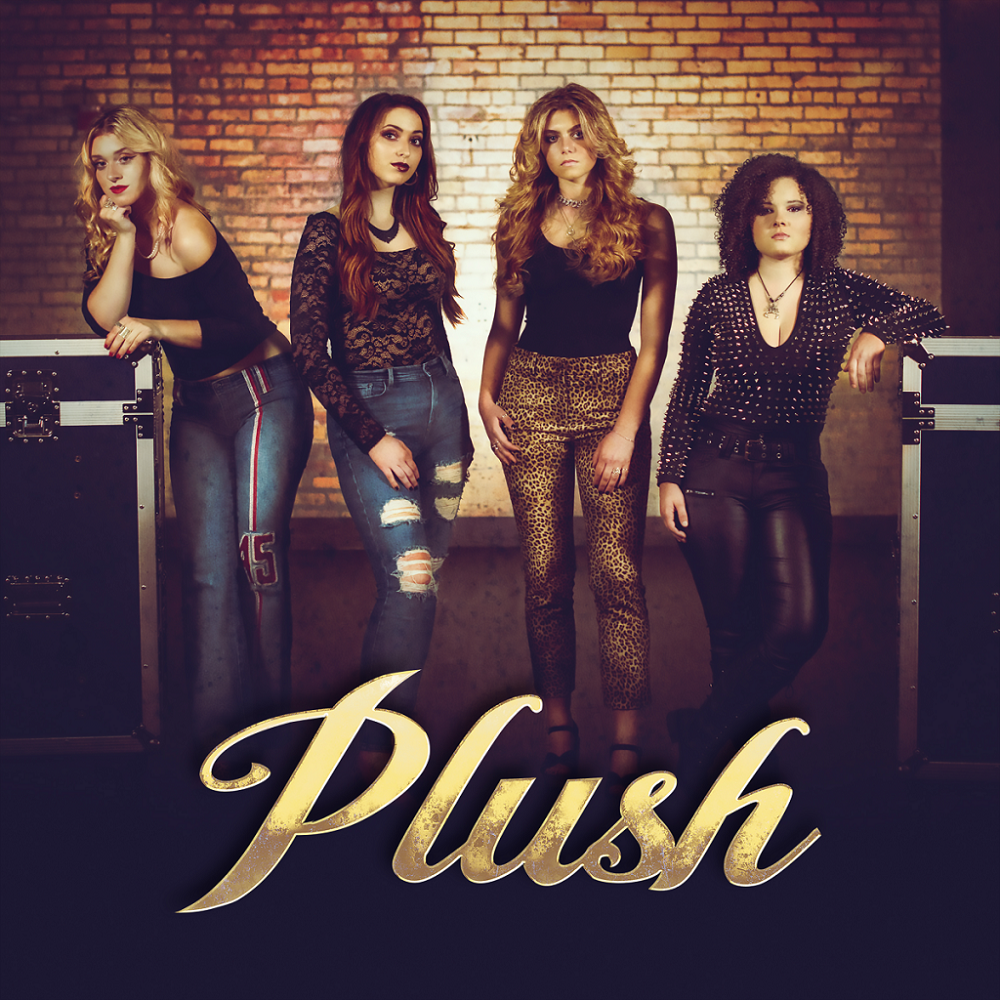 #1: PLUSH—Plush
Simply put, Plush wasn't just ONE rock story of 2021. Plush was THE rock story of 2021. However, the fresh-faced newcomers remain unfazed by their recent neck-breaking ascent from the smallest rehearsal spaces in New York to the largest concert stages in America, performing with the likes of Stone Temple Pilots, Evanescence, Halestorm, and Sevendust.
Despite the members' barely-out-of-high school demographic, their authentic hard rock roots run deep, a point proven this fall when the band dropped a dazzling debut record: a two-ton slab that owns ample familiar factor, yet is as straight-up, in-your-face as any other major label effort from any other current modern rock kingpin.
Produced by veteran go-to studio ace Johnny K (Staind, 3 Doors Down, Disturbed), the 13-track collection is an impressive, blameless effort. Delivering all "thriller" and zero "filler," the record boasts highlights galore, including the rib-cracking opener "Athena" and the equally powerful "Champions."
The dysfunctional breakup tune "Hate" blew up posthaste when it was released as the record's lead-off video / single last February. Driven by a bouncy chug, "Found a Way" pops off the grooves, while the throaty "I Don't Care" is an arena-sized (soon-to-be) anthem.
"Sober" showcases ringleader / vocalist / guitarist Moriah Formica at her artistic apex. This one not only takes home the record's MVP honors, it's arguably THE best breakup power ballad since back when that was a thing.
The rhythm section of drummer Brooke Colucci and bassist Ashley Suppa is gloriously nut-busting. As for the guitar work, Formica and Bella Perron are a formidable force, and their unabashedly brutal tag team assault could be considered… heavy.
As if it was even possible, Plush actually picks up the pace in 2022, when the band hits the road as an opening act on the upcoming U.S. Slash tour. GO GET 'EM, GIRLS! (plushrocks.net)