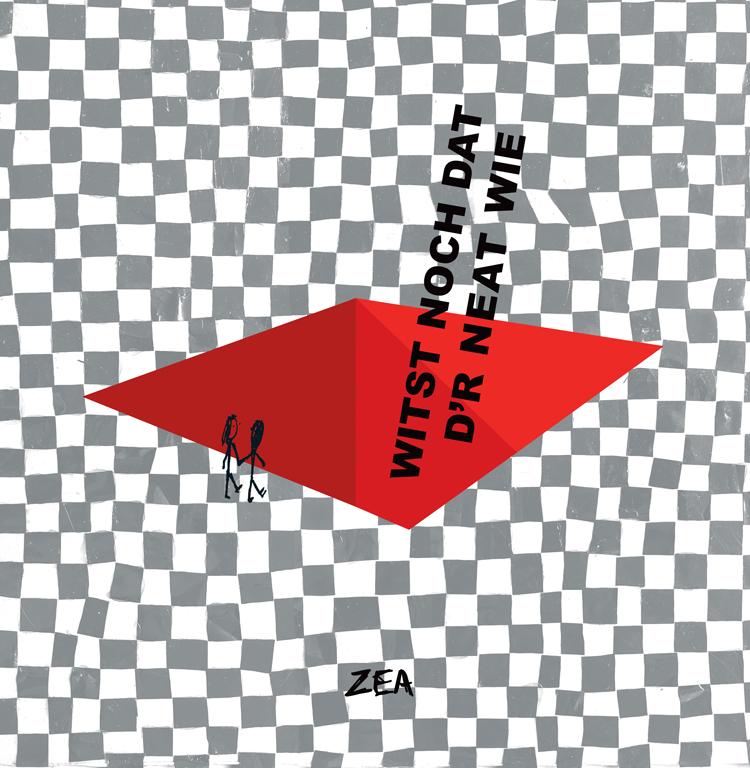 Zea
Witst Noch Dat D'r Neat Wie
Makkum Records
Arnold de Boer is a musician from the Friesland province of the Netherlands, best known as the vocalist for the current incarnation of The Ex. He grew up working in the family business that was started by his great-great grandfather. The experience made him value being his own boss. As he told The Quietus, "So when I started Zea I automatically did everything myself; no managers, no contracts, no lawyers, that is the motto. So I write, play, record, mix and master everything myself. I make my own artwork, videos, website and run my own label. I drive the car and manage the tour. I couldn't do it differently."
De Boer has charted an eclectic course with his musical career. His work includes heavy riffing with long running experimental punk band The Ex, improvising with jazz musicians, and collaborating with players form Ghana and Ethiopia. With Zea, Arnold has explored homemade rock and roll using all manner of sound, including samples made with a game controller and speeldoos (a mechanical street organ that works like an old time player piano). For his latest outing, Witst Noch Dat D'r Neat Wie (translation: "Do You Remember That There Was Nothing"), de Boer creates minimalist folk tunes sung entirely in the regional dialect, Fries, which is officially the second language of The Netherlands.
A lot of thought went into Witst Noch Dat D'r Neat Wie. "Sucht" and "Disimber" are adapted from poems de Boer found in old Frisian language literary magazines in the former Dutch colony of Suriname. Participating in a funeral celebration in rural Ghana inspired "Ik gean new dea." "Wer weron komen" was inspired by the fact the Frisian word for kiss, "tut," bears no linguistic relation to Dutch or German, but is the same in Vietnamese. The book has the lyrics printed in Frisian, English, and the language of the country that inspired the song, so the title track has Frisian, English, and Polish lyrics in the book.
Some of the songs are rendered with minimal accompaniment. "Gean net by my wei" is an emotionally naked reading of the Jacques Brel composition for guitar, voice, and cello. "Ast/Of" has sounds like something casually played in the front parlor. Other tunes get a more fleshed out arrangement. "Boarne" augments the insistent guitar riff with synth and reverb effects to create an angry, anxious atmosphere. The tense feeling befits the song's subject matter of colonialism and attempted genocide in Indonesia.
You can enjoy Witst Noch Dat D'r Neat Wie without consulting the book. The songs are captivating enough on their own. This album is densely packed with ideas and overlapping layers of history and culture. Reading the inspirations and contemplating the linguistic and societal connections de Boer is immersed in adds greatly to appreciating the album.
<a href="https://makkumrecords.nl"makkumrecords.nl</a>
---