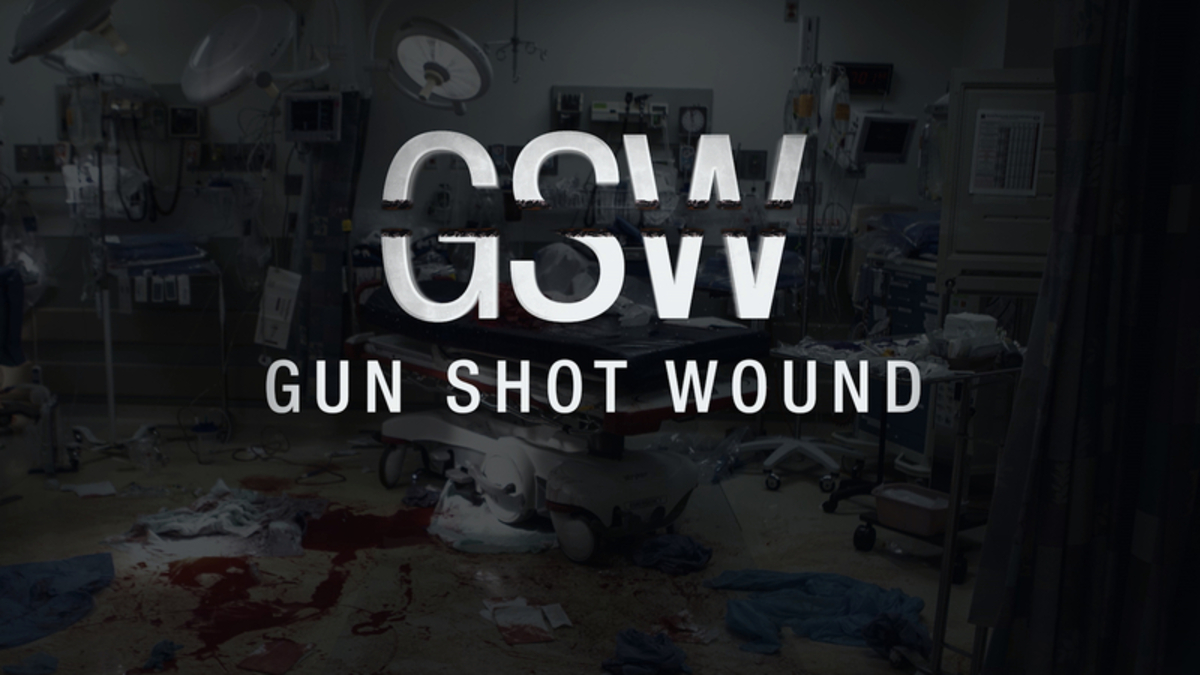 GSW (Gun Shot Wound): The Film
directed by Jody Schiliro
The flipside of the Second Amendment is the reality that if everyone carries a gun, a bullet is the solution to every problem. The number and severity of gunshot victims is growing in America, and this gritty, in your face look at gun violence shows the aftermath of Upstanding Americans exercising their right to plug anyone, any time, for any reason.
We view this epidemic from the eyes of Emergency Room crews in any number of major cities. The doctor and nurses and medics all work their butts off to save these who are still alive when the meat wagon hits the loading dock. With semi-automatic weapons common, victims may suffer over a dozen wounds, each of which can end their lives quickly and painfully. We meet doctors and nurses and morticians, their highly advanced skills almost exclusively going to save gang members on the wrong end of minor hustlers with a weapon out to get… something. A head nurse discusses the psychological impact of seeing a dozen mutilated bodies on a single shift. A doctor explains how his years of study boiled down to saving those with little future. Eventually, we get down to the morgue, where the less success-oriented victims end up with so many holes in their hulls.
As documentaries go, this one takes a rather deadpan look at the problem, although interviews with physicians become emotional. Director Schiliro's documentary calls attention to the blood, and the result is sobering and hard to view. But there's no lecture here, no discussion of the need to suppress this tragedy that eats away at the people least able to improve their lives. "Hospitals have classes for diabetics and the overweight, why not gun violence?" points out a nurse. A reasonable question, and a question with no good answer. Expensive medical equipment and procedures keep this meat grinder turning with no end in sight. One doctor states: "It's not the living or dying, but seeing the damage done." And the conclusion is clear: there are too many guns on the street, all aimed at harvesting the young men that might make a decent life for themselves and make the bad part of town a little less evil. If only they can stay alive.
---