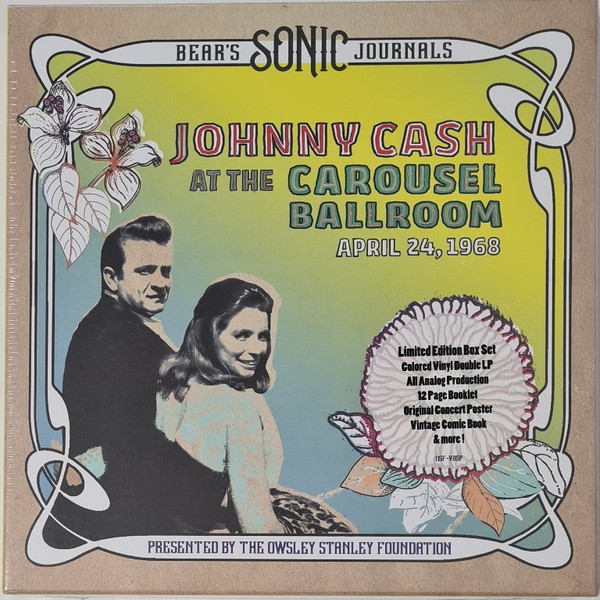 Johnny Cash
At The Carousel Ballroom, April 24, 1968
Renew Records
The Carousel Ballroom in San Francisco (later known as the Fillmore West) was run as a collective in 1968 with leading bands of the area—the Dead, Jefferson Airplane, and more "running" the place, with Owsley "Bear" Stanley mixing the sound. He taped everything, and those tapes are now being released as Bear's Sonic Journals—everything from Hot Tuna, to the Allman Brothers, Doc & Merle Watson, and more. Bear designed the "Wall Of Sound" PA system for the Dead, a mammoth collection of speakers and McIntosh amps that advanced sound reproduction in a live setting years ahead. He also was infamous for his chemistry skills, making a legendary brew of LSD to the tune of over 5 MILLION hits. No wonder the scene in those days in San Francisco was so groovy.
However, in 1968 Johnny Cash's star was somewhat diminished compared to his Sun Studios days. In early April he performed the now-legendary show at Folsom Prison, which led to his rebirth, but on the 24th he and his wife, June Carter Cash, as well as his band, "The Tennessee Three" (Luther Perkins on electric guitar, W.S. Holland on drums, and bassist Marshall Grant) pulled into the Haight district and the Carousel to play for a definitely "non-country" crowd of about 300. Cash had beat his addiction to pills by this point, so how he got along with the decidedly stoned crowd isn't known, but the performance captured here is spirited, with Cash and crew in an upbeat, jokey mood, doing requests and cutting up.
Opening with "Cocaine Blues" and "Long Black Veil," the show is similar to At Folsom Prison, including a portion with June (and a rowdy "Jackson"). Unlike Folsom, Cash performs two Bob Dylan songs in a row, including an unheard Dylan number, "One Too Many Mornings," that wouldn't see the light of day until Dylan's landmark Nashville Skyline record in 1969. Gordon Lightfoot was in attendance that night at the Carousel, and Cash performed his "Forty Shades of Green" per Lightfoot's request. The show ends with Johnny and June on a run-through of his hits, such as "Ring of Fire," "Big River," and his standard closer, "I Walk The Line." A unique moment in history, captured lovingly by Stanley.
This is available on CD, LP, and a tremendous box set that includes essays from John Carter Cash (the only child of Johnny and June), the Dead's Bob Weir (which shows just how intently the Grateful Dead was into country music and Cash), as well as Dave Schools, Widespread Panic bassist. The records themselves are great; however, the show itself was recorded with Cash's vocals in the left speaker, and the band on the right. That's the way Bear recorded it, but it might sound odd to listeners of purely stereo recordings. (I switched my phono pre-amp to mono, which brought the vocals to the center. Sue me.) That aside, these two LPs are a delight to hear, and show what a consummate artist Johnny Cash was. By the end of the year, he had a huge hit with the Folsom Prison record and began a weekly TV show. His star burned bright. But oh, to have been a fly on the wall when Johnny met the hippies. Essential.
---