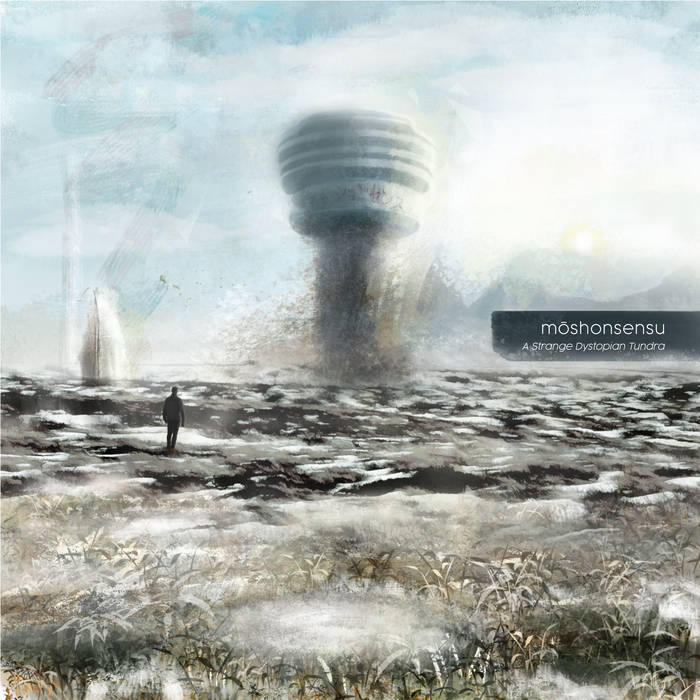 Moshonsensu
A Strange Dystopian Tundra
Renetic Recordings
Ah, that fresh mix of a massive brush of electronic ambient music created on complicated digital staff paper, mixed with care and a library of sound effects! It's enough to slap the depression right out of you. I read the crispy clean liner notes on this project, and I can't get a clear grip on whether this guy is Japanese, pretend Japanese, or just an aural shape shifter. But that's not too important. What is, is the tracks laid down for electronica loving readers. We find ten of those tracks on A Strange Dystopian Tundra with intriguing titles like "Mystical Minds," "Tedious Cricket," and "The Detectives Walk in the Tundra." Of course, they would walk. Running on tundra is downright dangerous.
Oh? The music, you ask? It's not bad for synth-heavy ambient arrangements, and its appeal grows on repeated listens. Opener "Mystical Minds" builds, rises to a climax, then releases, only to fade away. "Retrograde" opens to a lonesome horde of notes and some garbled audio samples that recall the ancient Minds Eye series from the early days of digital animation. A rhythm line lies in wait, a string section floats high above, and this could be a nice trippy time if you're into that head space. "Tedious Cricket" is neither tedious nor chirpy, but a collection of disenchanted brass notes with the sort of spacey ambiance you get in a large performance space. With a good stereo, it makes you wonder where the source of the sound is, exactly. It's out there somewhere, but I don't see where.
As we sail down the crystalline waters of this not quite ambient, not quite musical caravan, we'll pay a visit to "Detectives Walk in Tundra." Here slow taps on a vibraphone and an almost female vocal search deep, dark resonances and pace the selection of new themes. The occasional bird flits above, reminding me of my recent journey from Terminal "A" to Terminal "B" at Atlanta's Hartsfield International Airport. Maybe you've seen it: an installation of simplified leaves hovers overhead with dramatic lighting and digital birds flying overhead. It's dark, mysterious, and somehow pleasing, just like this project.
---