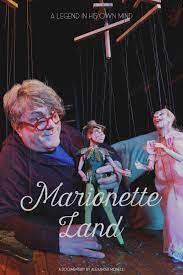 Marionette Land
directed by Anthony Monelli
starring Robert Brock, Mary Lou Brock
MCV Visuals
The highlight of the winter season when I was in grade school was the arrival of the Marionette Man. We'd troop down to the gym where the old puppet master would be his own opening act, pounding out tunes on piano and thrilling us with tricks like playing behind his back. Then the puppet man disappeared behind the puppet stage to make the magic happen. I remember being enchanted by the magic of the stringed puppets singing, dancing, and fighting on the little stage.
Robert Brock probably had a similar experience when he was young. Robert was a theatre kid who pursued a career on stage before creating his own world as the master of the Lancaster Marionette Theatre. Robert adapts and performs classic children's tales like Peter Pan, Wizard of Oz and Cinderella for his marionettes. Robert lives above his little theater with his mother, Mary. Robert's world plays to a small and shrinking audience of young children and their parents. Do stringed puppets still create the same awe in young imaginations in a world of CGI? Marionette Land follows Robert as economic pressures and the outside world close in on his world of make believe.
Director Anthony Monelli follows Brock as he tries to negotiate the pressures of running such a niche enterprise. To boost the theatre's revenues, the 62-year-old performer decides to revive his cabaret show, Divas and Dames. The grown-up show features Brock dressing up and performing as Judy Garland, Liza Minnelli, Carol Channing, and other famous Hollywood stars.
Monelli wants his film to be a celebration of this eccentric character forging his own Never Never Land. It's impossible not to pick up on the fact that world is catching up with him. His puppet shows are anachronistic (it's implied that the shows haven't been updated in ages). While the Divas and Dames revival is successful, his impressions are a throw back to another age. Is Carol Channing still a big draw on the drag show circuit?
In the end, the Covid pandemic kills the Lancaster Marionette Theatre. With the theatre indefinitely closed, Robert and his 85-year-old mother are forced to shut down. Robert Brock was able to live in his land of fantasy and magic for 30 years. Unfortunately, the real world is cruel.
---