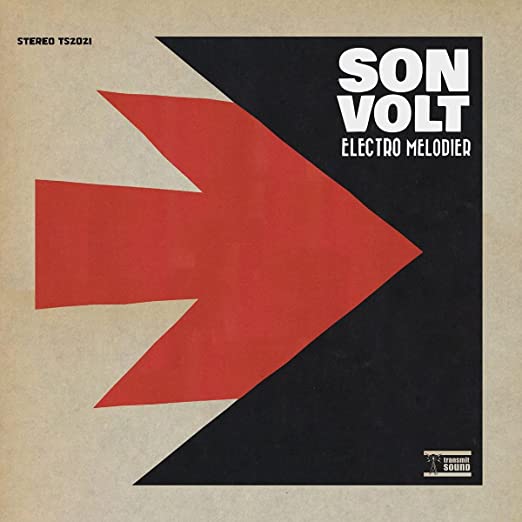 Son Volt
Electro Melodier
Thirty Tigers Records
I never really understood what Americana music was… until now. I mean this very literally. Son Volt's Electro Melodier is nothing short of red, white, and blue. Other words that come to mind while enjoying this record: expansive, transcendent, gratitude, community, nature, history, present, triumphant, and downright hopeful.
Frontman Jay Farrar may be the only singer alive who embraces his phrasing style with a descending waterfall of notes that decrescendo into drone-like linger in a strangely pleasing way. There's a bit of magic that I cannot quite put my finger on in his voice that makes me wonder if he is blissfully sad or in a Shamanic trance.
When listening to Electro Melodier and to Son Volt in general, to me it feels like the songs are composed in reverse. The chorus may sound like a verse. The bridge of the song may really be the hook, etc. This may be a secret weapon that keeps us guessing, leading to a delightful surprise throughout the record. It becomes plainly obvious that "someone" was busy during quarantine, and it has paid off… for us.
The third track, "The Globe," says "change is in the air" which of course is a huge tone for the current state of this modern time, and it feels refreshing and even promising that things will get better now. The sentimentality of the past takes a back seat to the ever-hopeful future and the possibilities yet to come.
"The Lucky Ones" stands out as a commercial hit that feels like a traditional slow dance moment with a sentimental charm that just works, and if Tom Petty was still with us (physically—as he is always with us spiritually), he would surely want to cover it.
"War on Misery" is a swampy blues ride that reminds me of the psilocybin trip I've yet to take and how I'm definitely going to check out Muscle Shoals this year (or at least get a dobro for the studio).
"Living in the U.S.A." should be the album title / title track in my opinion (Lord knows we could use a good U.S.A. / America song right now, even John Cougar would agree). Here is the obvious unique songwriting style I spoke of earlier, lots of build-up to a short bridge or chorus or… either way it has a cool tribal beat that to me showcases the kick drum which may possibly be blended with a djembe?? Not sure, but it got me wondering. The quality of the drums in particular on this record is surprisingly crisp, live, punchy, even Zeppelin-esque at times and makes for a sonic treat.
At one point while listening to "Rebetika," I had a vision of eating an apple underneath a willow tree among tall, green grass while there were indigenous spirits hanging out somewhere in the background. (No, I wasn't stoned, I gave it up a few years ago.)
Son Volt's Electro Melodier represents the U.S. here, right now, in the present time… and how we can embrace the coming natural change together and know that everything is going to be all right… maybe even great.
---