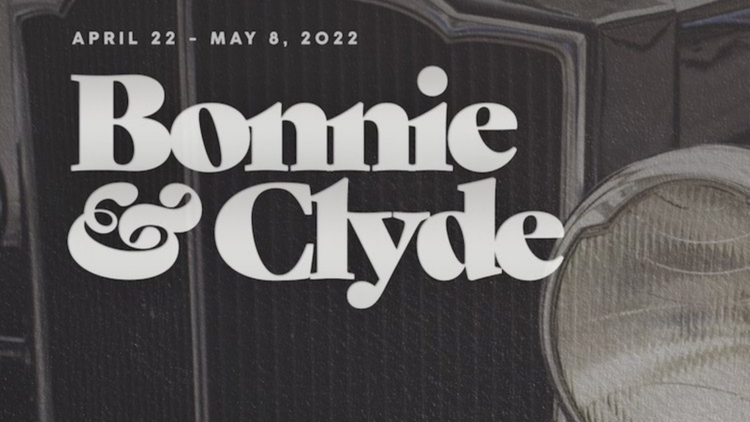 Bonnie & Clyde
Book by Ivan Menchell
Music by Frank Wildhorn
Lyrics by Don Black
Directed by Derek Critzer
Starring Maddie O'Brien, Jose Rivera, Chase Williams, E. Mani Cadet, Casey Sweeney
Theatre West End, Sanford, Florida
Review by Carl F. Gauze
When times are tight, people become desperate. In Theatre West End's production of Bonnie & Clyde, Clyde Barrow (Jose Rivera) and his brother Buck (Chase Williams) finally get out of jail and look for non-existent employment. We're in the heart of the Great Depression, and rural America isn't any better off than the cities. Armed robbery works for just so long, and the cops feel a moral compulsion to stop the shooting and looting. Clyde drips confidence, but Buck is more than willing to turn himself in and do his time. I think Buck likes jail—they feed him every day there. Now Clyde needs a new sidekick and picks up the adventurous Bonnie Parker (Maddie O'Brien) in a diner. She's up for guns and wild sex, and in those pre-internet days, you could commit a lot of crime if you kept moving.
Adventure, sex, and bad cooking. What more could you want in a love story? Barrow's got the energy and good looks, and he's also not afraid to ask for what he wants, no matter if it's a bottle of gin or a woman's honor. Bonnie tags along for the ride at first, but soon she's all in. Bonnie's got marketing skills as well and gives herself top billing: "BONNIE and Clyde just sounds better." Sidekick Buck is a happy guy, and while everything isn't enough for Bonnie and Clyde, Buck finds just enough to be plenty. Bonnie's mom disapproves, but what can she offer? Just more Dust Bowl starvation. Good acting, great gunfire, and sex: it's everything you want in a moral tale that doesn't go out of its way to moralize.
This is a weird romance. The hugging and kissing is mostly to take the edge off the high stakes and low chance of long term success for this pair. Great supporting actors press us forward. Chase's Buck is goofy and somewhat funny—he can be talked into most anything and then feel regret. E. Mani Cadet plays the preacher, adding a counterweight of honesty to a story filled with deceit. And Casey Sweeney gives us a tough and moralistic sheriff, aiming to do right even if he is acting out of his jurisdiction.
This production has high energy, a good love story, and just enough laughs to take the edge off the murder. Get there early on the right night, and you might even meet a few bootleggers willing to set you up at the bar.
---