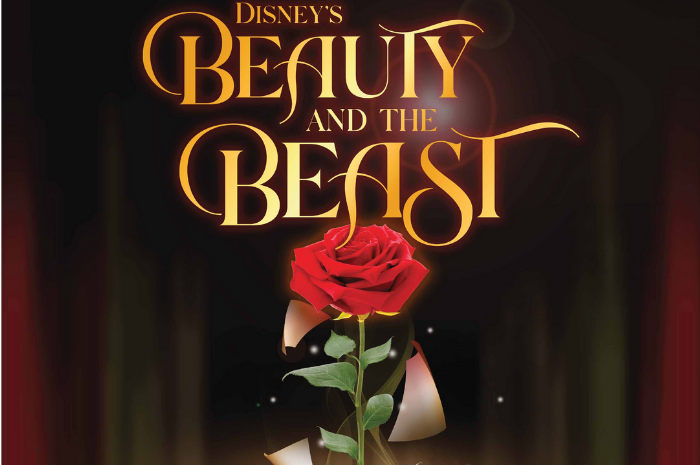 Disney's Beauty and the Beast
The Garden Theater, Winter Garden, Florida
Music by Alan Menken
Lyrics by Howard Ashman and Tim Rice
Book by Linda Woolverton
Starring Da'Zaria Harris and Shane Bland
Directed by Roberta Emerson
Musical Direction by Bert Rodriguez
Choreography by James Tuuao
by Carl F. Gauze
I've never seen so many youngsters on an opening night. The house was packed, and the lobby was filled with flustered parents and remarkably well-behaved children. But what else should you expect when the biggest children's drama ever appears in a real theater? Even parking was tight in the garage behind the theater for Disney's Beauty and the Beast.
On stage, the show was filled with magic: Gaston (Zeshan Kahn) swaggers around, bossing people to do his will. He decided to marry Bell (Harris) although she is not on board with that decision. Bell's dad Maurice (Michael Mormon) gets lost in the big scary woods, and Bell sets out to find him, only to be captured by the deformed Beast (Bland). He carries a curse, as so many fairy tale male leads do, and he's attended to by a candelabra named Lumiere (Ricky DeVito, Jr.), a clock named Cogsworth (Nate Elliot), and Mrs. Potts (Whitney Morse). Then things get weird, but like all good Disney dramas, all you need to fix the plot problems is love.
Chances are good you've seen this if you have kids, but this production really blows the doors of the theater. Set changes involve pushing giant pillars around, and the smoke and mirrors remove us to new and wonderful lands. Harris's damsel in distress is stuck between a deformed monster and good-looking jerk. She wisely goes with the monster, and the magic of restorative Disney surgery eventually lands her a guy that is not only nicer and nicer, but rather good looking for the last scene. Zeshan Khan's swaggering lout is still left with all the other girls in town, but he pouts off into the corner after learning it takes more than swagger and nice hair to win the woman of his dream. Lumiere and Cogsworth are a great comedy pairing, there's a little Python and a lot of Mickey Mouse in them, and the cross dressing Ayọ̀ Jeriah Demps as Madame de la Grand Bouche adds an unexpected element of drag to the show. Don't let anyone tell the governor, his head might explode.
What does this all add up to? Well, it's a grand production and a high profile show, and it comes across as a flashy romance complete with big production numbers. I'm no Disney fan, but this show won me over. I loved all the songs, the characters were complex and cleverly defined, and I never had to peek at my watch. I suspect the young members of the audience were equally enthralled—I never heard a peep offstage. The evening ended as they were rolling up the sidewalks in Winter Garden, and I even remembered where I parked. We all went home fully satisfied and fully enthralled.
---