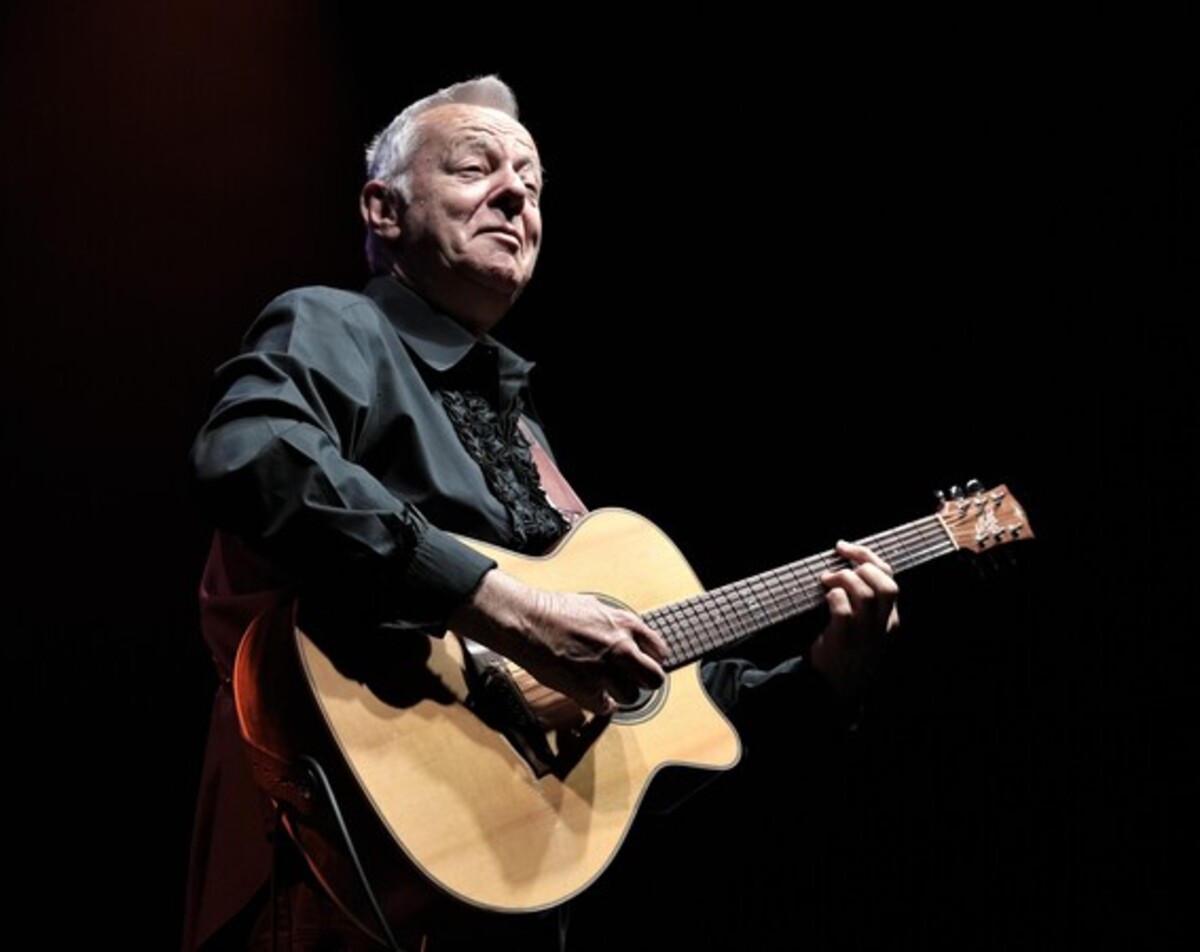 Tommy Emmanuel
with Gareth Pearson
The Plaza Live, Orlando, Florida • May 12, 2022
by Michelle Wilson
The Plaza Live in Orlando, Florida exploded with acoustic dynamite as Tommy Emmanuel and opener Gareth Pearson graced the stripped-down stage for an evening of finger-picking pizazz. It was inspiring to see so many people come out to support these wonderfully accomplished guitarists, including a smattering of youngsters. Emmanuel's last performance at this venue occurred just before lockdown, and it was one of the last two shows that I covered prior to the world flipping upside down. It was great seeing the charismatic guitar wizard back, doing what he does best: thrilling the crowd with his insane percussive axe talent and witty banter.
Wales native and guitar phenom Gareth Pearson took the stage at 8:05pm and was as alluring as he was talented. Dubbed "The Welsh Tornado," his playing style has been influenced by the likes of Chet Atkins, Merle Travis, Jerry Reed, and Emmanuel himself. Pearson has been connected to Emmanuel since opening for him back in 2005, and it is obvious that the two have enormous respect for each other. Emmanuel even wrote a song about Pearson called "The Welsh Tornado." Sharing that it was his first time in Florida and that he was a long way from home, Pearson thanked everyone for making him feel so welcome and said he hoped to make America his home one day. Confessing that he was aware of opening for the greatest guitar player and hoping that he didn't make any mistakes performing a new arrangement, Pearson played a crowd-pleasing cover of "Uptown Funk" (Ronson, Mars, etc.) and admitted that he was happy with the way it turned out. Pearson also played and sang his interpretation of Claire Kelly's "Be Careful Who You Kiss in Nashville," a twangy country-flavored number, followed by his own frenetic composition, "Adrenaline Rush," inspired by Jerry Reed's banjo playing. It literally sounded like he was playing a banjo, not an acoustic guitar on this one, which he dedicated to a friend in the audience. "You guys are class! I appreciate you!" Next, he offered a ballad written when he was 16 after a teacher told him that he would never amount to anything. Influenced at the time by Chet Atkins, Prince, and Fleetwood Mac, you can really hear the "Mac" in "The Beauty of Discipline." "If you want anything in life, work for it. It's a huge blessing to play for you tonight." Tackling Michael Jackson's "Billie Jean," Pearson absolutely slayed the popular hit. It was hard to believe that only one guitar was being played.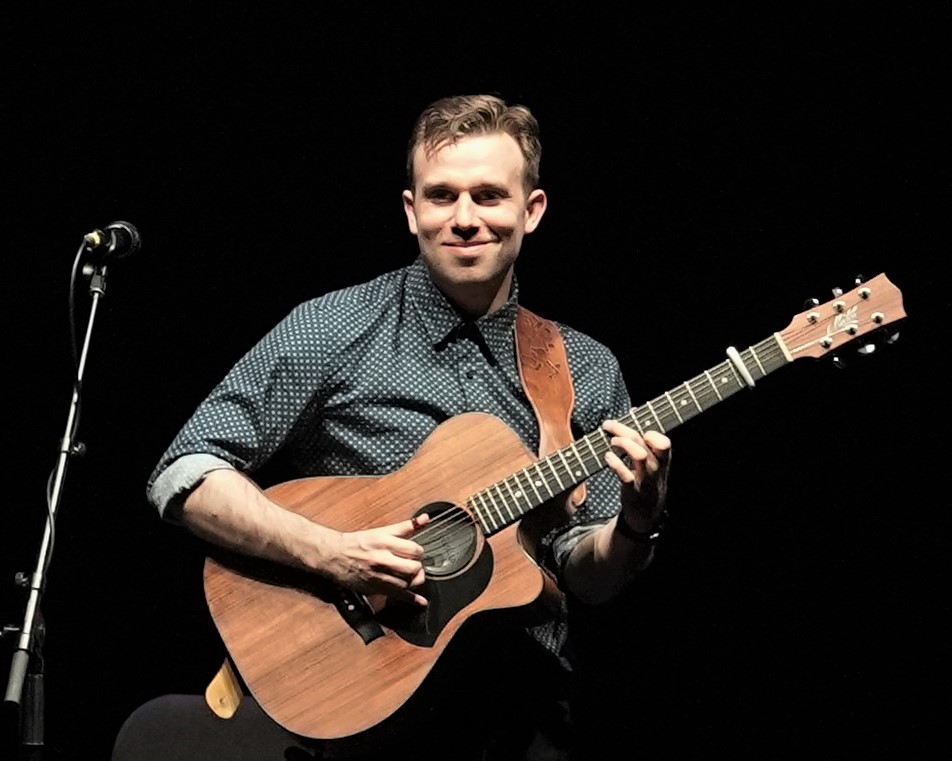 Finishing the 30-minute set with Doc Watson's version of "Black Mountain Rag," Pearson relayed a great back story to go with the song as he switched acoustic guitars and joked, "it's like a science project." His father had taught him this song on guitar and he thought he could never play it as well as him. It's one of the reasons he comes on stage—for validation. During a family trip to North Carolina when Pearson was just a boy, they visited Watson at his home. Pearson's father asked in town where Watson lived and got directions to his home. His father went right up to the door and knocked, and Watson answered the door. They spent about 30 minutes sitting outside and talking. There is a black and white photo of Watson and Pearson's father, and it is Pearson's favorite photo. He played "Black Mountain Rag" in honor of Watson. Thanking Emmanuel once again and stating that he is his greatest influence and hero on guitar and also an amazing guy, Pearson exited to tremendous applause and would reemerge later to duet with his musical idol.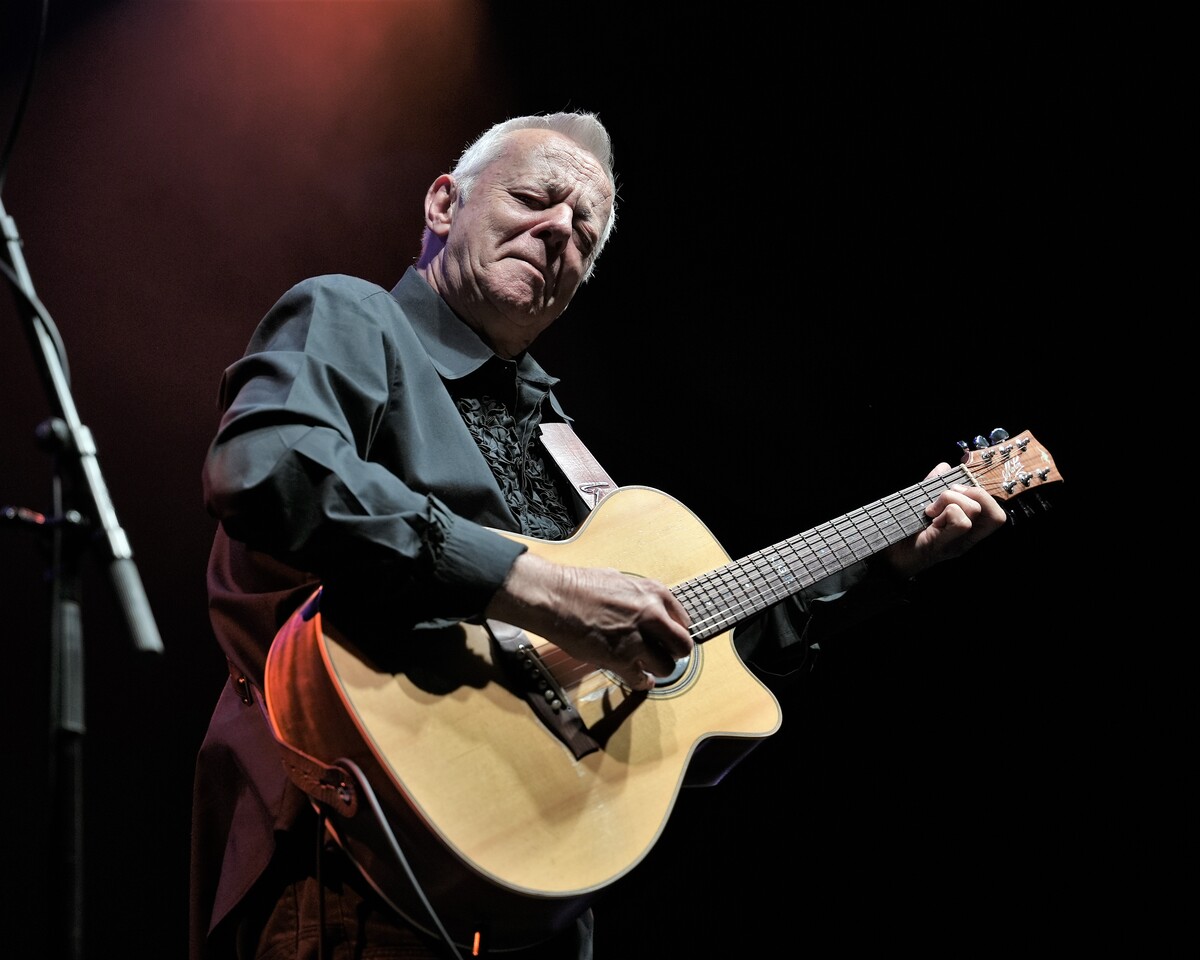 Walking out with no introduction at 9:10pm and clad in all black including a ruffled dress shirt, Tommy Emmanuel wasted no time getting right down to business while the crowd clapped and cheered. Opening with several stirring instrumentals, the Australian-born, Nashville-based guitar virtuoso engaged his fans effortlessly. "Great to see you all! Thanks for coming out. Yesterday was my daughter Angelina's 23rd birthday. I promised her I would play a song. The guitar was in tune when I bought it." He joked, as he made some adjustments. He shared that he had no idea that "Angelina" would have such an effect on people all throughout the world and have different meanings for everyone. "That's what I love about music. It's so magical." This is one of the most profoundly joyful songs and so perfect from a father to his daughter. Following it with "Blood Brother" was the thrill of the evening for me. This stirring piece has hints of Latin and Middle Eastern flavors and echoes of Sting's "Fragile." It is simply beautiful and it always moves me. It's truly hard to believe there is only one instrument being played.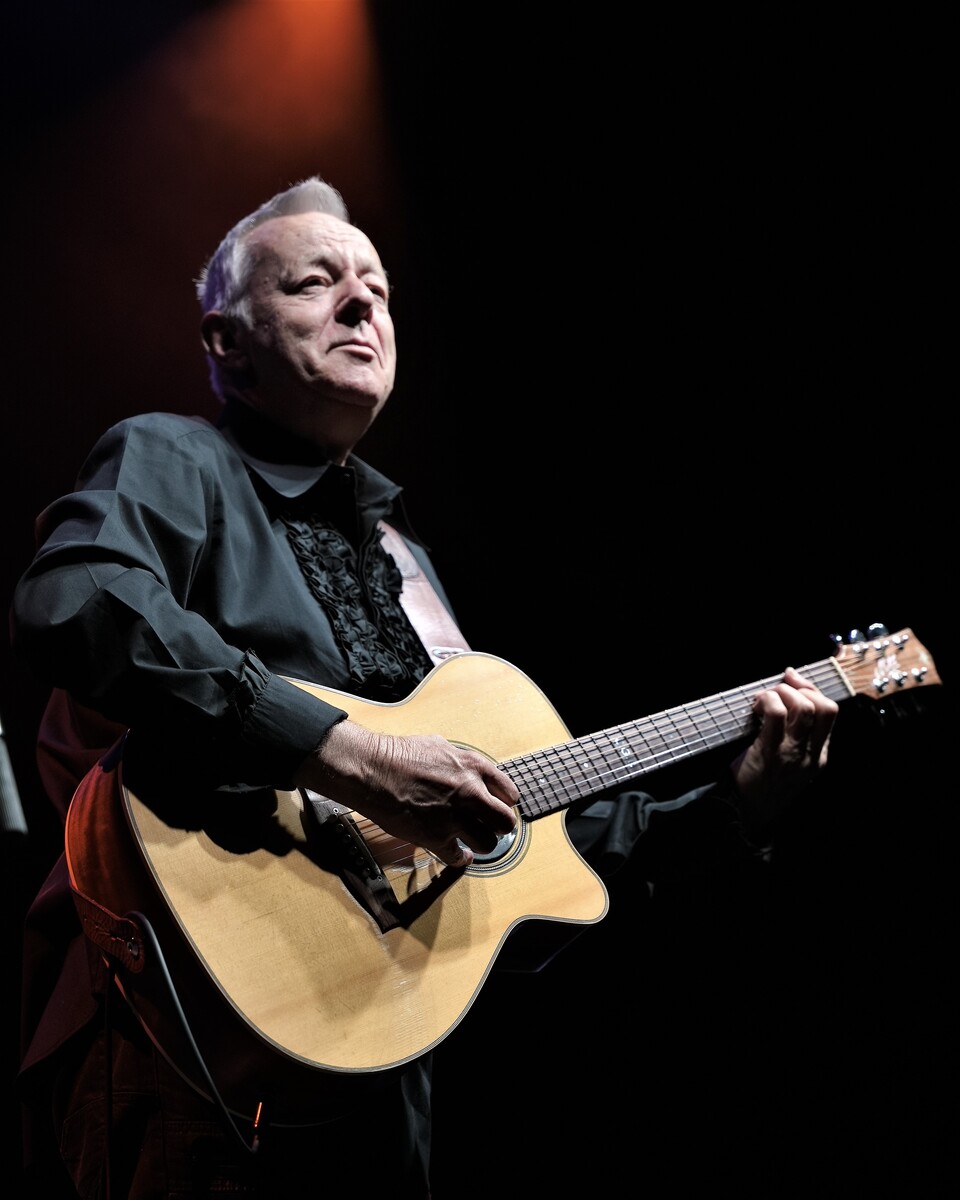 Lightening things up after the intensity of "Blood Brothers," Emmanuel did a fun cover of "Mind Your Own Business" (Hank Williams) with a crowd singalong, followed by the Doc Watson arrangement of "Deep River Blues" with a little snip of "Day Tripper" (Lennon/McCartney), and then "Sixteen Tons" (Merle Travis), a song that was a huge success for Tennessee Ernie Ford and covered by many others.
Emmanuel mentioned being in Nashville and doing the Grand Ole Opry, and also being at the Country Music Hall of Fame for the beautiful induction of The Judds and Ray Charles. He then discussed the loss of his brother and sister within a month of each other in 2018, and how he had a vivid, colorful dream in which they visited him. He was in Italy at the time, and he wrote "Song For A Rainy Morning," which ended up on his album of 24 originals, Tommy's Songs.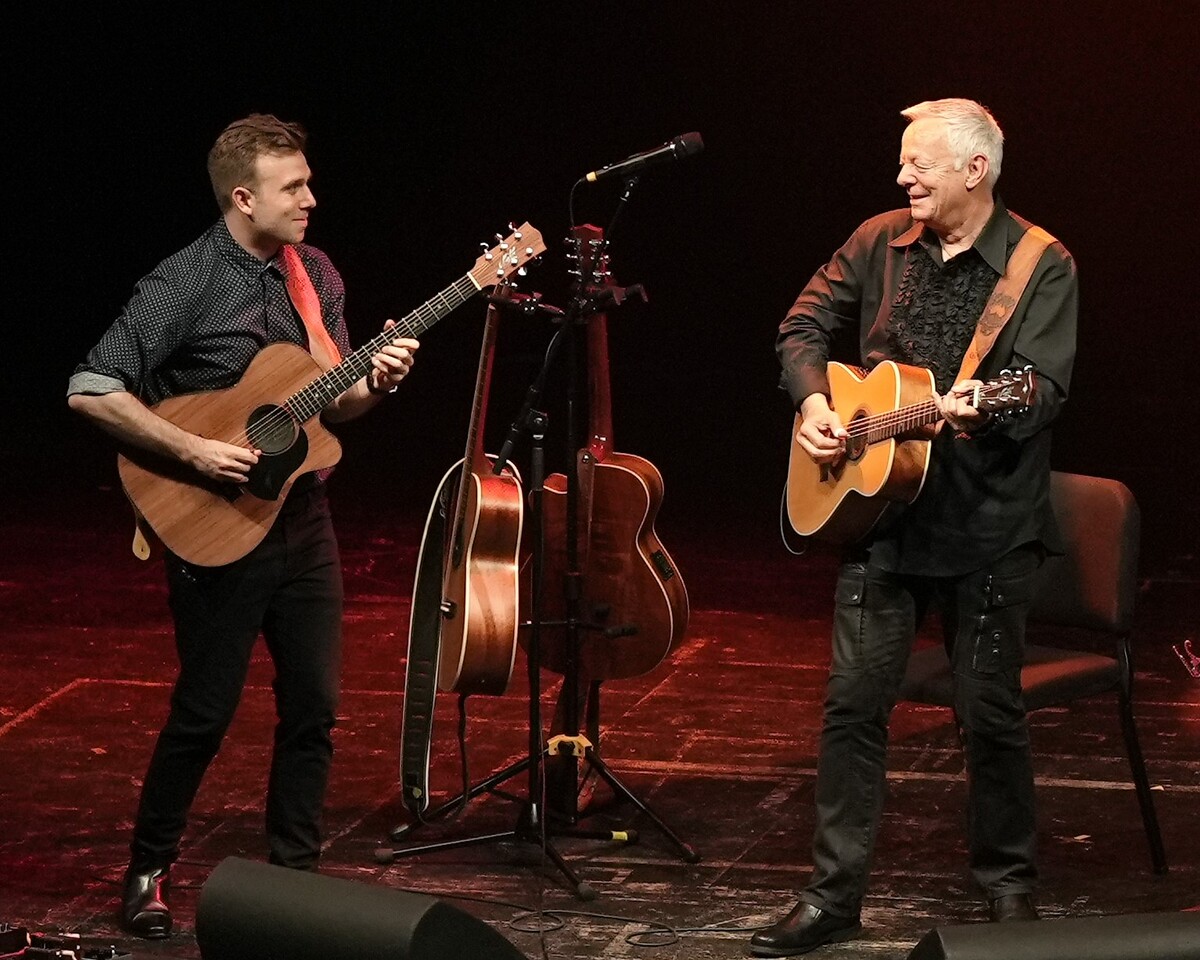 Other highlights included the beautiful ballad "The Diggers' Waltz," "Tall Fiddler," written about the late Byron Berline, an a cappella "Today Is Mine" (Jerry Reed), Emmanuel's signature Beatles' medley into "Classical Gas" (Mason Williams), complete with a standing ovation, and his always-popular Chet Atkins version of "Somewhere Over The Rainbow" (Harold Arlen/Yip Harburg). "Thank you. I was sight reading all that. If you believe that, you will believe anything." The crowd was very respectful throughout the event, which made it quite pleasant.
Inviting Pearson back out to join him, the duo performed Emmanuel's "Dixie McGuire," with Pearson playing Emmanuel's part. The song was written in 1976 and was his first for Chet Atkins, who loved it. A friend once said to him, "A good song will find a good home." Well, it ended up on a Chet Atkins album.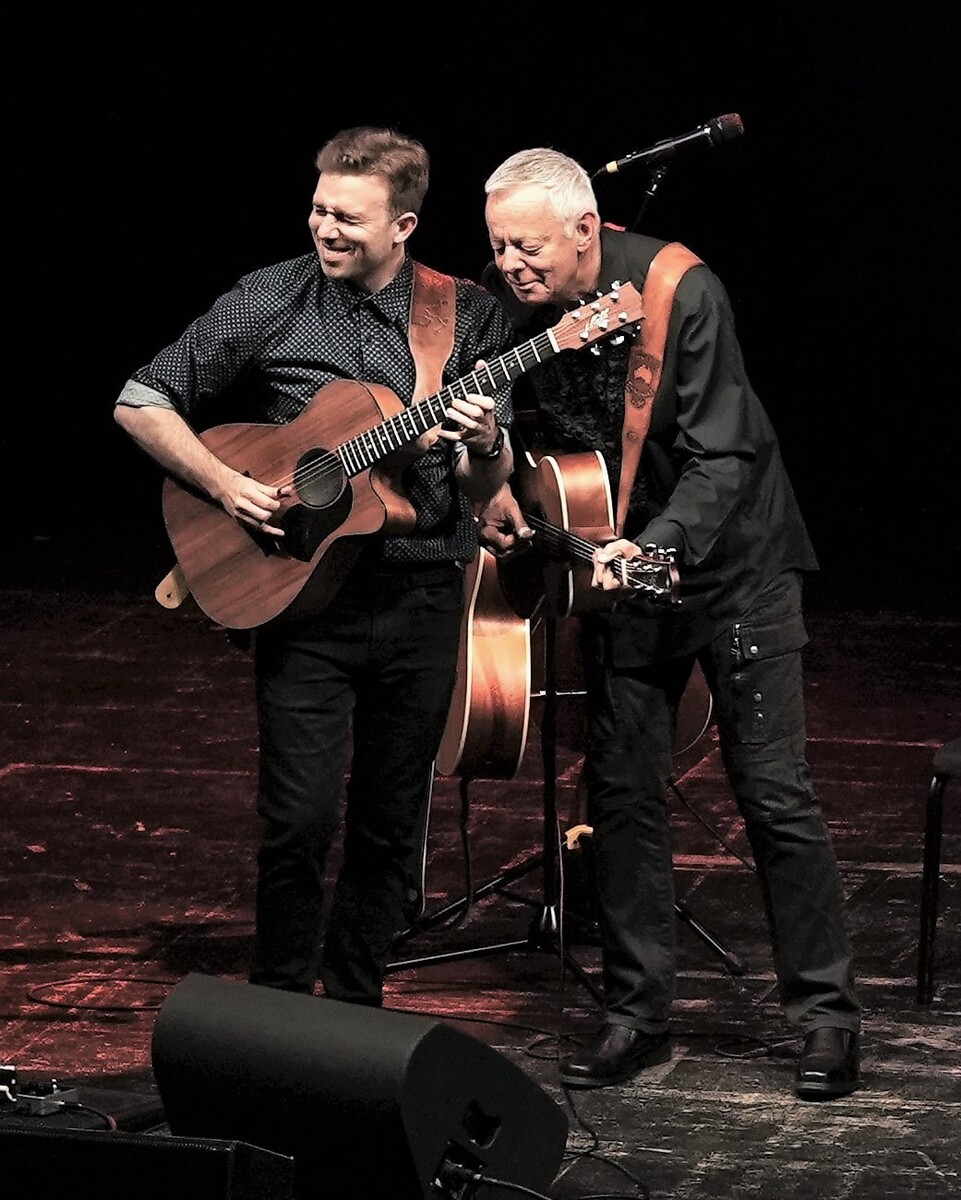 Somewhere in the middle of the show, Emmanuel explained the story behind "Fuel," an original composition with difficult time changes that was written on a train ride from Paris, France to Cologne, Germany. During the ride, there was a billboard for Harry Potter World, which reminded Emmanuel of the movies and how good the music was, which then made him think of the movie, Goldfinger. "Anyone remember Goldfinger, or am I the oldest in the room?" He described those engaging chords that were instantly recognizable. Someone in the audience clapped, and he replied, "Thank you. You haven't even heard it yet. You're gonna wish you had your brown corduroys on!" Joking aside, Emmanuel described his difficulty in naming this new song, and when he asked a friend, the friend said, "Well, what is it that fuels you?" And the title was born. "My fuel is my joy in playing for you tonight."
Interestingly, Emmanuel talked about flying and how people naturally ask him what he does for a living. When he tells them he is a guitar player, they ask who he plays for. When the answer is "myself," they just don't "get" it. How can you travel the world and play the guitar on your own? By the time he was 10, he knew this was what he wanted to do (incidentally, that was his age when his father died). People tell him that he needs the "big time." But for him, this IS the big time. "I'm happy!" His grandparents always wondered when he would get a "real" job. He shared that if he couldn't do music, he would mow your grass.
After wowing the crowd with an intense percussive jam including a percussion brush and jokingly dusting off his shoulder with the brush at the end, Emmanuel thanked everyone who needed thanking, and the evening drew to a close. "I hope you had a good time tonight. I enjoyed playing for you. I'd like to finish with Beethoven's 7th Symphony, but I don't know it." Instead, he closed with "Old Photographs," a song inspired by "Steven Spielberg's great film, Lincoln." It reminded him of spending time with his grandparents and going through cookie tins full of old photographs of his ancestors. It was the perfect ending to a perfect event.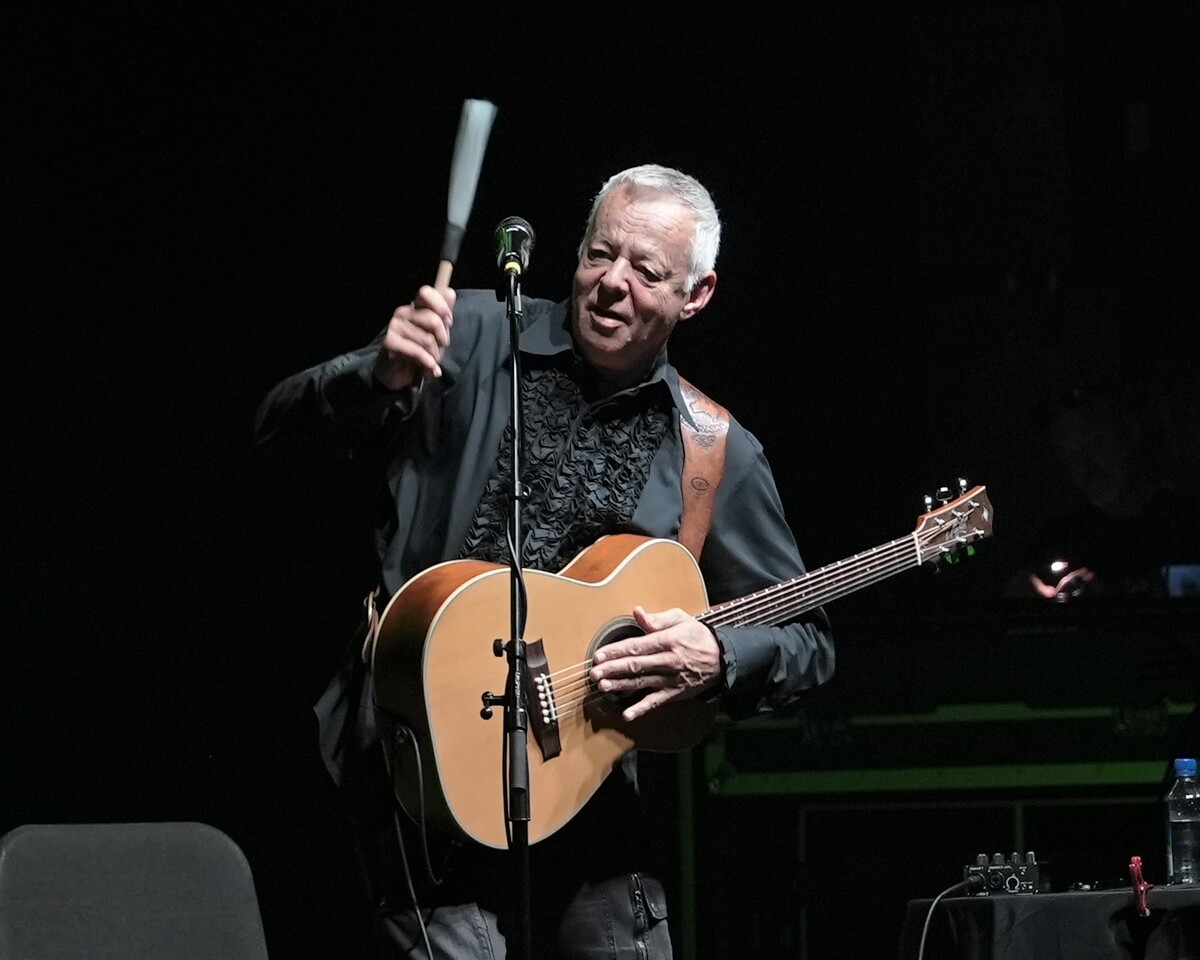 There are not enough words to describe a Tommy Emmanuel performance. He is only one of five guitarists considered a "Certified Guitar Player" by his hero, friend, and collaborator, the late Chet Atkins. Emmanuel is praised as one of the greatest guitarists of all time, and if you see his live performance, you will no doubt agree. Don't hesitate for a moment if he comes through your area. Treat yourself to one of the best shows you will ever see. ◼
---